Children under five
About the library
All Warwickshire Libraries provide a safe, family-friendly environment. Joining the library is free and children can join from birth.
What can a child borrow?
Up to ten books
Children's CDs
A wide range of information books.
Spoken word CDs and talking books including stories, songs and nursery rhymes.
eBooks and eAudio
Library Catalogue - children's collections
Summer Reading Challenge
The Summer Reading Challenge asks 4-11 year olds to borrow and read any six library books over the summer. To take part in Space Chase, all children need to do is sign up at their nearest library, where they will be given a collector folder to keep a record of their Summer Reading Challenge journey.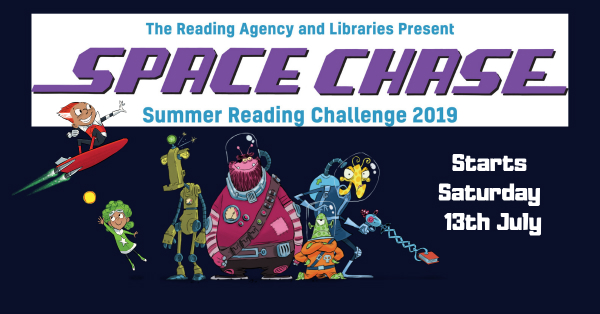 Babies Love books
Even tiny babies will love to hear you read to them. Sharing books with your child is not only a special time together but also the important start to your child's reading journey. We have lots of ideas of how to get started and what to borrow next.
Gifts from Bookstart
During one of the first visits from your health visitor, you should receive a free Bookstart Baby pack. Pack contents may vary, but each has everything you need to start sharing stories, rhymes and songs with your baby every day.
Contact us – for more details about Bookstart or:
Every child aged three- to four-years-old should receive a Treasure Bag of books at their nursery (or equivalent setting) in their pre-school year.
Bookstart Bear Club Passport
Children under five, in any part of the county, can join this fun club.
Visit the library six times with your child and borrow books or attend an activity session.
Each visit gets a paw-print stamp in your Bookstart passport.
Every time you reach six new paw-print stamps, your child will receive a colourful certificate to keep.
Collect all 10 certificates and receive a very special Bookstart Bear Teddy!
Bookstart – for reading ideas, games and online storybooks.
Tips for reading with your child
Sharing books is a vital part of learning to read and talk.
You can share at any time – not just at bedtime.
Encourage your child to choose his or her own books.
Don't worry if they keep choosing the same favourites.
Find a quiet, comfortable place with no distractions. You can't compete with the television!
Reading at bedtime is a really pleasant way to end the day.
Take five minutes to read a book or magazine yourself! This sets a great example to your children.
Encouraging Reading (PDF, 548 KB) – ideas to support your child with reading from birth to the young adult years.
Free activities in your local library
"My 8-month daughter and I attend Rhyme time at Coleshill Library every week and have great fun learning new songs, meeting others and playing instruments. We love our library!"
Rhyme Time
Most of our libraries hold weekly Rhyme Time sessions for children under the age of two years old and their carers. Join us for half an hour of singing and rhymes. A great opportunity to choose books to take home and enjoy.
Story stomp
Free, fun sessions for two- to four-year-olds and their parents and carers, following on from Rhyme Time. Stories and rhymes to help children's speech and language development.
Recommended websites