Mobile Library Service - Select and collect
A reduced Mobile Library Service is currently in operation. Staff can select up to 4 books per customer to be collected from over 150 designated locations around Warwickshire.
To arrange a collection of books, please contact the Mobile Library Team on 01926 851031 or [email protected].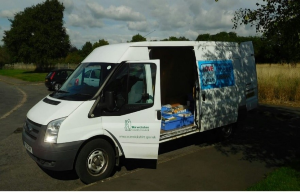 About the Service
Items can be collected from over 150 locations in Warwickshire.
We are currently operating this service using smaller delivery vans.
It is not possible for customers to enter the vehicle.
Only items that have been preselected by staff can be collected on the day.
Customers can safely return items to the van.
Requests for specific titles can be made by contacting the mobile library team directly.
In line with government guidelines this is a contactless service.
Contact the Mobile Library Service