English for Speakers of Other Languages (ESOL)
UPDATE
For information on what is available please take a look at our course list document (PDF, 153 KB).
To apply for a course, follow our 'Find a Course' button towards the bottom of this webpage.
If you would like to improve your English, the ACL ESOL courses might be just what you are looking for! Our courses offer opportunities to work with others and practise your English skills. We offer recognised qualifications in reading, writing and speaking/listening. Our classes are free and there is a charge for exams only.
Our friendly, qualified and experienced tutors can support you to achieve your goals!
We offer a range of English for Speakers of Other Languages (ESOL) courses to help you:
Speak and listen in everyday situations
Read in English (letters, brochures, emails, websites, other information)
Write in English (emails, messages, notes, letters etc)
Improve your English, to get a job or a better job
Feel more confident speaking to neighbours, teachers, doctors, people at work
You will work in small groups to make sure you have plenty of opportunities to practise.
Our provision is delivered both online and in venues within Leamington, Nuneaton, Stratford and Rugby. You will be allocated to a suitable class and venue once we have met you and assessed your needs.
You can take a recognised qualification (Trinity Skills for Life) in reading, writing and speaking/listening exams. These will be available to you once you are ready.
Here's what some learners have said about their experiences of attending our classes:
In our class we have a good time while learning!
This group which I am learning in is a kind of family for me.
I'm so glad I found nice teachers who are dedicated and passionate, and make you want to come back every week.
Your teaching has made a big difference and I feel really confident as I understand new words.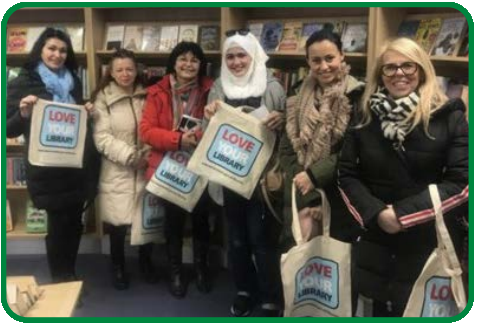 If you are interested in joining a course, please click the link below then use the 'Apply' button.
Once you have made an application you will be contacted for a short interview with an ESOL tutor. This will be done via Zoom and the appointment will enable us find out your English level and availability for learning. If you require support in making your application, please ring us on 01926 738978.
Currently we have a high number of enquires and there may be a short delay in responding to your application or enquiry.
You will be required to show your residency status and some ID at the meeting. If you are eligible the courses will free. Learners with refugee status are not required to meet the three-year residency rule.
If you would like further information, please contact the Adult and Community Learning Service at acl@warwickshire.gov.uk on 01926 736392 or use a form to enquire about the ESOL course.