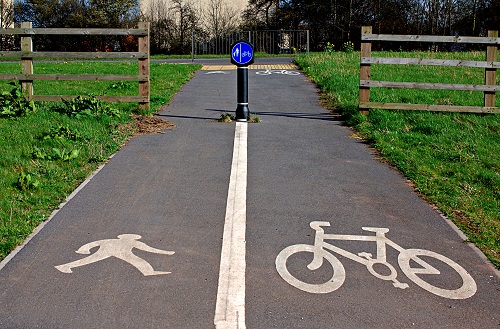 Warwickshire County Council's commitment to active travel has been recognised in a new national league table.
The league table, published by Active Travel England following a first assessment of local authorities active travel capability and ambition, shows that Warwickshire County Council ranks highly compared to other areas. The ratings take into account local leadership, plans and delivery record for bringing forward high-quality infrastructure schemes that enable more people to walk, wheel or cycle for everyday trips.
Warwickshire County Council was given a rating of 2 on a scale of 0 to 5, which indicates:
"Strong local leadership, with clear plans that form the basis of an emerging network with a few elements already in place."
Only five local authority areas – all large urban areas – received a higher rating.
This rating is critical as it is used to guide Government funding allocations for Active Travel. The rating has already had an impact with Warwickshire County Council recently being allocated £428k from the Active Travel Capability Fund for 22/23, double the allocation received in 2021/22. It is hoped that this new rating will also put Warwickshire in a strong position for securing future Government funding for active travel infrastructure schemes.
The Council is currently working on the delivery of an ambitious programme of cycle schemes which will enable more people to make local journeys by walking, cycling or wheeling and is committed to working to achieve a higher rating at future assessments.
In January, the County Council started construction of the first section of the Kenilworth to Leamington Cycle Route (K2L) which will ultimately link the two communities via a safe and convenient traffic free cycle route. Other significant schemes that are expected to be constructed in the near future include:
Walking and cycling as an alternative to using motorised vehicles, particularly for short journeys has a wide range of benefits that include:
Providing daily exercise, which improves overall health outcomes by improving both physical and mental wellbeing;
Reducing the number of vehicles on the roads, which improves air quality; and
Increasing social cohesion while reducing incidences of social isolation.
Cllr Wallace Redford, Warwickshire County Council Portfolio Holder for Transport and Planning, said: "We are absolutely delighted to have secured this high rating for our active travel infrastructure and hope that it will help us realise our active travel aspirations for Warwickshire.
"Vehicle emissions from short car journeys are a huge contributing factor to overall carbon footprints, so if we are to meet our commitment to achieving Net Zero it's imperative that as many residents as possible are empowered to make the switch to active alternatives.
"As a Council, we have ambitious plans to extend the reach and quality of our active travel network so that walking and cycling can be the go-to travel choice, particularly for short urban journeys, and we ae happy to see this reflected in our Active Travel England rating."
Find out more about the Local Authority Active Travel Capability Ratings on the Active Travel England website: https://www.gov.uk/government/publications/local-authority-active-travel-capability-ratings
Find out more about active travel in Warwickshire on the new active travel webpages
Find out more about: developing Warwickshire's cycling network
Find out more about the recent Government funding for active travel: Healthy, cost-effective travel for millions as walking and cycling projects get the green light