Our Safe and Active Travel programme has been developed to promote and support the delivery of road safety education and active travel interventions to schools, workplaces, and communities across Warwickshire and is delivered by colleagues from the Road Safety Education Team.

Our road safety education officers have been running successful road safety education sessions in schools since 2017 through a blended approach to teaching, combining live sessions for key age groups with digital resources. From 2021, schools in Warwickshire have also been taking part in our Safe and Active Travel Awards scheme. The scheme helps pupils to put their knowledge from road safety education sessions in to practice through activities such as running a 'Be Safe Be Seen' activity or taking part in national campaigns such as Walk to School Week.

Our road safety education officers also work in communities to spread road safety and active travel messages throughout the year and during national campaign weeks such as Brake Road Safety Week. We also support community initiatives such as the IAM Roadsmart Mature Drivers Assessments which are available free of charge to residents aged 65 and over who are living in Warwickshire.
IAM Roadsmart Mature Drivers Assessments

We are also pleased to announce our new travel plan service which is available to schools and workplaces. Travel plans are a free and bespoke document which promote safer, active, and sustainable travel with the aim of reducing the number of journeys made by private vehicles. Plans also encourage walking, cycling, scooting, and aim to educate about the environmental and health benefits of being active on our journeys.

The team also work closely with agencies and organisations such as the School Crossing Patrol Service, the Warwickshire Road Safety Partnership made up of colleagues in Warwickshire Police, Warwickshire Fire and Rescue Service, and the Police and Crime Commissioner's Office.
Your active travel stories
Read stories and get inspired. Share a story and inspire others to get out and about.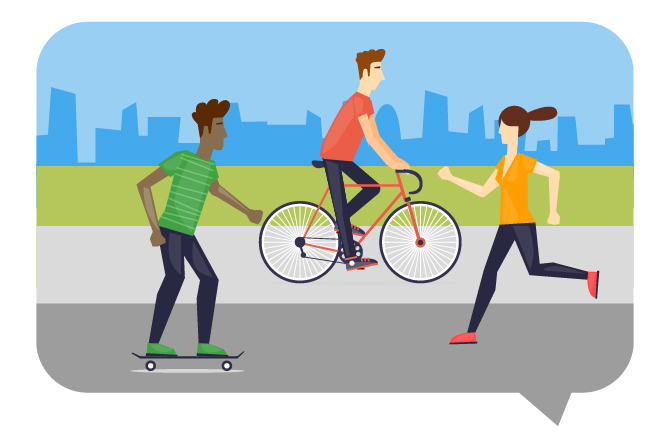 Road safety featured events 
The Road Safety Education Team and our partners in Warwickshire Police and Warwickshire Fire and Rescue will be joining forces to deliver a month long set of engagement events throughout the county as part of a campaign to raise awareness and educate about driver and rider behaviour to improve road safety.
This month-long campaign is in support of Sustrans Big Walk and Wheel and the National Police Chief Council (NPCC) Two Wheel Campaign. The campaigns are aimed at cyclists of all ages, drivers, and riders and aim to communicate the importance of having the correct skills, knowledge, and equipment to ride safely.
Warwickshire County Council's Road Safety Education Team, along with their mascot Warwick Bear, will be touring libraries across the county delivering interactive and engaging road safety education sessions with families and young children.
Dates and times for sessions

| Date | Time | Location |
| --- | --- | --- |
| Tuesday 22 March | 9.30am to 10.30am | Warwick Library |
| Wednesday 23 March | 11am to 12 noon | Atherstone Library |
| Thursday 24 March | 10am to 11am | Shipston-on-Stour Library |
| Thursday 24 March | 10.30am to 11.30am | Polesworth Library |
| Friday 25 March | 11am to 12 noon | Coleshill Library |
| Friday 25 March | 10.30am to 11.30am | Alcester Library |
| Monday 28 March | 11am to 11.30am and 11.30am to 12.30pm | Rugby Library |
| Monday 28 March | 10am to 10.30am and 10.30am to 11.30am | Wellesbourne Library |
| Thursday 7 April | 10am to 10.30am | Kenilworth Library |
| Thursday 31 March | 10.30am to 11am and 11am to 12 noon | Lillington Library |
| Friday 1 April | 11am to 11.30am and 11.30am to 12.30pm | Southam Library |
| Friday 1 April | 1pm to 1.30pm and 1.30pm to 2.30pm | Harbury Library |
| Monday 4 April | 11.15am to 11.45am and 11.45am to 12.45pm | Whitnash Library |
| Monday 4 April | 11am to 11.30am and 11.30am to 12.30pm | Nuneaton Library |
| Tuesday 5 April | 10.30am to 11am and 11am to 12 noon | Leamington Library |
| Wednesday 6 April | 2pm to 2.30pm and 2.30pm to 3.30pm | Kineton Community Library |
| Thursday 7 April | 10.30am to 11am | Stratford-upon-Avon Library |
| Tuesday 12 April | 10am to 12 noon | Hartshill Hayes Country Park |
| Tuesday 12 April | 1.30pm to 3.30pm | Kingsbury Water Park |
| Thursday 14 April | 11am to 1.30pm | Ryton Pools Country Park |