Updates
Stoneleigh Junction Improvement Scheme - Severn Trent Water Diversion Works
Traffic Management and Road Closure Requirements
As part of the first stage of major construction works for the Stoneleigh junction improvement scheme, Severn Trent Water (STW) need to divert a section of their water main in the area. These works will be managed and delivered on site for STW by Amey.
Whilst some of the required activities can be done under temporary traffic signals, unfortunately due to the width of Stoneleigh Road and the size of the equipment involved in carrying out the works, some of the activities will require a section of Stoneleigh Road to be closed for a period of six weeks commencing at the end of July 2020.
The current programme for the STW main diversion is set out below, although these dates may change if progress on site is impacted by issues such as bad weather or unexpected ground conditions.
Phase

Date

Activity

Traffic Management required

1

End of June 2020 to End of July 2020

Trial holes to be carried out to determine the location of existing plant and apparatus – site compound to be set up

Temporary traffic signals on Stoneleigh Road and Dalehouse Lane – manually controlled between 07:00hrs – 09:30hrs and 15:00hrs – 18:00hrs.

2

End of July 2020 to September 2020

Excavations within Stoneleigh Road and drilling beneath Finham Brook to lay new water main

Closure of Stoneleigh Road in place (expected start date 27 July) for a six week period between the Stoneleigh Road / Dalehouse Lane roundabout junction and a point to the east of Brook Farm.

Access to Brook Farm will be maintained at all times.

3

September 2020 to October 2020

Commissioning of new water main and abandoning of old water main.

Demobilisation of site.

Temporary traffic signals on Stoneleigh Road and Dalehouse Lane – manually controlled between 07:00hrs – 09:30hrs and 15:00hrs – 18:00hrs.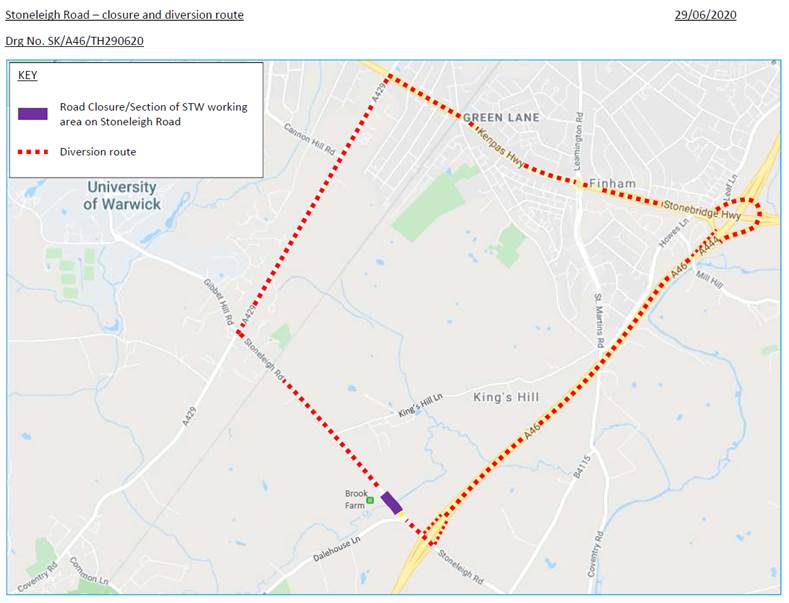 Updates on progress and any significant changes to the dates above will be published on the Stoneleigh junction improvement scheme webpages.
Whilst Warwickshire County Council and STW have worked together to plan these works so that they take place now whilst traffic levels are lower, there will inevitably be some disruption and your patience whilst these works are carried out is greatly appreciated.
If you would like to discuss the specific details of water main diversion works programme and proposed traffic management please contact Amanda Hales at Amey on 07545 114615 or at [email protected]
If you would like to discuss any aspect of the A46 Stoneleigh junction improvement scheme more generally, please do not hesitate to contact Tristan Hall on 01926 41 2675 or email [email protected]
Stoneleigh Junction Improvement Scheme – Progress Report – Spring 2020

Funding
In April 2020 the Department for Transport (DfT) confirmed that Warwickshire County Council (WCC) had been successful in gaining a total of £19.6 m of DfT funding for the scheme. The award of the DfT funding completes the full £38.3 m scheme budget required to deliver the scheme, comprising of £19.6 m from DfT, £10 m from WCC, £6.6 m from the West Midlands Combined Authority, and £2.1 m of developer funds.
Land Acquisition
Now we have the full funding package in place we are concluding land purchases.
Highways England Technical Approval
Where parts of the new Stoneleigh junction will be on the Strategic Road Network (SRN), the responsibility for maintaining these elements will upon their completion, fall to Highways England (HE). For this reason, we are required to go through the HE technical approval process to ensure that HE are satisfied with all elements of the proposed scheme. The design has been reviewed and assessed and HE now consider that the proposals presented form a technically approvable scheme. We continue to work with HE to close out their final remaining comments.
Construction Works – Summer 2020 to Winter 2021/Spring 2022
We have now carried out a number of pre-construction activities including vegetation clearance, ecological surveys and geotechnical investigatory works with our contractor Colas-Siac Ltd. As we move into the summer period, we will look to begin the first of the construction works. This work will be to carry out activities such as installing boundary fencing and the diversion of utility pipes and cables.
These first phases are currently being planned carefully to manage not just the typical health and safety risks associated with construction works, but also to ensure that all Government guidance related to Covid-19 and social distancing can be followed.
Largely the first phases of traffic management (TM) required for the scheme will be for the utility diversions. We are now in the process of agreeing the timings and details of this TM between our contractor Colas-Siac Ltd who will manage the works, the utility companies who will carry out the diversions and the highway authorities (both WCC and HE). The exact nature and timing of these first phase works will be driven by the outcome of on-going discussion to ensure WCC's works are co-ordinated with other works in the area such as those being carried out by HS2. When full agreed details of the TM proposals are available they will be added to this website.
Once we start these first phases of construction work, we envisage the full construction works on site to be completed during the Winter 2021/Spring 2022 period.