Construction schemes
The programme consists of a series of highways and sustainable transport improvement schemes. This programme will be a combination of developer led and funded schemes and council led schemes.
It includes:
upgrading Europa Way to increase capacity, active travel and safety through the corridor
upgrading junctions within the corridor
new accesses into development sites
a 500 space Park and Ride facility
cycling and walking infrastructure
The work will result in improved traffic flows and reduced journey times. There will be a network of sustainable transport infrastructure and a choice of alternative forms of travel.
Overview of the programme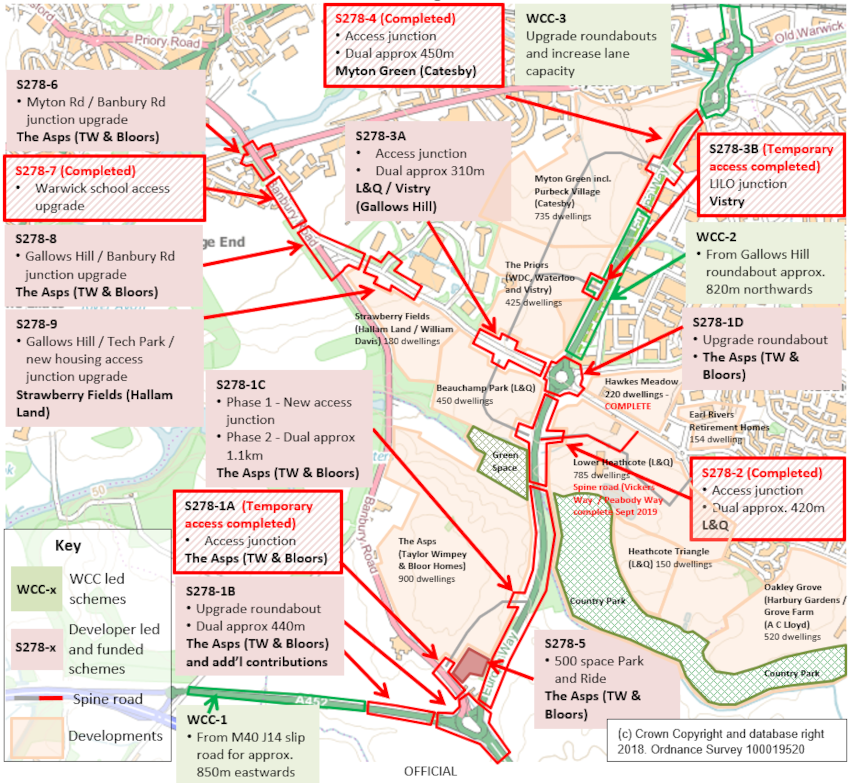 Please note that projects with scheme references beginning with 'WCC' are Warwickshire County Council led schemes. Whereas, those projects with scheme references beginning with 'S278' are developed-led and funded schemes.
A written explanation of the above map is displayed in the table below.
| Scheme reference | Location | Scheme description | Scheme status |
| --- | --- | --- | --- |
| WCC-1 | A452 from M40 J14 slip road for approx. 850m eastwards | Capacity and safety improvements | Feasibility |
| WCC-2 | A452 Europa Way from Gallows Hill roundabout approx. 820m northwards | Active travel and capacity improvements | Optioneering |
| WCC-3 | Fords Foundry roundabout and Queensway roundabout | Upgrade roundabouts and increase lane capacity | Tender |
| S278-1A | The Asps - access off Banbury Road | Access junction | Minor access constructed in May 2022 |
| S278-1B | Greys Mallory Roundabout and Banbury Spur dualling | Upgrade roundabout and dual approximately 440m | Design |
| S278-1C | Access junction off Europa Way and dualling A452 from Greys Mallory roundabout northwards | Dual approximately 1.1km and new access junction | Design |
| S278-1D | Europa Way/Gallows Hill/ Harbury Lane roundabout | Upgrade roundabout | Design |
| S278-2 | Europa Way, Beauchamp Park and Lower Heathcote | Dual approximately 420m and access junction | Completed in August 2019 |
| S278-3A | Gallows Hill - access junction to Beauchamp Park and The Priors | Dual approximately 310m and access junction | Under construction |
| S278-4 | Europa Way and Myton Green | Dual approximately 450m and access junction | Completed in November 2021 |
| S278-5 | Europa Way and Banbury Road | 500-space Park and Ride | Design |
| S278-6 | Bridge End roundabout | Myton Road and Banbury Road junction upgrade | |
| S278-7 | Banbury Road and Warwick School | Warwick School access upgrade | Completed in October 2019 |
| S278-8 | Gallows Hill and Banbury Road | Gallows Hill and Banbury Road junction upgrade | |
| S278-9 | Gallows Hill and Warwick Technology Park junction | Gallows Hill, Warwick Technology Park, and Strawberry Fields housing estate access junction upgrade | Design |