Northgate
Northgate junction scheme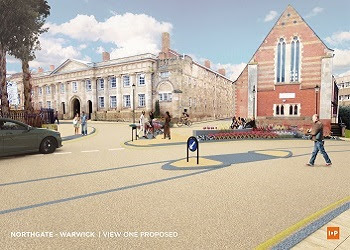 Northgate August 2019 update
The Northgate Project Team has been notified of emergency works that Severn Trent Water needs to carry out in order to deal with a broken culvert on High Street / Jury Street which has now become an environmental health issue.
The traffic management arrangements for these emergency works are currently being looked at. However, it is likely to require a change to the traffic management arrangements currently in place for the Northgate junction works, with the temporary one-way arrangement on The Butts and Saltisford being suspended to allow 2-way traffic to be reintroduced. The reason for this change is to allow traffic that is currently being diverted via High Street / Jury Street to use The Butts and Saltisford in both directions.
Unfortunately this will have an impact on the programme for Northgate as some of the outstanding works cannot be carried out alongside 2-way traffic movements. We do not yet know the extent of this impact on our programme, however I can assure you that we are working with the contractor to adjust the phasing so that the impact of the disruption is minimised.
The plans which detail the arrangements for pedestrians using the Northgate Junction will be uploaded shortly. The traffic management and diversion routes will also be shared once these have been finalised. Please be advised to cross with care and remember that traffic is 2-way at this junction. To reduce the impact of traffic in the town centre during the works, motorists are encouraged to travel via alternative routes to access the town centre or travel by a different mode.
Northgate July 2019 update
If you travel to or through Warwick, you may need to be aware of the series of improvements planned to Northgate junction in Warwick Town Centre
Work has started on Tuesday 7 May and is expected to be complete by the end of August 2019. It is part of a major scheme of works in and around the town centre, aimed at improving traffic flow, reducing the amount of stationary traffic and improving air quality.
The Northgate scheme aims to improve the setting of a key gateway to the town, making it more pedestrian-friendly by reducing the footprint of the junction, introducing informal crossing points and improving access to the town centre.
There will also be a number of traffic management changes including a right turn only into Northgate Street from Barrack Street and prohibiting a right turn into Northgate Street for eastbound vehicles travelling from Saltisford/A425.
To allow the works to be carried out safely and efficiently, temporary traffic management arrangements have been put in place for the duration of the works. For part of the roadworks this will include one-way running on The Butts and the northern section of Cape Road to ease traffic flows and avoid the need for temporary traffic lights.
To reduce the impact of traffic in the town centre during the works, motorists are encouraged to travel via alternative routes to access the town centre or travel by a different mode. Travel options can be viewed at www.warwickshire.gov.uk/activetravel. Alternatively, consider signing up to car share.
Forthcoming road closures
As part of Warwickshire County Council's Northgate improvement scheme, roads identified below are scheduled to be resurfaced by Tarmac.
Northgate Street and Old Square: Road Closure of Northgate Street and Old Square 07:00am 3 August 2019 until 17:00pm on 4 August 2019
Barrack Street, Northgate, Saltisford Rd: Road Closure from 07:30am 10 August 2019 until 17:00pm on 11 August 2019 and 17 August 2019 (PM only)
Works will be carried out under a full road closure/controlled traffic management & partial closure. Any diversions will be clearly sign posted but please refer to the above for a more detailed timeline.
Works can sometimes be delayed but please refer to onsite signage for up to date information.
What do you need to do?
If you require vehicular access to the road we are closing, we kindly ask you to find alternative parking arrangements for this time.
Please ensure all children and pets are kept well away from the machinery and materials.
Follow all diversion routes and adhere to temporary signage.
Should you have any queries, please contact our site manager on: 07598 982234
Traffic Management Plan
Traffic management plan - July 2019
Diversion plans
From 24 June 2019 until completion of works - Cape Road one-way - please note that you will still be able to access the staff car park along Cape Road and the County Records Office from both directions.
From 24 June 2019 until completion of works - The Butts one-way southbound.
From 24 June 2019 until completion of works - No access from A425 to Northgate Street
From 7 May 2019 until completion of works - Temporary suspension of HGV restrictions
Weight limit restriction suspension
For all further enquiries regarding the Northgate scheme please email: [email protected]
The works are being managed by the County Council's Highways Contractor – Balfour Beatty Living Places who are employing sub-contractors to carry out the various elements of the works. If you have any issues during the works please contact Balfour Beatty on the following telephone number or at the following address:
Balfour Beatty Living Places Limited
Budbrooke Depot
Old Budbrooke Road
Warwick
CV35 7DP
www.balfourbeatty.com
Project Manager for Balfour Beatty Living Places - Tel: 07598 982234