The letters
George Eliot was an avid letter writer and the letters held by the library are a very small sample of those written by her or to her by friends and family. Some held in the Collection were written by family and friends after her death.
Most of her letters are transcribed in Gordon Haight's The George Eliot Letters, Yale University Press 1955 (9 volumes) which can be viewed in the library.
Flickr – view transcripts of the letters.
The collection is divided into the following groups.
Contemporary letters by or to George Eliot and George Henry Lewes
Kirby letters – 12 letters relating to the Sibree family whom Mary Ann Evans got to know whilst living in Coventry after 1841. She maintained contact with Mary Sibree (later Mrs John Cash) for the rest of her life.
Gojnic letters – all date from the 1870s; 14 are to George Henry Lewes from his son Herbert in Africa and are often about money or health (Herbert died of TB in 1875), or from Herbert's widow. Others in the collection are to George Eliot at the time of Herbert's death.
Helps letters – Arthur Helps was a writer and friend of George Henry Lewes. There are six letters from Lewes to Helps, four of them from 1873 and relating to discussions on vivisection, and six from George Eliot to Alice Helps, dating from 1874 onwards.
Wedgwood, Bastian and Stebbing Letters – 13 in total, including three from George Henry Lewes to H C Bastian about his scientific work, and nine in the early 1900s from J W Cross to Mr and Mrs Stebbing, generally avoiding involvement in literary society matters.
George Eliot Fellowship letters
Letters from and to members of Isaac Evans's family, particularly his son Frederic, extending well into the 20th century. Placed with Nuneaton Library by the George Eliot Fellowship, the letters are of considerable interest to local historians and those interested in the family responses to George Eliot in the 30 years or so after her death.
Letters relating to Robert Evans – four letters relate to George Eliot's father, Robert Evans
Letters relating to Isaac Evans – 57 relate to Isaac Evans and include business matters with Lord Aylesford and Charles Newdigate
Revd Frederic and Charlotte Evans – 33 relate to his son, Revd Frederic Evans and his wife Charlotte
Walter and Eleanor Evans – six relate to Walter Evans; two to Eleanor Evans and one to George Eliot's sister, Chrissey
Miscellaneous letters and other items
Miscellaneous letters – four other miscellaneous letters and two other items.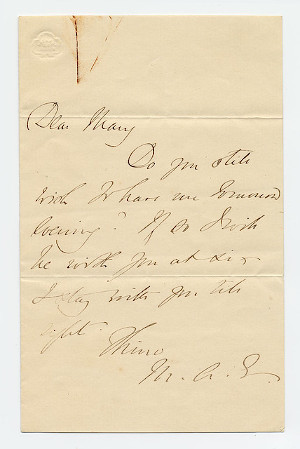 Letter from George Eliot to Mary Sibree