Northgate
Northgate junction scheme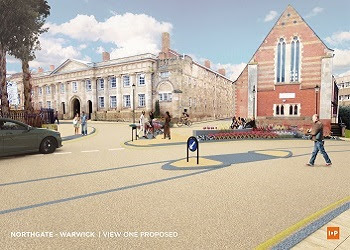 Northgate July 2019 update
If you travel to or through Warwick, you may need to be aware of the series of improvements planned to Northgate junction in Warwick Town Centre
Work has started on Tuesday 7 May and is expected to be complete by the end of August 2019. It is part of a major scheme of works in and around the town centre, aimed at improving traffic flow, reducing the amount of stationary traffic and improving air quality.
The Northgate scheme aims to improve the setting of a key gateway to the town, making it more pedestrian-friendly by reducing the footprint of the junction, introducing informal crossing points and improving access to the town centre.
There will also be a number of traffic management changes including a right turn only into Northgate Street from Barrack Street and prohibiting a right turn into Northgate Street for eastbound vehicles travelling from Saltisford/A425.
To allow the works to be carried out safely and efficiently, temporary traffic management arrangements have been put in place for the duration of the works. For part of the roadworks this will include one-way running on The Butts and the northern section of Cape Road to ease traffic flows and avoid the need for temporary traffic lights.
To reduce the impact of traffic in the town centre during the works, motorists are encouraged to travel via alternative routes to access the town centre or travel by a different mode. Travel options can be viewed at www.warwickshire.gov.uk/activetravel. Alternatively, consider signing up to car share.
Traffic Management Plan
Traffic management plan - July 2019
Diversion plans
Barrack Street, Northgate, Saltisford Road: road closure - from 7:30 10 August 2019 to 11 August 2019 and 17 August 2019 (PM only)
Northgate Street and Old Square: road closure - from 7:00 3 August 2019 until 17:00 4 August 2019.
From 24 June 2019 until completion of works - Cape Road one-way - please note that you will still be able to access the staff car park along Cape Road and the County Records Office from both directions.
From 24 June 2019 until completion of works - The Butts one-way southbound.
From 24 June 2019 until completion of works - No access from A425 to Northgate Street
From 7 May 2019 until completion of works - Temporary suspension of HGV restrictions
Weight limit restriction suspension
For all further enquiries regarding the Northgate scheme please email: [email protected]
The works are being managed by the County Council's Highways Contractor – Balfour Beatty Living Places who are employing sub-contractors to carry out the various elements of the works. If you have any issues during the works please contact Balfour Beatty on the following telephone number or at the following address:
Balfour Beatty Living Places Limited
Budbrooke Depot
Old Budbrooke Road
Warwick
CV35 7DP
www.balfourbeatty.com
Project Manager for Balfour Beatty Living Places - Tel: 07598 982234