Northgate
Northgate junction scheme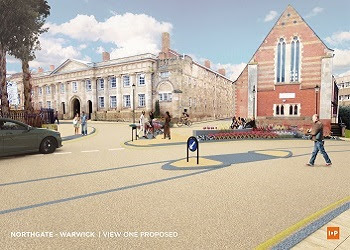 Northgate August 2019 update
The works at Northgate are complete.
Some minor remedial works are due to take place on the 18 & 20 November which will necessitate Barrack Street being closed at the northern end (from the point beyond the Methodist church). Traffic on Barrack Street will be required to divert via Joyce Pool on these dates.
We would like to thank you for your continued support and patience during this time.
For all further enquiries regarding the Northgate scheme please email: [email protected]
The works are being managed by the County Council's Highways Contractor – Balfour Beatty Living Places who are employing sub-contractors to carry out the various elements of the works. If you have any issues during the works please contact Balfour Beatty on the following telephone number or at the following address:
Balfour Beatty Living Places Limited
Budbrooke Depot
Old Budbrooke Road
Warwick
CV35 7DP
www.balfourbeatty.com
Project Manager for Balfour Beatty Living Places - Tel: 07598 982234