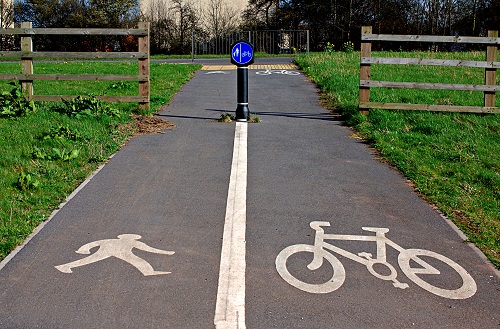 It is great news for Warwickshire residents as the County secures over £400k of Government funding to develop active travel schemes.
Warwickshire County Council is delighted to have secured £428,214 revenue funding from the Active Travel Capability Fund for 2022-23 following an announcement made by Active Travel England on Monday 2nd January:
The funding is a significant increase on the County Council's 2021-22 allocation of £213,276 and will be used to help deliver the Council's ambitious plans to create a safe and attractive environment for walking and cycling, so that they become the natural choice for short journeys and outdoor recreation. The focus for the funding is early phase design work on walking and cycling routes.
Walking and cycling as an alternative to using motorised vehicles, particularly for short journeys has a wide range of benefits that include:
Providing daily exercise, which improves overall health outcomes by improving both physical and mental wellbeing;
Reducing the number of vehicles on the roads, which in turn reduces the number of accidents and improves air quality; and
Increasing social cohesion while reducing incidences of social isolation.
Cllr Wallace Redford, Warwickshire County Council Portfolio Holder for Transport and Planning, said: "We want to encourage and enable more people to choose to walk or cycle, particularly for short local trips, by providing the infrastructure and support that they need to take advantage of these low-cost, healthy and environmentally friendly ways of travelling.
"We set out our plan for developing a countywide high-quality network of cycling and walking routes last year in our draft Local Cycling and Walking Infrastructure Plan, which we expect to finalise later this year. The funding awarded to us this week through the Active Travel Capability Fund will fund important early phase design work on many of the prioritised routes identified in the Plan and help us take an important step towards achieving our ambitious plans for walking, cycling and wheeling in Warwickshire."
Jesse Norman, the UK Government's Active Travel Minister said: "Leaving the car and walking and cycling instead is an easy way to get fit, save money and reduce your carbon footprint.
"Better designed schemes, which take into account the views of local people will help deliver improvements that have widespread local support.
"Skills training and local community engagement will help local authorities to make active travel an attractive choice for getting around."
Read more about the Active Travel Capability Funding for 2022/23 here: https://www.gov.uk/government/news/329-million-to-create-national-network-of-active-travel-experts
The Council is currently engaging with residents around the draft Sustainable Futures Strategy. Anyone can find out more and have their stay here: https://ask.warwickshire.gov.uk/insights-service/sustainable-futures-strategy/
Find out more about active travel in Warwickshire on the new active travel webpages
Find out more about: developing Warwickshire's cycling network
For more information about how Warwickshire County Council is facing the challenges of the climate change emergency, visit: https://www.warwickshireclimateemergency.org.uk/
Get the latest news about how Warwickshire County Council and partners are facing the challenge of the climate emergency and how you can get involved: http://eepurl.com/hrk-z