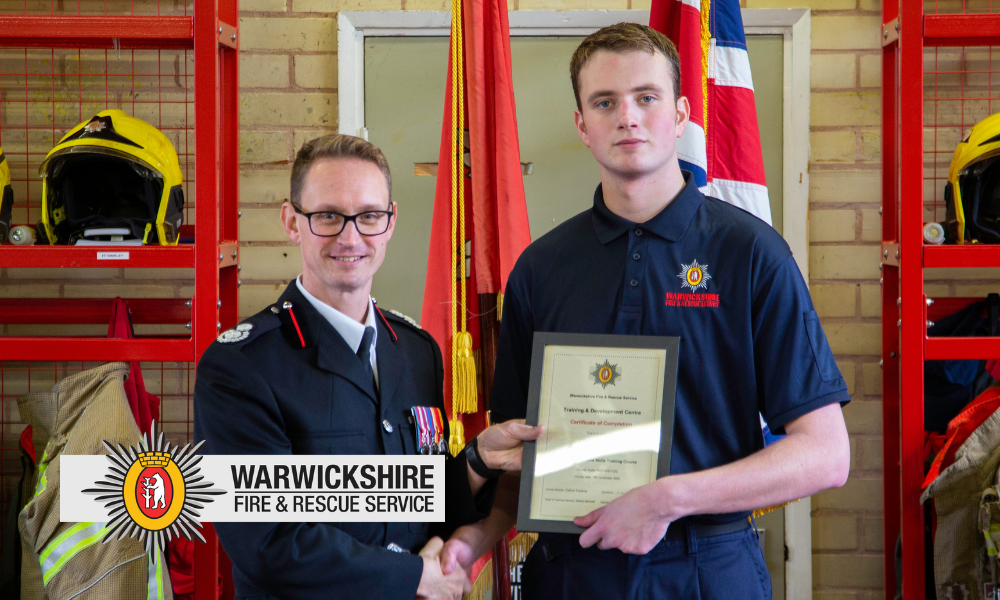 Charles joined Warwickshire Fire and Rescue Service as an on-call firefighter in November 2022. Based at Bedworth Fire Station, he explains that he was inspired to sign-up thanks to a family link…
"I have grown up around on-call all my life as my uncle is a firefighter at Nuneaton and Bedworth. I always loved asking him what he had been up to and finding out about the fire service in my spare time – over time my love for it just grew and grew."
When asked how he has found balancing his on-call commitments around everyday life, Charles said:
"It is tricky finding a balance at first but after a while I managed to find a way to have the odd night off to stay with my partner or go out with my friends. It is a balancing act in a sense."
Charles went on to explain what the most fulfilling thing is about being an on-call firefighter and the moments when he realises the difference he is making:
"The sense of adrenaline you get when your alerter goes off is nothing like I have experienced before - and it gets me up and going even at 3 o'clock in the morning!
"The most fulfilling thing is after incidents that involve people's property, when they come up to you and say thanks for helping. Another big thing is the praise we receive on social media when an incident hits the news; people are always so kind in saying 'thank you' without us ever asking for praise."
When asked how the on-call role challenges him physically and mentally, Charles says:
"It is a big commitment to become an on-call firefighter and you do have to make sacrifices but having a great group of friends, a family and a partner that are all interested and ask what I have been up to is a massive help."
He also mentions the strong camaraderie that exists between him and his colleagues:
"The banter at the fire station is brilliant - it almost feels like another family that I am part of at times and the support we give each other is amazing."
Charles has the following advice for anyone who is thinking of signing up to become an on-call firefighter, particularly those who might have second thoughts:
"Come up to your local on-call fire station on a drill night and ask questions, spend time with the crew and get a feeling of what it is like to be an on-call firefighter.
"You will find people of all shapes and sizes at the station and you can always ask people how and what you did to complete your initial course and how you keep up the fitness level required."
Charles has this final piece of advice for being ready to respond to emergencies at a moment's notice:
"Always have a pair of shoes and a T-shirt by your front door ready and keep your car keys nearby, because when it's 3 o'clock in the morning and the adrenaline is coursing you won't want to be delayed!"
On-call firefighters are needed right now across Warwickshire. This is a paid role, not a voluntary one and you can fit in around your full-time job and life commitments.
Just like Charles you have what it takes! Learn more about becoming an on-call firefighter and start your application today.