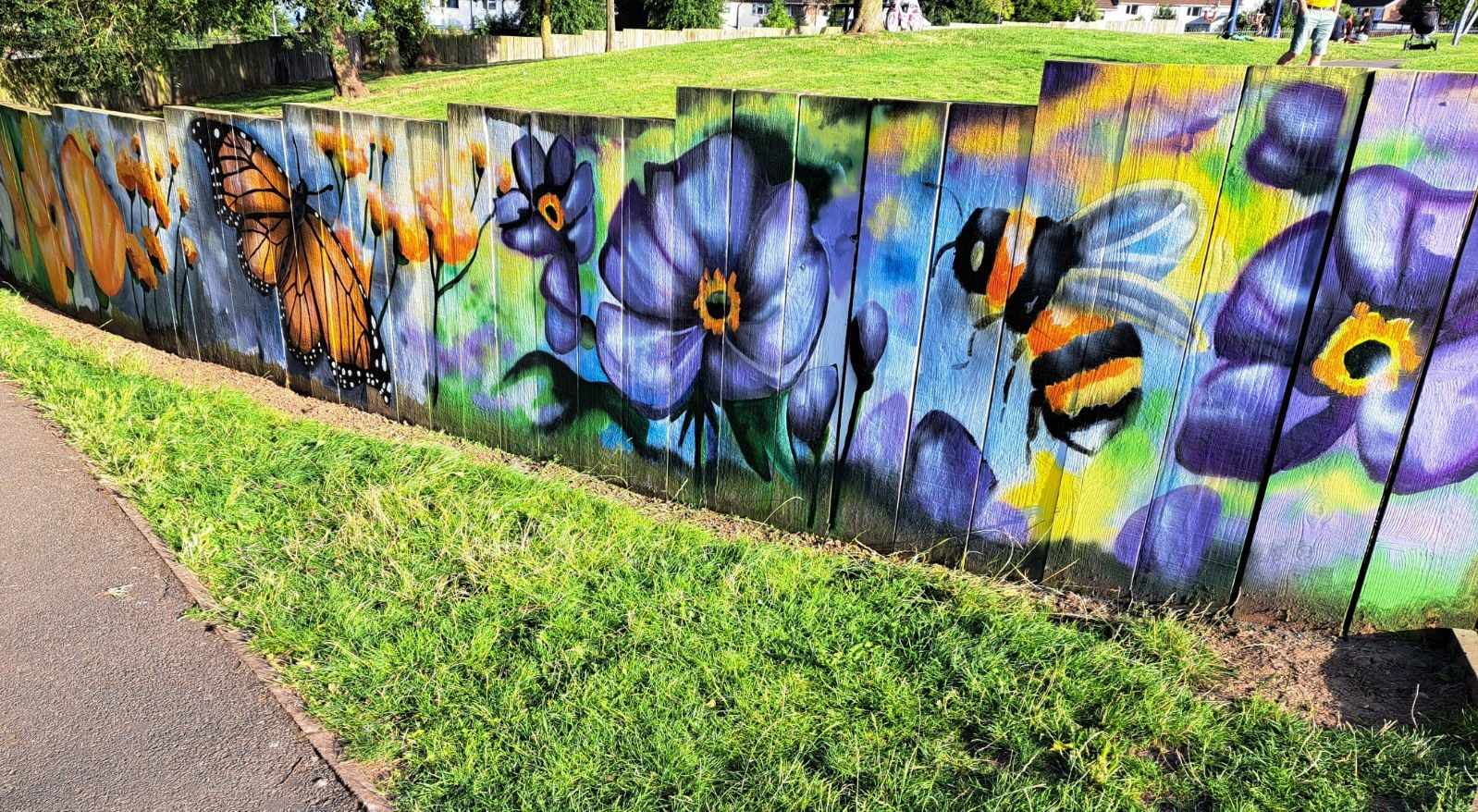 Warwickshire County Council (WCC) is delighted to announce the creation of a vibrant and captivating art mural in Camp Hill's Stubbs Pool play park.
Councillor Brett Beetham, in collaboration with Nuneaton and Bedworth Borough Council, funded talented local artist Katie-O to bring this exciting project to life using the WCC Councillor Grant Fund.
The Councillors' Grant Fund provides each of WCC's 57 Councillors with an allocated fund of £8,000 to support small-scale projects within their area that have a positive impact on the wider community.
Katie-O's mural, aptly named "The Spirit of Stubbs," celebrates the rich diversity of wildlife and flora found in the vicinity of Stubbs Pool. It will adorn the wooden fence surrounding the play park and complement the nearby wildflower meadow, creating a visually stunning and harmonious natural environment for the community to enjoy.
Councillor Beetham, County Councillor for Camp Hill, said:
"I am delighted to have funded this project. Katie-O is a talented artist, and I am confident that her mural will be a beautiful addition to the park. It will brighten up the space and create a sense of community. I believe that art has the power to transform communities. It can bring people together, create a sense of pride, and inspire hope. That is why I am so committed to supporting arts projects in Camp Hill. The mural that Katie-O is creating is a perfect example of how art can enrich our lives."
Katie-O, the artist behind "The Spirit of Stubbs," shared her excitement at being chosen for this project, saying, "It has been an absolute pleasure working on this mural. I wanted to create artwork that would bring people together and that everyone could enjoy. There's such a strong sense of community at Stubbs that I have experienced in just the few weeks I've been working on this, and I hope the artwork only adds more joy to this wonderful green space."
The mural is on track to be completed by the end of September, bringing a burst of colour and creativity to the heart of Camp Hill. This project exemplifies the power of collaboration between local councils and talented artists in enhancing public spaces for the benefit of the community.