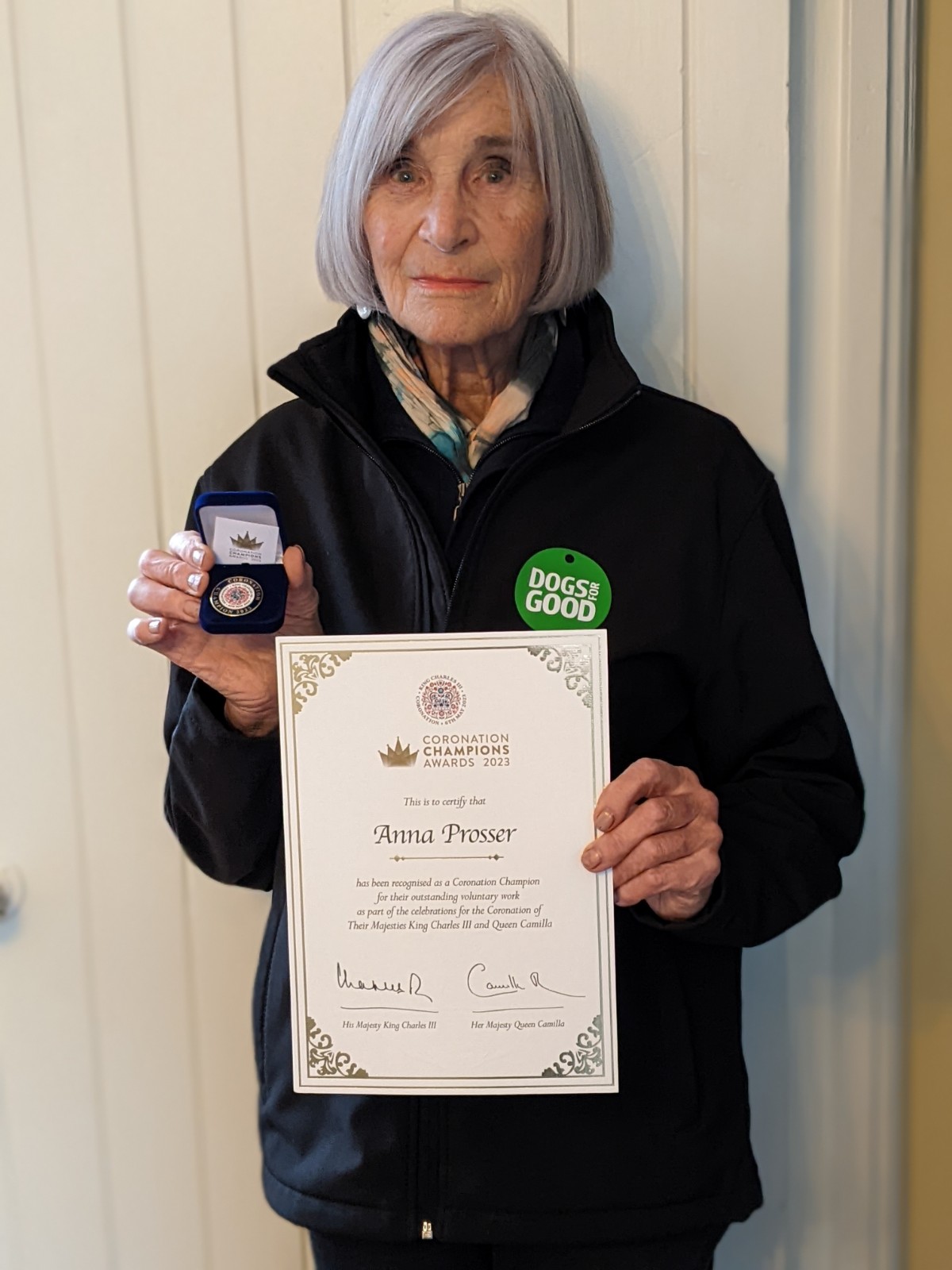 Anna Prosser is a dedicated volunteer for Dogs for Good, a charity that provides assistance dogs to individuals with disabilities, including those with autism and dementia.
Anna's passion for working with dogs and supporting people led her to become a Chair of the Dogs for Good Warwickshire and Coventry Supporters Group, and a Voluntary Speaker for the charity. In addition, Anna also temporarily boards puppies and dogs for the charity.
Anna's decision to volunteer for Dogs for Good came just before her retirement from Warwickshire County Council employment. She wanted to continue to be active and feel useful while contributing to a cause she cares about. As a former Children's Social Worker, Anna had experience working with families and children in a therapeutic way and set up several Parent's Support Groups in Leamington Spa.
As a puppy socialiser, Anna takes care of a puppy for its first year, helping it grow into a confident and happy dog. She enjoys organising various fundraising events and encouraging people to become involved, whether it is caring for a puppy, spreading awareness about the charity, or encouraging people to support their fundraising efforts. She believes that volunteers are the face of the charity in the community and play a crucial role in enabling Dogs for Good to provide assistance dogs to those in need.
Dogs for Good's services include Autism dogs, Dementia dogs, and Community dogs, and they offer online workshops to help families buy and train their own dogs to help children with autism. Anna and her team of volunteers participate in various events such as Fun Dog Shows, Kenilworth Lions show, Coventry Dog Show, Kineton Music Festival, and Dassett, Brailes, and Tysoe Shows. They regularly organise meetings and socials and are always looking for new volunteers to get involved.
Anna is also the recipient of a Coronation Champions Award, one of only 500 across the country, and has been invited to this weekend's Coronation Concert. When considering how to start volunteering, Anna encourages others to find charities that they care about and to give their time as per their convenience.
To find out more about Dog's for Good's volunteering opportunities, visit www.dogsforgood.org/ or visit the Dogs for Good Warwickshire and Coventry Supporters Group Facebook page.
On Monday 8 May 2023, people across the nation will be doing their bit and volunteering their time as part of The Big Help Out, an official Coronation initiative. The Big Help Out encourages all of us to have a go at volunteering, whether it be for an hour, a day, or on a regular basis to lend a hand, make a change, and help the people and good causes within our local communities.
To find out more volunteering stories and opportunities across Warwickshire, visit www.warwickshire.gov.uk/volunteering
For more information about the Coronation in Warwickshire, visit www.warwickshire.gov.uk/coronation