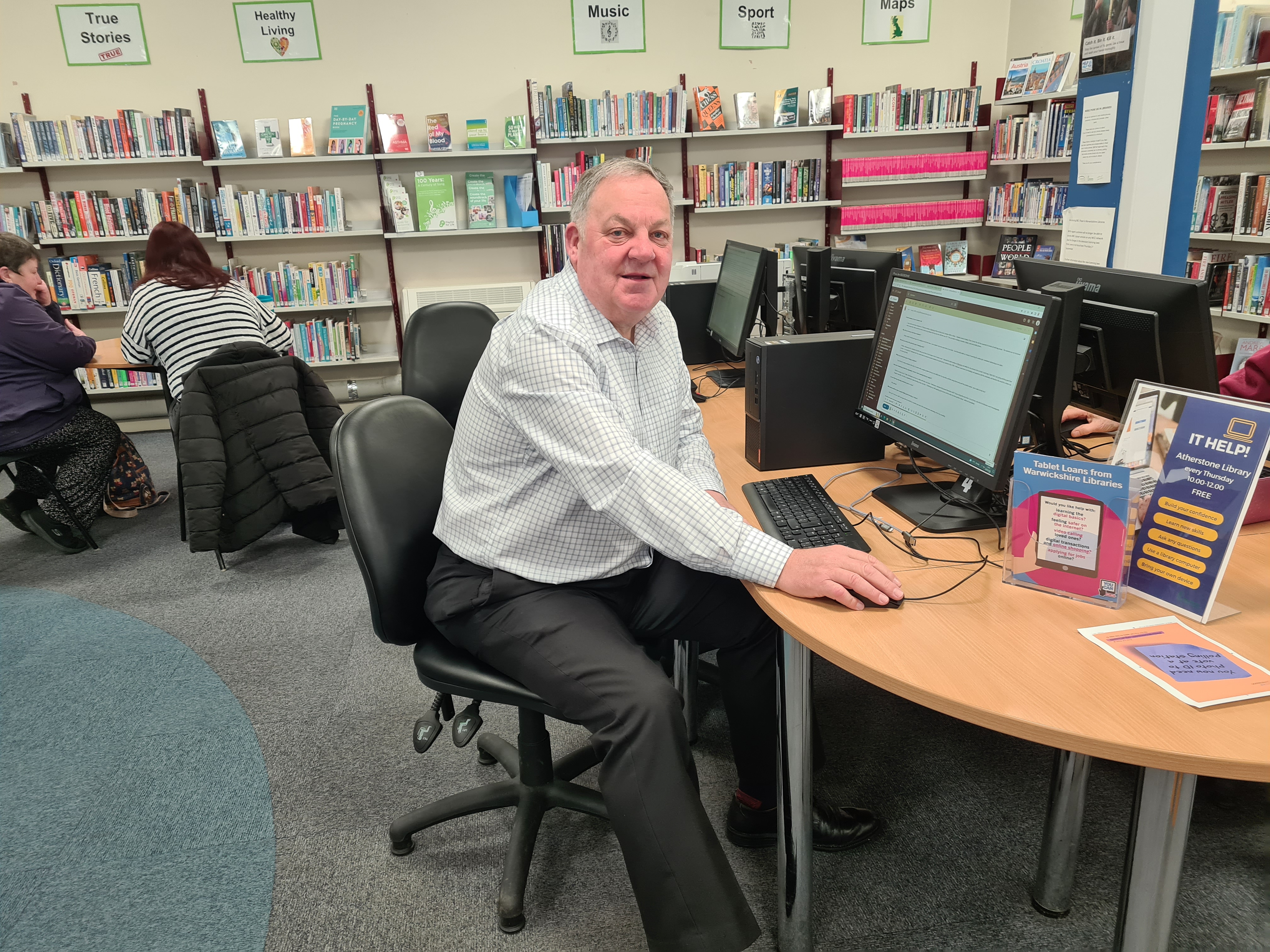 Meet Neill MacKenzie, who volunteers as an IT Skills Trainer at Atherstone Library.  
Warwickshire Libraries provide a range of useful help and IT support to library members, from getting help with using a computer and providing free online courses to learn how to use the Internet, to offering digital tablets on loan so that individuals can continue to learn and develop their digital skills at home.
Speaking about the variety of voluntary IT work available at Atherstone Library, Neill said: "At the library I deliver two one-hour IT Skills sessions every Thursday morning. These were originally aimed at teaching basic computer skills to older library members, although due to popularity the role has now expanded to include all adult age groups. During the sessions, library members are free to ask me about any issues that they may have experienced with their use of IT, and this can be on any device from desktop computers and laptops to mobile phones or tablets."
Neill chose to become a volunteer after retiring from his job several years ago, and first considered volunteering as an option as he had some spare time on his hands: "As a long-time IT enthusiast who has created and run several successful websites for myself and my customers since 1999, I believed I could share my knowledge and experience with the community and therefore this would be a productive use of my time and theirs".
Reflecting on the best part about being a volunteer, Neill explains: "Seeing somebody at the start of a session with a computer problem that may have baffled them for some time, and then seeing them leave with the problem solved and a smile on their face, is very rewarding. Through my volunteering, I also enable the librarians to focus more on the customers with other issues, whilst still providing a much-needed service to the local community".
For people thinking about becoming a volunteer, Neill advises them to "Have a go! If you have a skill, some spare time, and would like to somehow give back to the community, then volunteering can be very fulfilling".
Neill applied to become a volunteer with Warwickshire Libraries by visiting Warwickshire County Council's volunteering webpage, which is available to view and includes many more volunteering opportunities at www.warwickshire.gov.uk/volunteering.
On Monday 8 May 2023, people across the nation will be doing their bit and volunteering their time as part of The Big Help Out, an official Coronation initiative. The Big Help Out encourages all of us to have a go at volunteering, whether it be for an hour, a day, or on a regular basis to lend a hand, make a change, and help the people and good causes within our local communities.
To find out more volunteering stories and opportunities across Warwickshire, visit www.warwickshire.gov.uk/volunteering
For more information about the Coronation in Warwickshire, visit www.warwickshire.gov.uk/coronation