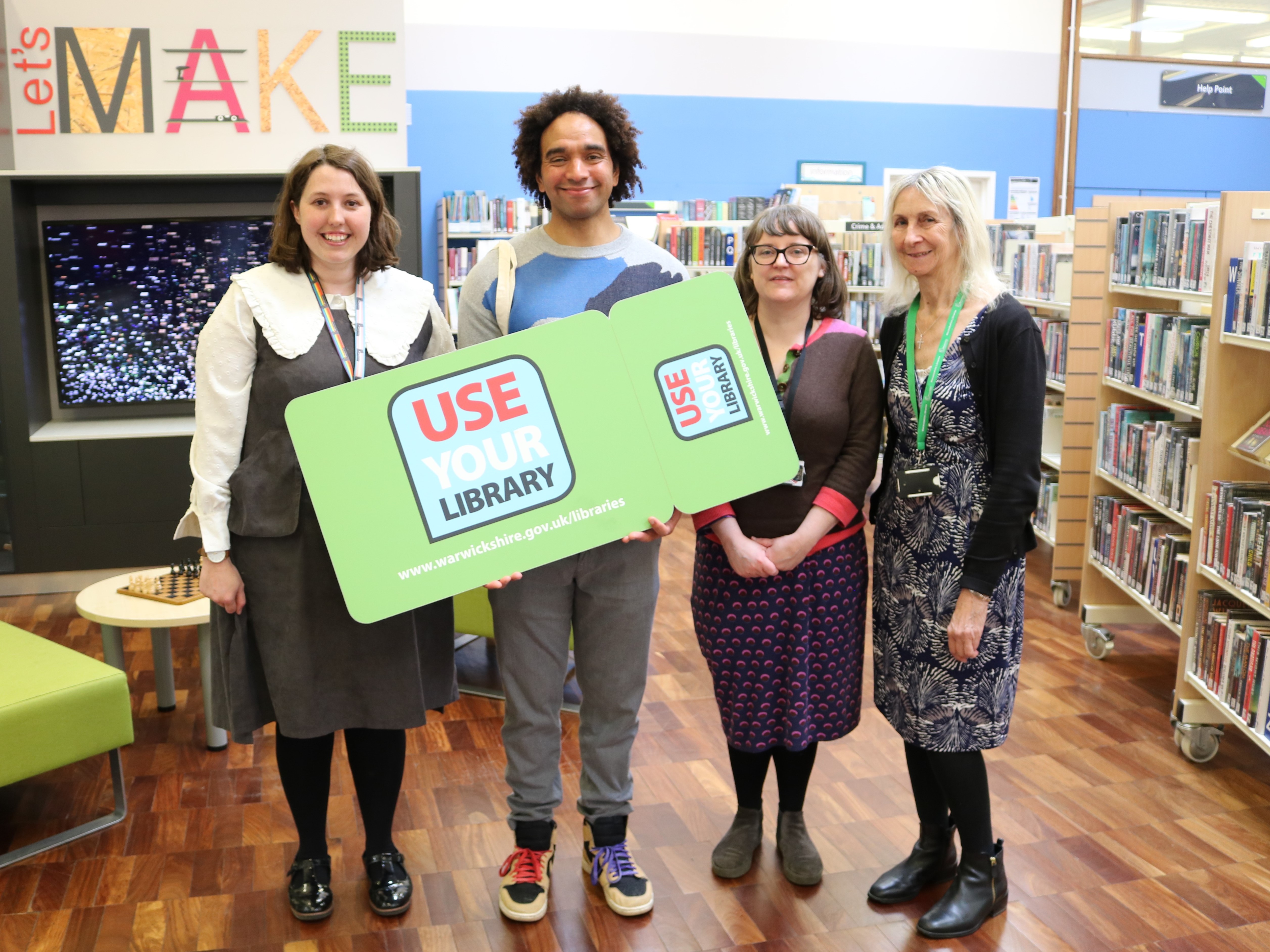 Warwickshire County Council's library service was delighted to welcome Waterstone's Children's Laureate for 2022-24, Joseph Coelho, to Nuneaton Library last week.
The visit featured as part of Coelho's nationwide 'Library Marathon' tour, which aims to encourage a love of reading in young people.
On Wednesday 12 April Joseph Coelho visited Nuneaton Library accompanied by BookTrust, the UK's largest children's reading charity, to meet and inspire local children in the north of the county to help get them started on their own reading journeys.
As part of the visit Coelho hosted an interactive story time session for young children in the library, which included rhymes, poetry, and creative stories, and encouraged plenty of engagement from the audience throughout. Coelho also delivered multiple readings and interactive performances from his own children's books to the audience, including "Werewolf Club Rules" and his "Courage Out Loud" poetry collection.
Following the story time session, Coelho also met with library staff to officially register for a library card and to borrow a selection of books from Nuneaton Library to take home and read.
Joseph Coelho is an award-winning performance poet, playwright, and children's author, and Nuneaton Library is 156 out of more than 200 libraries that he is visiting across the country for his nationwide 'Library Marathon' tour, one of three major initiatives he is undertaking in his role as Waterstones Children's Laureate. The purpose of the tour, which is managed by BookTrust, is to champion local libraries, the vital role they play within their communities, and aim to inspire a love of reading in young people of all ages.
Coelho's other campaigns as the Children's Laureate include 'Poetry Prompts', which is a weekly online series that celebrates the power of poetry in all its form, and 'Bookmaker Like You', which aims to showcase a diversity of new talent within the book industry so every child can see themselves as a bookmaker. For more information about Waterstones Children's Laureate, visit the BookTrust website.
Rob Powell, Strategic Director for Resources, said:
"It was a pleasure for Nuneaton Library to host Waterstone's Children's Laureate last week, and I know a great time was had by parents and children alike who were lucky enough to attend his creative and interactive story time session.

"Our libraries are wonderfully child-friendly, inclusive, and community-focused spaces that continue to encourage both the discovery and ongoing enjoyment of reading, and our friendly library staff are always on hand if you would like to enquire about joining as a local library member which is completely free."
Regular children's activities also take place at local libraries across the county including Rhyme Time, Story Stomp, Spring Craft sessions, and Code Club. Visit www.warwickshire.gov.uk/childrensactivities for more information.
Families who would like their children to enjoy regular access to reading can join Warwickshire Libraries as members for free. Books are available for members to borrow in-person at a local library, through the online library catalogue, or by browsing the BorrowBox collection which includes a great range of eBooks and eAudiobooks.
Warwickshire Libraries is also a friend of Child Friendly Warwickshire, which is bringing the county together in a collective effort to ensure all children and young people have a voice that is heard, that they are safe, happy and healthy and that they are equipped with the skills to have the best lives they can. To find out more, visit www.childfriendlywarwickshire.co.uk/
For further details about the activities available at your local library, visit www.warwickshire.gov.uk/libraries, and you can also follow Warwickshire Libraries on Facebook @warwickshirelibraries and Twitter @warklibraries.