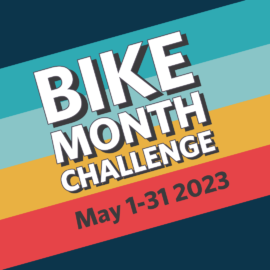 For residents thinking of taking up (or getting back into) cycling, Warwickshire County Council is offering lots of reasons why there is no better time than the present.
As Warwickshire moves into the warmer Spring and Summer months with more hours of daylight, the Council is encouraging residents to dust off their bikes and explore the many benefits of an active travel lifestyle. For residents looking to reduce their vehicle costs for fuel and maintenance, improve physical and mental wellbeing whilst also benefiting the environment, then there is no better time than now to get on those bikes.
It's often the short journeys – less than 5 miles – which have the greatest negative impact on the environment and our finances. However, these are also the easiest ones to replace with a cycling alternative, whether it be for the school pick-up, the commute to work, or to pop into the local town for shopping and socialising
There is now also an extra incentive to get those bikes out, as throughout May, Warwickshire County Council is supporting Love to Ride's Bike Month Challenge, which aims to get businesses, communities and individuals to take up cycling for work, health and leisure.
Getting involved is easy! Anyone who wants to take part, simply needs to:
Register using the Love to Ride App - it's totally free.
Ride their bike for 10-mins or more. Even a ride around the park counts!
Log their ride online or do it automatically by connecting to an app.
Spread the bike love by encouraging others to join.
By doing this, residents are in with a chance to win great prizes, including cash!
For businesses who are looking to support active travel schemes within the workplace, Warwickshire County Council offer a range of support through the safe and active workplaces programme. This initiative offers dedicated support and consultation which will help organisations to draft their own Active Travel Plan. It can also arrange for a variety of free active travel events such as:
Dr. Bike maintenance sessions;
Security bike markings;
Bike training sessions – both 1-2-1 and group sessions;
Route planning;
Bicycle Buddies, Bicycle User Group support (BUGs), Walking User Group support (WUGs) and Liftshare schemes; and
Workplace Champion support.
Mark Ryder, Strategic Director for Communities at Warwickshire County Council, said: "The benefits of active travel, particularly travelling by bike, are huge, both for the individual and for our wider environment.
"For many of us, it might seem difficult to know where to start, as travelling by carhas become so engrained in our daily lives. However, we are committed to supporting residents to realise that they can start their active travel adventure by switching just one car journey every week to an active alternative such as cycling, and we hope that the improving weather, longer days and the Bike Month Challenge with Love to Ride will offer residents a fun and engaging way to get into cycling and encourage their friends, family and colleagues to do the same."
To start your cycling adventure today, visit: https://www.lovetoride.net/warwickshire
Warwickshire County Council runs the #JustOneJourney campaign to encourage residents to ditch their cars and make the switch to active travel. Find out more about that here: https://www.warwickshire.gov.uk/news/article/3068/helping-residents-to-switch-justonejourney-and-ditch-the-car-for-an-active-travel-alternative
Find out more about the safe and active workplaces support for business: https://www.warwickshire.gov.uk/road-safety/safe-active-workplaces
For more information about how Warwickshire County Council is facing the challenges of the climate change emergency, visit: https://www.warwickshireclimateemergency.org.uk/
Get the latest news about how Warwickshire County Council and partners are facing the challenge of the climate emergency and how you can get involved: http://eepurl.com/hrk-zf