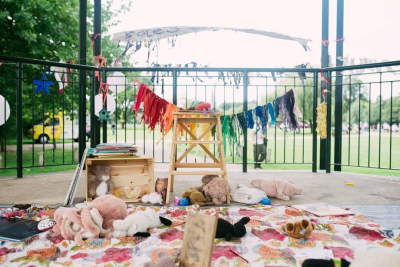 Warwickshire County Council is encouraging children and families to get involved in a fun event of stories and spell making at Stratford-upon-Avon library this Easter holidays.
On Monday 3 April, from 10.30am, Kate Coleman, of Kate's Story Tree will be telling stories of 'mischief makers and daydreamers' for children aged five to eleven.
There will also be a 'spell making' activity led by Sarah Annis from Ruby Road Collective where children are invited to concoct spell recipes for a better world using an activity sheet with prompts and inspiration for spells. The activity is designed to encourage children to think creatively about how to make some positive changes for friends, family, the town - or the wider world.
Children and families are also invited to visit Stratford 'rec' and see the 'We Shadows' installation by Ruby Road Collective. We Shadows is part of the 'Our Spaces' initiative which offered artists, designers, and creatives invaluable experience working on a collaborative public realm project. The result was seven functional, artist led installations in seven Warwickshire towns.
'Our Shadows' in Stratford invites young people - and those young at heart - to lie, sit and dream. There are spells already created with young people of Stratford written into the canopy of the installation. When the sun shines, the spells cast shadows onto the grass below. The piece is designed to radiate the young people's hopes and dreams for themselves, their place, and the planet.
Garry Palmer, Strategy and Commissioning Manager at Warwickshire County Council said: "The Easter holidays are a great opportunity to introduce children to the enjoyment of reading and other fun, creative activities - such as positive spell making! We're looking forward to welcoming children and families to the library at Stratford and hope many will take the opportunity to also visit the We Shadows installation at the rec."
The spell making worksheets will be available for collection at the library throughout half term, while stocks last, and are also available to download here: the Our Spaces web pages.
To find out about other activities taking place in Warwickshire during half term visit https://visit.warwickshire.gov.uk/.
Warwickshire Libraries will also be sharing more details about their half-term events on social media, including Facebook @warwickshirelibraries and Twitter @warklibraries.
You can follow Kate Coleman on social media: @katesstorytree.