IndieGo PLUS - Hatton and west Warwick
IndieGo PLUS is our fast and low cost on-demand bus public transport service for Hatton and west Warwick. It is operated in partnership between Stagecoach, Liftango and Warwickshire County Council.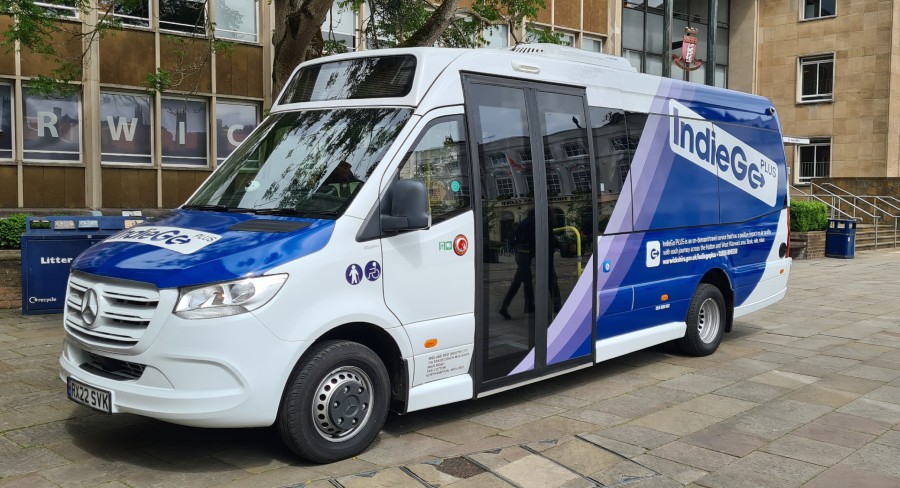 You book your ride through the mobile app or dedicated call centre.
You request your pick-up and drop-off points when making your booking, but a short walk may be required to complete most trips.
IndieGo PLUS is a rideshare service, this means you will probably share your ride with other customers who are going in the same direction as you.
Passengers book and pay directly from their smartphone through the IndieGo PLUS mobile app and, using the latest technology, track the bus in real-time to the meeting point of choice.
Prices range from just £4 for a single trip and discounts for children. Rides can be booked two weeks in advance up until an hour before travel through the app or by telephone. Passengers booking and paying for journeys through the call centre will be advised of the expected vehicle arrival time.
Service hours
IndieGo PLUS will operate from 6am to 7.30pm Monday to Saturday (no service on most bank holidays). Rides can be booked on the IndieGo PLUS app at any time. Telephone lines are open from 8.30am to 5pm, Monday to Friday (excluding public holidays).
Operating area
IndieGo PLUS only operates within Hatton, west Warwick and west Kenilworth. If you want to travel within this area but live outside, we suggest you make personal travel arrangements to reach your closest meeting point within the operating zone.
Journeys can be made to and from anywhere in the shaded areas on the service area map, however journeys can't be made solely within the green shaded area as there are existing public bus routes available. Please zoom in on the map to see the service boundaries.
We encourage the use of existing bus services where available for a regular, often quicker, journey. Passengers are welcome to travel into and out of this area where there is no regular bus service.
IndieGo PLUS accessibility
We have made every effort to make IndieGo PLUS accessible for all passengers. Buses are ramp accessible and have wheelchair spaces on board which can be booked through the IndieGo PLUS app or by calling 01926 895559. All our drivers are highly trained and are willing to offer extra support at your meeting point or destination. We welcome assistance dogs on board at all times. If you have a specific requirement or want to request a meeting point closer to your home to assist with accessibility please contact us.
If you'd like to use your mobility scooter please contact us for further advice as we may need to carry out an individual assessment due to the limited space on the vehicle.
As part of the continual development and improvement of the IndieGo PLUS DRT service we seek new ways to make it work for as many people as possible.
Currently, when you make a booking, you'll be allocated one of over 250 pick-up/drop-off 'virtual' bus stops that's usually within 200 metres walk of where you are, however if you require the use of the wheelchair/mobility scooter space, the vehicles will get as close to you as possible for the pick-up, and drop you off as close is possible to your destination.
If you have a visual impairment or mobility limitations and need to use a frame, walking stick, or maybe you're on crutches for a bit but are not using a mobility device, you can now make use of the new Mobility Assistance option in the app or through the call centre.
By selecting this option, you won't take up the dedicated wheelchair/mobility scooter space, but the vehicle will still get as close as possible to you for your pick-up and drop you as close as possible to your destination to save you having to walk too far.
The new option is live now within the Extra Passengers section of the app, so all you do is toggle it on and then select which ticket option you need.

You can also request this option through the Call Centre.
Booking a ride
How to book
Book your ride by downloading the free IndieGo PLUS app, available from Google Play or the Apple App Store. Using the app allows you to quickly see your closest meeting point, book and pay for your ride, and track your vehicle in real-time. Rides can also be booked by telephone on 01926 895559. Your Pass will be validated on-board the vehicle when you travel.
During busy times, there may be a short delay in getting through. If you get the voicemail option, please do leave a message including your telephone number and one of the team will call you back shortly. This will save you having to wait on the line.
Stops
To help make rides as efficient as possible, passengers cannot add multiple stops.
When you can book
The app is available 24 hours a day, 7 days a week to make bookings, and the dedicated Call Centre is available from 8.30am to 5pm Monday to Friday. Bookings can be made from an hour before your required travel (subject to availability) up to 2 weeks in advance. As the service gets busier, we'd recommend making bookings as far ahead as possible to ensure you get the journey you need.

When booking, you have the option to say when you need to leave by, or when you need to arrive by. If you have an appointment to keep, please use the 'arrive by' option to ensure the system accounts for your requirements. If you use the 'leave by' option, your advised pick-up time may change by a few minutes to account for other similar bookings.
Repeat rides
You can block book repeat rides for up to seven days at a time in the app.
Meeting points
A meeting point is like a virtual bus stop and may be a short walk from where you want to be picked up, usually just a few minutes away. This may be a common meeting point for multiple pick-ups in busy areas, so there may be others at the same meeting point. There are hundreds of meeting points across the service areas and most of these are not marked bus stops.
If a meeting point doesn't look suitable, get in touch so we can investigate. This could be if it is too far to walk from your home or it is inaccessible for a bus and we will see if we can change the meeting point.
New points may be added upon request to indiego@warwickshire.gov.uk or by contacting the Call centre on 01926 89 55 59.
When there are no available rides
The IndieGo PLUS app will suggest earlier and later time options for you to travel. If you're booking by telephone, we'll offer alternatives.
Number of seats per ride
You can book up to seven seats per trip, subject to availability on board.
Booking confirmation
When booking a ride, you will immediately receive a booking confirmation within the app, with an estimated pick up and drop off time. This time may vary slightly, within a few minutes either side of the estimated time. Your final pickup time will be confirmed through the app, and by text message, 30 minutes prior to the pickup time. Telephone bookings will receive a text or email to confirm this same information, if these contact details are provided.
Receipts
You will automatically receive your receipt by email when you make payment.
Ride confirmation
When you receive your ride confirmation, you will be informed of your ride's bus identity in the form of a letter A to F. This letter will be clearly displayed on the front of the bus when it arrives at your meeting point. Your ride confirmation will also give the name of your driver, and they will check your booking details when you board for peace of mind. All vehicles will be branded with the IndieGo PLUS logo.
Cancelling your ride
You can cancel your ride through the IndieGo PLUS app or by calling us. If you cancel more than 30 minutes ahead of your allocated pick up time, you will be refunded in full. If you cancel within 30 minutes of your ride, you will not be refunded.
We ask all passengers no longer intending to travel to cancel their ride as soon as possible, to help other passengers have a quicker ride.
Not showing up for your ride
Not showing up for your ride at the time allocated will delay the ride for other passengers and may mean they get to their destination late. We understand circumstances can change, so we offer free cancellations up to 30 minutes before the allocated pick up time. Passengers who do not show up or are late will be charged in full. Frequent cancellations or not showing up for bookings may result in your account being suspended.
Late buses
We will make every effort to be at your meeting point on time but occasionally circumstances out of our control may cause a delay. You can use the app to keep updated on the bus arrival time.
Price
IndieGo PLUS uses a simple fare structure to make it easier to understand and budget for. The price will be clearly displayed on the app or when booking over the phone. Fares start from just £4 for a single adult journey with reduced prices for return journeys booked at the same time. Children aged between 5 and 16 will have a reduced fare and any child under the age of 5 will travel for free but will still need to be booked.
Concessionary pass holders travel free – register your concessionary pass in the IndieGo PLUS app then book as normal or book by calling 01926 895559. You will need to show your driver your pass when boarding. Concessionary pass holders are still required to cancel rides if travel plans change, and this can be done through the app or by telephone up to 30 minutes before the allocated pick up time.
IndieGo PLUS fares

| Fare type | Price |
| --- | --- |
| Children under five | Free |
| Adult single | £2* |
| Adult return | £6 |
| Child single (ages 5 to 15) | £2* |
| Child return (ages 5 to 15) | £4.50 |
*As the IndieGo PLUS service is eligible for the current £2 Single fare cap as part of the Government's Help for Households scheme, the cost in the app and for any call centre bookings has been adjusted to reflect this. The scheme runs from 1 January 2023 to 30 June 2023.
Concessionary passes accepted after 9am Monday to Friday and all day on Saturday.
How to pay
You will be able to pay securely by debit or credit card within the IndieGo PLUS app or when booking by telephone. Payment cannot be made on the bus or with cash.
Bus appearance
Buses are clearly marked with the IndieGo PLUS branding. Buses will display a letter on the front – this will match the letter given on your booking confirmation.
MegaRider cards
Whilst the minibuses are being operated by Stagecoach, they don't form part of their network and so any tickets of passes bought from them cannot be used on the IndieGo PLUS service.
On board experience
Facilities
Buses are equipped with free WiFi, USB charging ports and comfortable seating with seatbelts. Buses also have a wheelchair space with access ramp.
Travelling with children
Children can travel on board. Children under the age of 10 must be accompanied by a passenger 13 years or above.
Children 10 years or older can travel independently. If children are travelling on their own, we recommend an app booking is made on the device they will be travelling with to ensure they receive notifications about the trip, however a person must be at least 13 years of age to be a registered user of the IndieGo PLUS app.
Prams and buggies
You can bring prams and buggies on board. We would kindly ask all of our customers to keep the dedicated wheelchair space free, which means we may ask you to fold and store your buggy or pram on some occasions.  We want to ensure our services are as inclusive as possible and we appreciate your assistance in permitting those with wheelchairs, prams and buggies to use our buses. We also ask that gangways are kept clear.
What you can't bring on board
Due to limited space on board we cannot carry bikes or e-scooters.
Feedback
Passenger feedback helps us improve your service, so we ask for feedback at various stages when using the IndieGo PLUS app. You can also give specific feedback on the "About" page in the app, which sends feedback to us by email. After you complete a trip, you will be prompted through the app to give a ride rating to help us have an overview of ride satisfaction.
We can also take feedback by telephone, email or on our social media channels.
Lost property
We encourage you to carefully check you have all your personal belongings upon arrival at your destination. However, if you have left something on board, please get in touch via email or telephone. We'll then try and reunite you with your lost item as soon as possible.
Your role as a customer
Circumstances can change
The IndieGo PLUS goal is to provide everyone with the best and most equal service possible. We understand that sometimes unexpected things can happen which require you to cancel a ride, and we refund passengers who cancel up to 30 minutes before the allocated time. However, frequent cancelling or not showing up for bookings may result in your account being suspended, as this may mean other passengers may miss out on the service.
Help make everyone's ride an enjoyable one
Customers are asked to:
Have a valid and confirmed booking prior to boarding
Fasten seatbelts while on board
Remain seated until the bus has stopped moving
Refrain from speaking to your driver when they are driving
Be considerate when travelling with food and drink – hot food should not be consumed and hot drinks should be in a container with a spill-resistant safety lid
Take any rubbish and your belongings with you
Any bags or luggage that cannot be carried on your lap during the journey must be placed in the dedicated luggage space at the front of the vehicle. Space is limited on the vehicles and the comfort of all passengers is key
Customers should not:
Soil or damage the bus
Smoke, take drugs or drink alcohol on board
Behave in an offensive manner or use any offensive language towards other customers or your driver
Intentionally interfere with the comfort or safety of other passengers
Travelling with animals
We welcome and encourage assistance dogs on board. Other dogs (or small animals) are also permitted, but only one is allowed on board at a time and must be added when booking a journey. This would currently need to be done by booking the wheelchair space but this will be amended soon to allow you to book your Dog. This is to ensure there's plenty of space for them. Animals on board must be well behaved and of no danger or nuisance to other customers our employees. We ask you to comply with any reasonable instruction given by your driver whilst you and your animal are on board.
Coronavirus (COVID-19)
Face coverings
Face coverings are not mandatory on the IndieGo PLUS service but are encouraged wherever possible.
How the IndieGo PLUS service keeps the air clean