The position of Young Poet Laureate is unique, giving the appointed person an opportunity to work with Warwickshire Libraries. Our poet laureate takes part in events and activities across the county under the mentorship of a professional poet. Warwickshire Young Poet Laureates have performed on the radio, on film, at festivals and led their own poetry workshops.
Warwickshire Libraries' Young Poet Laureate 2020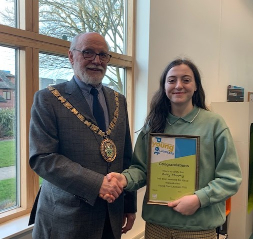 Warwickshire County Council is thrilled to announce the position of Young Poet Laureate 2020 has been awarded to Ruby Murphy, a pupil from Rugby High School.
The Laureateship is a unique opportunity for the successful candidate to develop their writing skills and take part in events and activities across the county under the mentorship of a professional poet. This year's winner, Ruby, will be mentored by award-winning Birmingham poet, Jasmine Gardosi who has appeared on BBC 3's The Verb, BBC Asian Network and at Glastonbury Festival.
Ruby was crowned the winner at a special selection day at Rugby Library on 18 January, where she competed against five other high-calibre poets in a series of challenging workshops, interviews and performances. The event was attended by the Mayor of Rugby, Councillor Bill Lewis, and representatives from Warwickshire Libraries who presented certificates and prizes to the winner and runners up.
During the event, the six aspiring-poets had the chance to work with former Worcestershire Poet Laureate, Fergus McGonigal, who kicked off the day with a workshop sharing creative advice and tips on how to make the most out of their performance. The poets then took part in a panel interview taking questions about why poetry is important and what they hoped to do in the role. The day culminated in the young people performing two of their own poems to 60 of their friends and family, with one of the poems themed around Warwickshire.
The audience was also treated to some of Fergus' own work, as well as performances from the outgoing Young Poet Laureate, Hannah Owens, and this year's mentor Jasmine Gardosi.
Cllr Kam Kaur, Portfolio Holder for Customer and Transformation at Warwickshire County Council, said:
"Now in its sixth year, Warwickshire's Young Poet Laureate scheme is a wonderful opportunity to inspire our younger generations to experience poetry, whether it be writing or performing their own, or reading and listening to others. Over the years, our Laureates have inspired hundreds of young people with their love of poetry by leading workshops, appearing on film and radio, and at festivals, and have helped to share the message that poetry is accessible to everyone. I am delighted that we are able to offer this opportunity with the continued support of Poetry on Loan and wish Ruby a successful and exciting year as Young Poet Laureate 2020."
This year's short-listed candidates were:
Niamh Chalmers
Ruby Murphy
Grace Ridley
Elise Scotney
Jolyon Summerfield
Shona Whelan
Candidates represented Rugby High School, King Edward VI School and Kineton High School.
The Young Poet Laureate competition is run by Warwickshire Libraries and supported by Poetry on Loan, an initiative supported by Arts Council England that promotes contemporary poetry throughout public libraries in the West Midlands.
For more information about the Young Poet Laureate scheme please email [email protected]
Gallery - Young Poet Laureate 2015 - 18
Are you an aspiring young writer?
Support for young writers
Recommended books for aspiring poets