Warwickshire Libraries' Young Poet Laureate 2021/2
Applications have now closed for this year's Young Poet Laureate
Warwickshire Libraries and their panel of judges are currently shortlisting candidates and more information about the competition will be shared here in the coming weeks.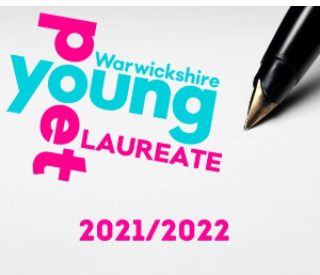 Over the summer, applications have been received from young people aged between 13 and 17 who live and go to school in Warwickshire and who like to perform their own poetry to an audience.
Our next Young Poet Laureate will take part in events and activities across the county and is offered the mentorship of a professional poet.
Our shortlisted candidates will be invited to take part in a virtual workshop with a professional poet and undertake a short individual virtual interview with our judges on Saturday 2 October. The following week, on Saturday 9 October, they will perform in front of an audience at a public event (this may be held in a Covid-secure way in a Warwickshire Library or may be virtual. Details will be confirmed nearer the dates, following all relevant safety guidelines. Please ensure when applying that you are available on these dates).
Data Privacy and Use Statement: We need this information in order to accept and assess your application for the Young Poet Laureate position. We need a way to communicate with you. We will store your details in a way that protects your privacy and process it under the lawful basis of public task. Read our full Privacy Notice.
Warwickshire Libraries' Young Poet Laureate 2020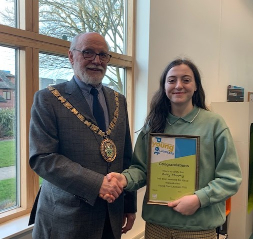 The position of Young Poet Laureate was awarded to Ruby Murphy, a pupil from Rugby High School in January 2020.
Ruby was crowned the winner at a special selection day at Rugby Library, where she competed against five other high-calibre poets in a series of challenging workshops, interviews and performances. The event was attended by the Mayor of Rugby, Councillor Bill Lewis, and representatives from Warwickshire Libraries.
During the event, the six aspiring-poets had the chance to work with former Worcestershire Poet Laureate, Fergus McGonigal, who kicked off the day with a workshop sharing creative advice and performance tips. The poets then took part in a panel interview taking questions about why poetry is important and what they hoped to do in the role. The day culminated in the young people performing two of their own poems to 60 of their friends and family. The audience was also treated to some of Fergus' own work, as well as performances from the outgoing Young Poet Laureate, Hannah Owens, and this year's mentor Jasmine Gardosi.
The Young Poet Laureate competition is run by Warwickshire Libraries and supported by Poetry on Loan, an initiative supported by Arts Council England that promotes contemporary poetry throughout public libraries in the West Midlands.
For more information about the Young Poet Laureate scheme please email libraryevents@warwickshire.gov.uk.
Gallery - Young Poet Laureate 2015 - 18
Are you an aspiring young writer?
Support for young writers
Recommended books for aspiring poets