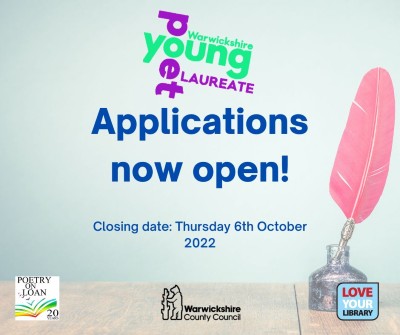 Could you be Warwickshire Libraries' Young Poet Laureate 2022/23?
Warwickshire Libraries are delighted to announce that the competition to become Young Poet Laureate 2022/23 is now open. The search is on for the county's eighth Young Poet Laureate, who will succeed Daniel Wale in the role for 2022/23.
The competition is open to anyone aged between 13 and 17 who lives and is educated in Warwickshire and who would like to perform their own poetry to an audience. Our Young Poet Laureate will take part in events and activities across the county and is offered the mentorship of a professional poet. Past Warwickshire Young Poet Laureates have performed on the radio, on film, at festivals and led their own poetry workshops.
Applications are now welcome before the deadline of 6pm on Thursday 6th October. The judges will then get to work and shortlisted candidates will be notified by Friday 28th October.
Our shortlisted candidates will be invited to take part in a Selection Day which includes a workshop with a professional poet, a short individual interview with our judges and a performance in front of an audience at a public event. This will take place at a Warwickshire Library (location TBC) on Saturday 5th November. Please ensure when applying that you are available on this date.
How to apply:
Applicants need to:
Be 13-17 years old.
Live and be educated in Warwickshire.
Fill in our Application Form (you can apply online using the link below or download and print the form)
Submit three poems. One should be inspired by Warwickshire; one should be about or inspired by libraries and the third can be of your own choosing.
Submit a personal statement and explain in 250 words:
1. Why you want to be Warwickshire Libraries' Young Poet Laureate
2. How you would promote poetry to the diverse range of people

Download the application form (PDF, 237KB) - see below for instructions about submitting.
Visit your local Warwickshire County Council managed Library to ask for a form.
The closing date is Thursday 6th October 2022 at 6pm.
Entries can be submitted online using the link above or emailed to libraryevents@warwickshire.gov.uk. Alternatively, printed entries can be posted to The Reading and Learning Team, Unit 4, WCC Hawkes Point, 1 Hawkes Drive, Heathcote Industrial Estate, Warwick, CV34 6LX (they must arrive by 6pm on Thursday 6th October 2022).
Data Privacy and Use Statement
We need this information in order to accept and assess your application for the Young Poet Laureate position. We need a way to communicate with you. We will store your details in a way that protects your privacy and process it under the lawful basis of public task. You can read our full Privacy Notice.
For more information about the Young Poet Laureate scheme or if you have any questions about the application process, please email libraryevents@warwickshire.gov.uk
Warwickshire Libraries' Young Poet Laureate 2021/22
The seventh Warwickshire Young Poet Laureate was named in October 2021. Daniel Wale, a pupil from King Edward VI School in Stratford-upon-Avon was selected by judges after a virtual selection day hosted by Warwickshire Libraries via Microsoft Teams. Although the Young Poet Laureate Selection Day usually takes place in a Warwickshire Library, for 2021, this had to be changed due to Covid.
Four high calibre candidates from King Edward VI School, Rugby High School, and Stratford Girl's Grammar took part in a 90-minute workshop with stand-up poet Jonny Fluffypunk, who shared creative tips and advice about how to successfully deliver poetry performances.
The candidates then each took part in virtual interviews in front of a judging panel, which consisted of delivering a poetry performance and answering a series of questions, including sharing their ideas about the Young Poet Laureate role. The day culminated in the judges selecting Daniel as Young Poet Laureate 2021/22.
During Daniel's Young Poet Laureateship, he has performed at poetry events throughout Warwickshire including alongside the Coventry Poet Laureate, Emily-Lauren Jones at Coleshill Library and has been commissioned to write a poem celebrating Libraries. Daniel has also shared his poetry reading recommendations via the Warwickshire Libraries Blog and received mentorship from award-winning poet, Jasmine Gardosi.
The Young Poet Laureate competition is run by Warwickshire Libraries and supported by Poetry on Loan, an initiative supported by Arts Council England that promotes contemporary poetry throughout public libraries in the West Midlands.
For more information about the Young Poet Laureate scheme please email libraryevents@warwickshire.gov.uk
Warwickshire Young Poet Laureate Through The Years
Are you an aspiring young writer?
Support for young writers
Recommended books for aspiring poets