What is a timebank?
Timebanks are a way for people to help others in their community and be rewarded for it – in time. It's an easy way for communities to help themselves by staying local.
Timebanking is a way of spending one hour of time helping someone out and earning one time credit in return. A time credit is a community loyalty point which you can spend requesting help from someone else in the timebank. This can be spent on receiving an hour of someone else's time. You could learn something new or share a skill you have like cooking, speaking a language or playing a musical instrument.
Everyone's time is valued equally so one hour of sharing skills or helping others is recognised by giving that person one hour as a time credit. It is people helping people one hour at a time.
Time4Warwickshire
Time4Warwickshire is our timebanking initiative, and supports local communities in Warwickshire. It links you with your local timebank.
People of all backgrounds and abilities can offer their time, skills and services, and request those back from others when they need help.
Who can join?
Anyone - all you need to join is two people who can vouch for you. You must be over 14 years old. Lack of finance or limited mobility are never barriers to taking part in your local timebank. We want as many people as possible to be participating in their local timebank.
We are calling on communities and individuals to join and use their local timebanks. All volunteers will be given support and advice on how to get the most from timebanking by your local Time4Warwickshire timebank broker. Timebanking hours count towards job seeking hours.
How to sign up to Time4Warwickshire
Find out more about Time4Warwickshire including how to join your local timebank.
You can contact us:
What can you do with your time credits?
You can 'spend' your time credits when you request help from someone else in the timebank. Alternatively, you can give them to someone who needs help via the community pot or you can just save them until you need them.
Where are the timebanks?
There are six timebanks in Warwickshire:
Bedworth
North Warwickshire (Atherstone & Mancetter)
Nuneaton
Rugby
Stratford District
Warwick District
Short stories relating to timebanking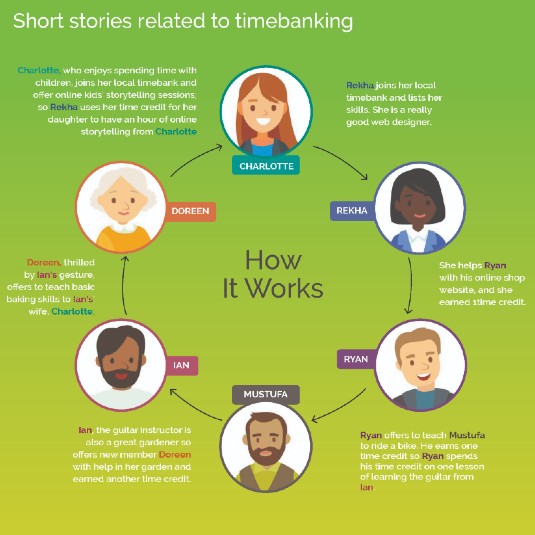 How it works
Charlotte
Charlotte, who enjoys spending time with children, joins her local timebank and offers online kid's storytelling session. So, Rekha uses her time credit for her daughter to have an hour of online storytelling from Charlotte.
Rekha
Rekha joins her local timebank and lists her skills. She is a really good web designer.
She helps Ryan with his online shop website and earns one time credit.
Ryan
Ryan offers to teach Mustufa to ride a bike. He earns one time credit so Ryan spends his time credit on one lesson on learning the guitar from Ian.
Ian
Ian the guitar instructor is also a great gardener so offers new member Doreen with help in her garden and earns another time credit.
Doreen
Doreen, thrilled by Ian's gesture, offers to teach basic baking skills to Ian's wife Charlotte.