Overview
The Warwickshire Education Strategy (2018-2023) is driven by the County Council's One Organisational Plan 2020 and sets out an overarching vision for education in Warwickshire. The main aim of the strategy is to improve educational outcomes, and therefore the life chances, of learners of all ages in Warwickshire.
Purpose
summarise our aspirations and priorities for education in Warwickshire
explain how the council will work with partners to achieve these
bring together the work of different teams with partners so that services are more joined-up
continue to improve education quality and learner outcomes at a time of financial challenge
support innovation through creative and inspiring partnership working
Priorities
Early Years: Our challenge is to foster children's love of learning from birth through early childhood and into Year 1 so that all young children achieve their potential.
SEND & Inclusion: Our challenge is to provide an inclusive education for all children and young people within Warwickshire with a particular focus on vulnerable groups
Family of Schools: Our challenge is for all learners to enjoy a high-quality learning experience.
Employability: Our challenge is to champion employability by promoting the best opportunities for all learners.
Related Strategies
Several sub strategies have been produced to outline focussed programmes of work for the delivery of the strategy's priorities. Whilst some priorities do not have a specific sub strategy associated to it, those areas are considered no less of a priority, instead its objectives are interlinked across existing programmes of work and are implemented through their own delivery plans.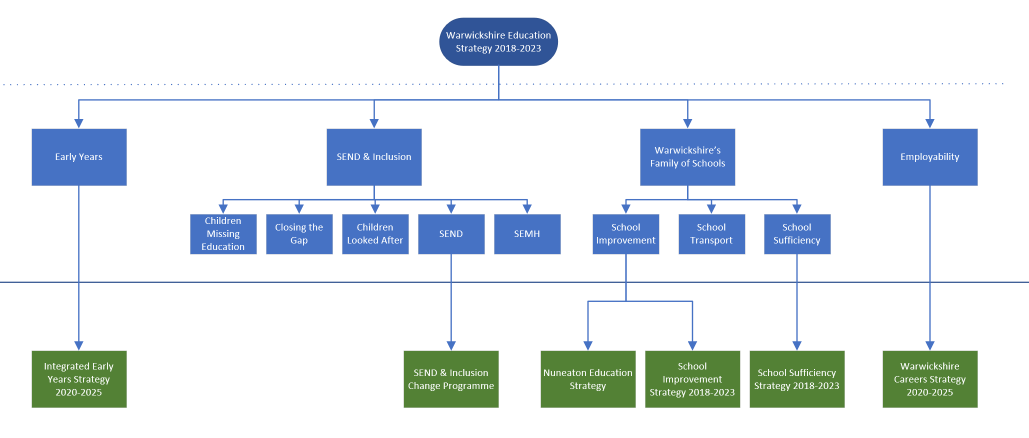 Integrated Early Years Strategy
A new Integrated Early Years Strategy is planned to be implemented from 2020-2025 which is designed to build on and develop existing 0-5 year old provision and continue to raise professional and service standards and improve educational outcomes of all young children in Warwickshire following a decline in performance. The strategy will introduce and improve integration between key services supporting young people, enable innovation in service provision and ensure appropriate investment and intervention where standards of Early Years provision require improvement.
SEND and Inclusion Strategy
The Special Education Needs and Disability (SEND) and Inclusion Strategy 2019 - 2023 builds upon the Vulnerable Learners Strategy 2015 – 2018. The strategy is informed by the work of an external SEND Demand Management Strategic Review and has been produced following public consultation in 2018. The strategy sets out the vision for provision for SEND locally, across education, health and social care.
School Improvement Strategy
The School Improvement Strategy underpins the Family of Schools priority in the Education Strategy and sets out Warwickshire's approach to school improvement where system leaders are responsible for leading and driving school improvement.
Nuneaton Education Strategy
The Nuneaton Education Strategy is the first 'placed based' strategy aimed at improving education, prospects and aspirations for the young people of Nuneaton as part of the Transforming Nuneaton programme. If successful, this approach could be applied to other regions in the county.
Education Sufficiency Strategy
The Education Sufficiency Strategy sets out how the Council plans for and anticipates the growth in demand for school places. It looks at how to maximise the use of funding in the local area to ensure high quality, accessible school and early years places for all learners.
Warwickshire Careers Strategy
The Warwickshire Careers Strategy underpins the Employability priority in the Education Strategy focusing on supporting our young people as they prepare for employment with targeted support to help our most vulnerable learners, and the adult population who may want to re-enter the workplace, change careers, or progress at work during their working life.
Outdoor Education and Learning Strategy
Warwickshire County Councils ambition is for all children and young people to have access to and enjoy high quality outdoor education and learning. The Outdoor Education and Learning Strategy identifies how we will work with education settings (0-25) to promote and embed a culture of outdoor activities and challenges that stimulate learning.