Enrichment
The Virtual School Enrichment Programme offers programmes in academic, social, cultural, sporting and leisure activities to promote achievement for our children and young people growing up in care.
We believe that engaging vulnerable young people in positive activities and offering safe and trusted adults for the young people to talk to, encourages a belief in their ability to succeed. The wide range of activities offered gives our children in care a chance to experience enjoyment and success.
Academic activities
UniversityGo! Experience for our Yr 7 - 9 Children Looked After
It's a fact that care leavers are less likely to than their peers be in Higher Education at the age of 19. The Warwickshire virtual School is working hard with local universities to change this. Our goal is to ensure that Children Looked After are made aware of the opportunities that Further Education offers and for them to realise that it could be a very valid possibility.
UniversityGo! is a hugely successful programme, designed to inspire and engage students through a series of interesting and exciting days at both Coventry and Warwick Universities. The sessions to date have received very positive feedback from carers and the children were enthusiastic about the range of new experiences and the excitement of learning in areas they had never previously explored.
More information on UniversityGo!
Higher Education Information Event - July 24 2021
View the Higher Education information event poster (PDF, 2.3 MB)
Cultural activities and arts and crafts
Artslink is supported by all 14 West Midlands Virtual Schools, and aims to ensure that all care experienced children & young people in the region have the opportunity to get involved in arts and culture and develop as learners, as people and as artists.
Our offer includes:
Events run by clusters of Virtual Schools, such as Give It A Go days (trying new artforms and activities out) and professional artists supporting other Virtual School events such as award ceremonies.
Regional activities, such as Look Inside days (e.g. BBC, music studio) and massed performing groups, such as choirs, for showcase events.
The ArtsLink website packed with creative challenges, films, links and career guidance specially commissioned for care experienced young people, and showcasing their own work, as well as information about local opportunities. To join our mailing list and receive updates on the latest arts & culture opportunities for care experience children and young people, please visit the below Connect & Create site.
World Book Day Competition - Closes Monday 24th April 2022
View the World Book Day Competition information poster (PDF, 921 KB)
Commonwealth Games Project
ArtsLink Connect and Create - Great arts and culture activities and experiences to do at home - art, music, dance, drama, creative literacy, digital arts and more - specially commissioned and selected for care experienced children and young people and the people they live with. And free of charge.
Arts Award - Artslink is able to offer an opportunity for VS children and young people to participate in an online Arts Award, Discover. By using Artslink's Connect and Create site, young people will be able to complete a certified Arts Award. Discover is a basic, easily accessible, entry level award. We will be offering other Arts Award levels in due course. If you are interested and would like to sign up then please get in touch.
Warwickshire Music Hub - Resources for all ages.
Saturday Club at Coventry University - The Saturday Club at Coventry University offers Club a unique opportunity to build new skills and develop creative confidence in a range of art-forms and with artists from a wide variety of backgrounds.
The Art & Design Saturday Club is the perfect space for young people to explore their creativity and learn an array of practical skills:
Take part in an inspiring range of activities and workshops, such as animation, architecture, photography, illustration, graphics and Fine art
Experiment freely and think imaginatively whilst broadening your understanding of career opportunities in the creative industries and beyond
Opportunity to experience and use state-of-the-art facilities and receive expert tuition from Coventry University's tutors and students
It's FREE and open to 13-16 year olds of all abilities.
If you have any questions, please contact the team via email: hello@saturday-club.org
Artslink Healthy Body Healthy Mind flyer (PDF, 2MB)
Sport activities
Details of all events are circulated by the Virtual School via the Fostering Newsletter OR sent directly to carers when targeting specific young people.
Competitions
Coventry University - Offline Activity - New Year, New Beginnings 2021
We are excited to announce the launch a new offline activity for young people across the UK. This initiative is designed for students in years 7-13 (aged 11-18), it's completely free, with resources supplied, and even a chance to win prizes! This activity also requires little interaction with a device or use of the internet other than to register.
New Year, New Beginnings
Would you like your students/young people to be part of a creative project or give them the opportunity to get a few things off their mind? Then, this activity can help. We have created self-standing 3D thought trees!
This activity is an opportunity for your students to think about the past 12 months. A chance to reflect on their personal experiences of living through a global pandemic and how it has affected their lives and others; whether that's in a positive and/or negative way. It's also an opportunity to plan for the future and think about their hopes and dreams for 2021. Not to mention it can help relieve stress and anxiety.
The thought process behind this is that a tree grows from a seed. Seeds are a symbol of life, growth and hope which can last for many, many years. Together with each individual tree that is returned, we will then create a 'Forest of Hope' for 2021. This will be displayed on campus for staff, students and visitors to see.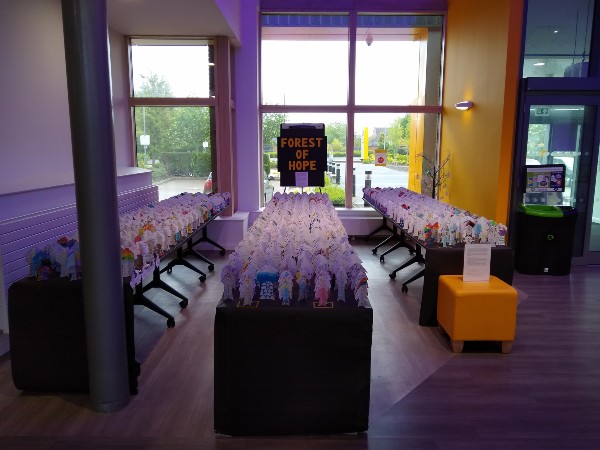 *Teachers, youth workers and other professionals - should you wish to request enough activity packs for your class or youth group, please email Liam Norton via ad3846@coventry.ac.uk with the subject line 'WP activities 2021'. Please be aware, we request that registration forms are completed and return by those who participate. This data will be capture using HEAT (Higher Educational Access Tracker).
Coventry University projects
Coventry University are excited to announce the launch of four new projects for young people across the UK. Each project is completely free, with resources and materials supplied, and even a chance to win prizes!
The activities are:
Draw your future
The neon envelopes
Sketchbook, City of Culture 2021
UniConnect Pen Pals
Post 16 programmes at Warwick University
Now open for Year 12 Students. The programmes currently open for applications are for students specifically interested in law, banking, business, finance and engineering. There is also some information on webinars and personal statements.
If staff or students have any questions, email post16@warwick.ac.uk.
Unity
Unity has been developed in partnership with Coventry and Warwickshire Virtual Schools. It provides Children Looked After and care leavers with the opportunity to experience higher education with Coventry University and CU Group.
Delivers impartial information relevant to individual's own circumstances and ambitions for their future (Gatsby Benchmark 3)
Provide the opportunity to be part of a series of subject specific, masterclasses delivered by academics and student ambassadors (Gatsby Benchmark 7)
Offers interactive and informative workshops with our student services, such as Students' Union, Talent Team and Health and Wellbeing (Gatsby Benchmark 4).
This bespoke series of events running throughout the academic year is offered to young people in Year's 10-13+ in Coventry and Warwickshire area. This project also offers the chance of an overnight residential at one of our CU Group campuses. (All activities will be subject to current government guidelines).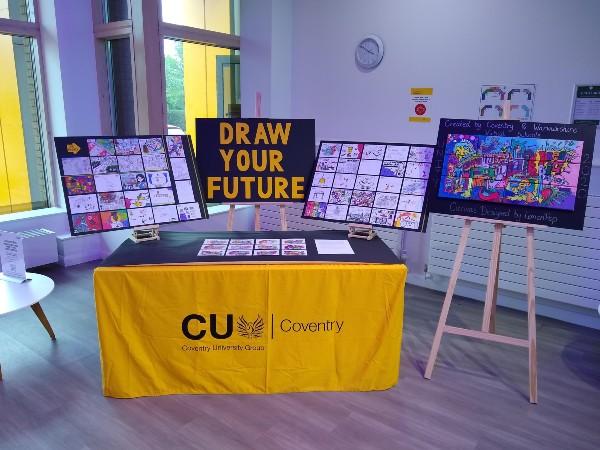 Draw Your Future display. These canvases were created by the UNIty group (Years 10 - 13) all from Warwickshire and Coventry Virtual School and are now on display at Coventry University.