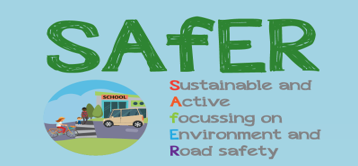 The Road Safety Education Team are very excited to announce the launch of a brand-new awards scheme being introduced to all primary schools – The SAfER Schools Award (Sustainable Active Focussing on Environment and Road safety)
The SAfER Schools Programme has been developed to promote and support road safety and active travel activities in schools across Warwickshire.
The Safer School Programme aims to:
Promote safe and active travel to and from school and beyond
Reduce the number of vehicles idling and parking outside schools
Use SAfER school activities to link with the curriculum and other programmes already running in school
Work together with the wider community to make a difference and keep children safe
A free Programme for all schools
The most exciting part of this programme is that it is free! The Warwickshire Road Safety Education Team are committed to helping schools become safe and active and so we are offering this award and our support and guidance for free. We will even send in one of our dedicated Road Safety Officers to deliver assemblies to schools on themes such as: crossing the road safely; be bright, be seen; and sustainable active travel.
How do schools achieve SAfER School Status?
Achieving SAfER Status could not be easier with a pre-set list of activities provided. There are four levels as part of the programme which schools will work through to gain SAfER status. Schools use our suggested SAfER intervention activities and Action Plan template to organise, plan and deliver the activities at each level. Once schools have completed the set number of activities, they send a completed form and evidence back to us for verification and reward.
There is no set timescale for completing the levels – schools simply work through the activities at their own pace. The level of time and commitment needed will depend on their own programme of SAfER activities – it may be one hour a week, or a couple of days a month.
The School Champion
As part of the programme, schools will recruit a School Champion. A school champion can be any adult in school – a teacher, teaching assistant, a volunteer, a parent, a governor, a member of the PTA or any other adult member of staff.
The role of the School Champion is to be the main lead and point of contact for Headteachers, Governors, staff, the Road Safety Education Team and other professionals. They will be skilled in organising and motivating both children and adults and are enthusiastic in encouraging others to help make a difference.
School Champions will tailor the SAfER Award to the needs of the school, choosing activities that will be delivered in school addressing issues such as congestion around the school gates; increasing active travel or reinforcing the Warwickshire Road Safety Code.
School Champions receive support, guidance and resources from the Road Safety Education team and are assigned a dedicated Road Safety Officer.
Benefits of becoming a SAfER School
Not only will schools be addressing local issues, but they will be involving the wider community and working together to keep children safe.
And in return we will offer schools:
1:1 support from a Road Safety Officer
Free training and resources
Promotion of the SAfER approach – articles for school newsletters; local media coverage and supply resources for school events
Free assemblies delivered by a Road Safety Officer
Playground markings
Theatre Education (subject to availability)
Access to existing road safety campaigns such as:

Cars and Kids don't Mix
Parents Code
Watch out Kids About
Mini Champions
Mini Champions is an incentive-based scheme developed to encourage children and their parents to use sustainable travel modes for the school journey. The Mini Champions scheme can be run as part of the SAfER programme, as one of the pre-set activities, or as a standalone award.
The aim is to reduce the number of car trips made to and from school, ease pollution; encourage walking; promote healthier lifestyles for pupils and their families and reduce our carbon footprint on the world.
Children will be issued with a record of achievement card which is stamped/coloured in each time they make a sustainable journey to and from school. When 25 journeys are made, children are issued with a certificate and a passport; the passport will be stamped every 25 journeys made.
To find out more about the SAfER Programme or the Mini champions award, then contact the road safety education team by email roadsafetyeducation@warwickshire.gov.uk or call 01926 418062.