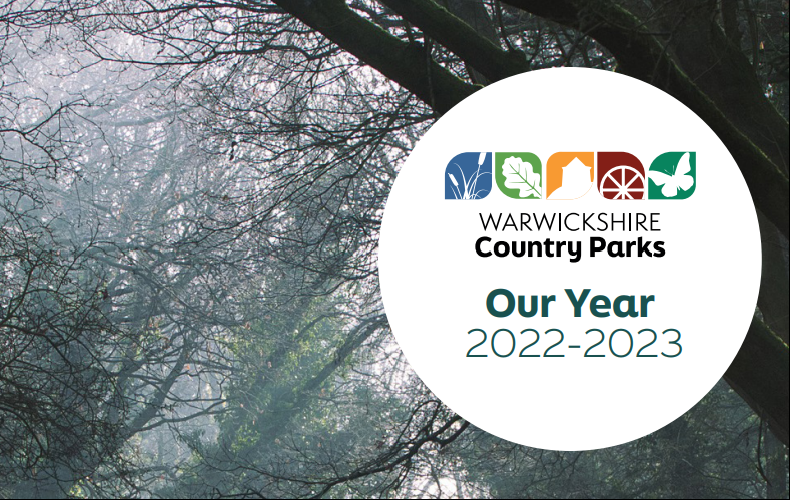 Warwickshire County Council has published 'Our Year 2022-23', the first publication summarising all that has happened in Warwickshire's Country Parks over the past year.
The document provides insight into the achievements and future plans of the Warwickshire Country Parks Service. "Our Year 2022-2023" showcases efforts to provide green spaces that promote well-being, support the local economy and offer invaluable experiences to residents and visitors.
A million welcomes
One million visitors are welcomed to Warwickshire's Country Parks and greenways, which are managed by Warwickshire County Council, each year. These areas, which span woodlands, wetlands and grasslands, have played a key role in promoting physical and mental health and wellbeing, particularly following the challenges posed by the Covid-19 pandemic.
A diverse range of green spaces
The service operates five country parks, three greenways and two nature reserves, covering over 1,300 acres of Warwickshire's beautiful and varied countryside. Each site offers a unique experience which caters to the needs and preferences of residents, businesses and visitors from Warwickshire, the wider West Midlands and beyond.
Priorities and partnerships
The report documents the strong alignment between the Warwickshire Country Parks Service and the priorities set out in Warwickshire County Council's Council Plan 2022-2027. These priorities include creating vibrant communities, promoting child-friendly environments, addressing climate change and enhancing opportunities for children, young people and those with special educational needs and disabilities.
In the document, the Council recognises the vital role that volunteers and external partnerships play in the success of the parks. These partnerships include collaborations with organisations such as the Angling Trust, Warwickshire Wildlife Trust and various community groups, all of which contribute to improving the visitor experience and preserving and enhancing the ecological value of these green spaces.
Enriching experiences and activities
In its commitment to providing diverse and enriching experiences, the Warwickshire Country Parks service has worked to expand offerings and celebrate the benefits of spending time in the great outdoors. Activities like Wellbeing Wednesday Walks, Sunday Strolls and Toddler Trundles offer children and adults opportunities for relaxation, learning and exercise. Children's birthday parties and school holiday events continue to be a hit with younger visitors, providing engaging and educational experiences to children across the county.
Supporting biodiversity and climate awareness
Warwickshire's Country Parks and greenways provide a habitat for thousands of plant and animal species, and efforts to promote climate and biodiversity awareness have resulted in numerous achievements. Ryton Pools Country Park is on the brink of being designated a site of national importance for bumblebees, with several rare species recorded at the park. The rangers continue to foster rich habitats for various wildlife species, further enhancing the environmental value of the sites.
Looking forward to a bright future
Looking ahead, Warwickshire Country Parks has committed to continue to develop and expand its offerings, ensuring accessibility for people of all ages and backgrounds. Additional plans include improving fishing experiences, expanding water-based activities at Kingsbury Water Park and exploring new opportunities for outdoor education.
Warwickshire County Council invites everyone to enjoy the natural spaces that enrich the lives of Warwickshire residents and visitors. Whether seeking relaxation, adventure or a deeper understanding of the environment, these green spaces have something to offer everyone.
Councillor Heather Timms, Portfolio Holder for Environment, Climate and Culture at Warwickshire County Council, said: "Countryside and green spaces are essential elements of our daily lives, offering solace, learning and recreation. Warwickshire County Council is dedicated to nurturing these invaluable assets through our Warwickshire Country Parks service.
"This look back at last year's activity demonstrates our commitment to enhancing the well-being of our residents, supporting our community's health and preserving the beauty and biodiversity of our county. Our green spaces are more than just parks; they are vital threads woven into the fabric of our community, contributing to the shared history and future of Warwickshire."
To see Warwickshire Country Parks Our Year 2022-2023 in full, visit: api.warwickshire.gov.uk/documents/WCCC-1980322935-2535
For more information about Warwickshire's Country Parks, visit: www.countryparks.warwickshire.gov.uk