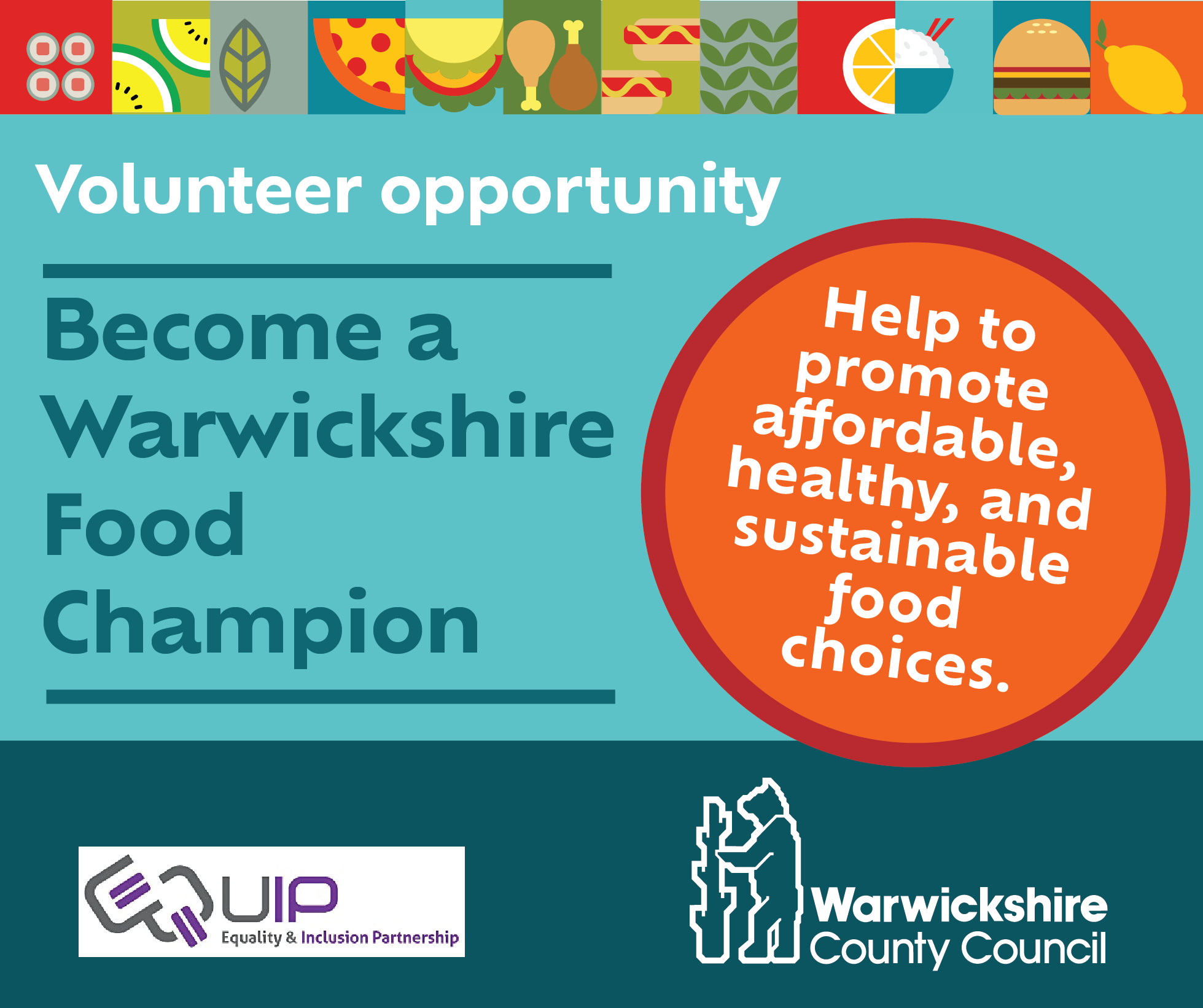 Residents who are passionate about helping others are invited to get involved in a new volunteering opportunity to become Food Champions across Warwickshire.
As a Food Champion volunteer, individuals will get to work with local groups and communities to equip people with the right knowledge about how to eat more healthily, in a way that is affordable, and that contributes to the environment in more sustainable ways.
The work of the volunteers will also support key priorities outlined in the Warwickshire Food Strategy 2023-2026, which has been developed by the Warwickshire Food Forum to ensure there is a supply of good quality, healthy, and affordable food available for everyone across the County.
The opportunity is recommended for those who enjoy helping others, working with other people by sharing knowledge and ideas, and are eager to take on a meaningful challenge. No specific dietary expertise or formal qualifications are required. However, volunteers will be expected to provide guidance to community groups on key aspects of the Warwickshire Food Strategy and to support the main aims of this work.
To equip all volunteers with the necessary tools and knowledge, free training sessions will be provided in November on a wide and interesting range of topics. These include key approaches to health and wellbeing; nutrition and the effects of poor diet on health; how to provide cooking demonstrations; food safety and hygiene training; issues about food supply and accessibility; how to read food labelling; how to grow healthy food at home; supporting the environment, and more.
The training sessions will also discuss 'Kind Communities Kind Food', a County Council-led community engagement programme that provides live cooking demonstrations and information about how to adopt healthier lifestyles as well as other food-related community support.
The next 'Kind Communities Kind Food' event is taking place at The SYDNI Centre in Leamington Spa (CV31 1PT), on Saturday 21 October, 12-4pm, and free places are available to book on the Eventbrite page.
Individuals interested in becoming a Food Champion are encouraged to attend the next 'Kind Communities Kind Food' event, or one of following introductory webinars to find out more:
Cllr Heather Timms, Warwickshire County Council Portfolio Holder for Environment, Climate and Culture, said:
"Volunteers play an important role in our local communities, creating a positive difference across a variety of sectors whilst supporting our local economy and the environment. With many residents continuing to feel the impact of the rising costs of living, the work of Warwickshire's Food Strategy and its holistic approach to food could not be more important this winter.

"I encourage anyone who has an interest in helping others, sharing educational knowledge, and promoting healthy food and well-being changes that are accessible and affordable, to become a Warwickshire Food Champion. Together, we can make a lasting impact that truly benefits the health and vitality of Warwickshire's local communities."
The volunteers will contribute towards the wider work of the Warwickshire Food Strategy 2023-26, which has been developed by the Warwickshire Food Forum partnership. The Strategy focuses on taking action against food poverty, and being able to make good quality, healthy and affordable food available for all across the County. To achieve this, the County Council is working with agencies and organisations from across the public, private, voluntary and community sectors to further develop the Strategy's Delivery Plan. The aim of this plan includes:
Reducing food poverty and resulting ill-health;
Promoting local and sustainable food; and
Decreasing food waste and greenhouse gases related to our food system.
For more information about the Warwickshire Food Strategy 2023-26, visit www.warwickshire.gov.uk/warwickshirefoodstrategy
For cost-of-living support, visit www.costoflivingwarwickshire.co.uk