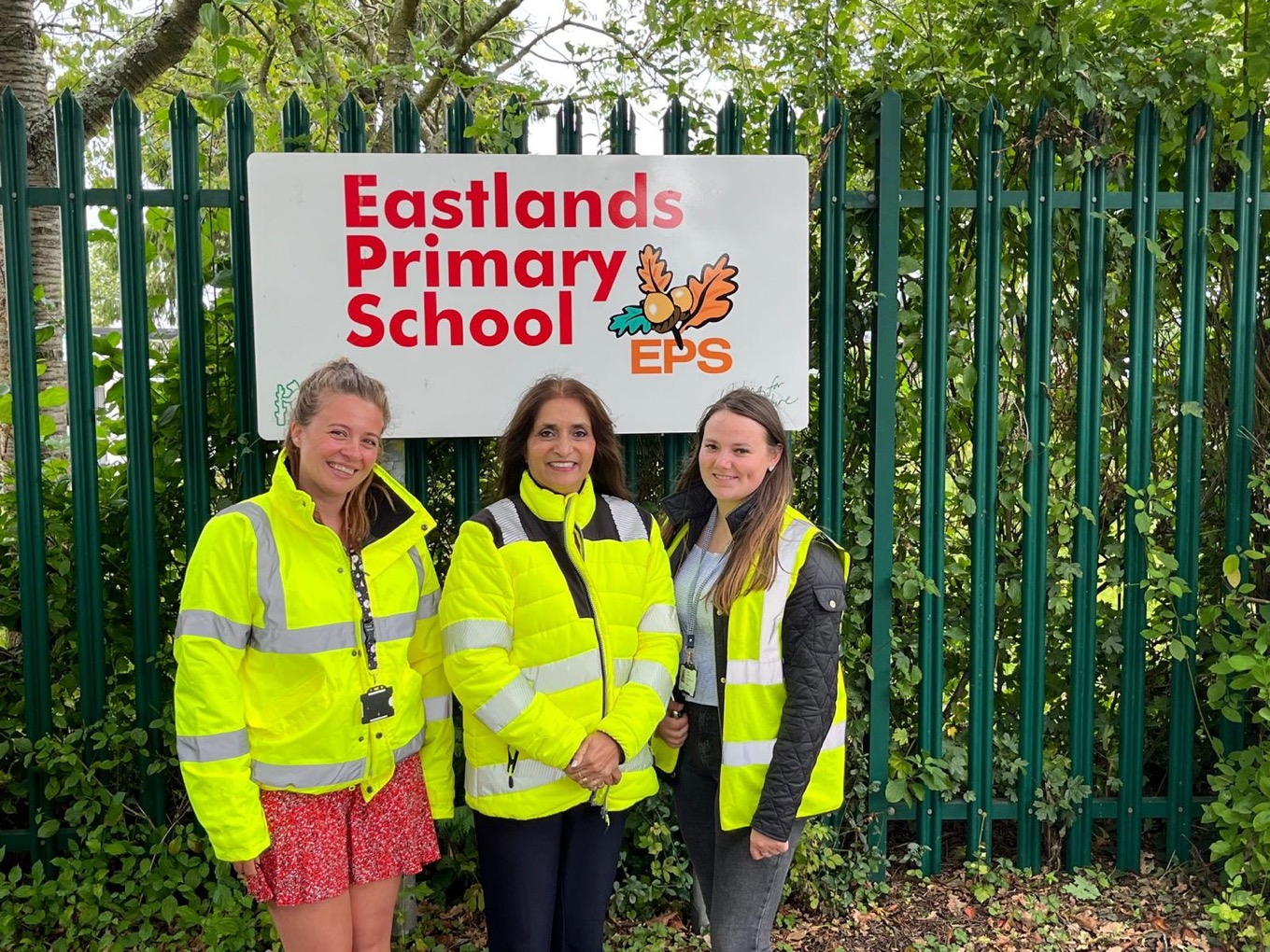 An innovative new pilot scheme from Warwickshire County Council is aiming to make the county's school streets safer for its youngest residents.
The pilot School Streets scheme, which will be taking place at Eastlands Primary School in the Hillmorton area of Rugby, creates a zone where non-residential motor vehicles from outside the School Street zone are restricted from entering the area and travelling past school entrances during the school start and finish times. School Streets operate only during term time.
Traffic signs at the entrance to the School Street zone will inform drivers of the time that the restrictions will operate. School Streets have been implemented widely across the UK and have proved successful at making the school journey safer and air quality better. They have been very popular with residents, parents, children and schools alike and Eastlands Primary School in Rugby will be the first to be implemented in Warwickshire.
The main aims of School Streets are to:
Reduce congestion and the risk of collisions to make streets safer;
Reduce traffic on the road and improve traffic flows at school drop off and pick up times;
Make it safer for school children to cross the road with fewer cars parked or waiting and obstructing visibility;
Make it easier for local residents who drive to enter and exit their street;
Encourage families to walk, scoot and cycle to school;
Create a healthier street environment; and
Improve air quality near schools which has positive health benefits for children. Exposure to poor air quality is now acknowledged as being a cause of death in children.
During the pilot scheme at Eastlands Primary School, Lansdowne Place, the residential road leading to the school, will be closed to all non-residential traffic during term time, Monday-Friday from 8:15-9:15 and 2:30-3:30. Currently, it is planned that the scheme will launch the week afterhalf term – 6 November 2023.
Cllr Jan Matecki, Warwickshire County Council Portfolio Holder for Transport and Planning said: "The school streets pilot at Eastlands School is something we are very excited about in Warwickshire. It's such a simple concept that has a wide range of important benefits that it can realise from improving rush hour congestion and decreasing road traffic collisions to improving the air quality around our schools.
"We will be watching the results of this pilot scheme very closely and I would like to thank Mrs Edwards at Eastlands Primary School for agreeing to take part in Warwickshire's very first School Streets Scheme."
Mrs Suki Edwards, Head Teacher at Eastlands Primary School, said: "I am so pleased that Eastlands has been chosen for this project. Over the years we have worked hard with our community to raise awareness of considerate & safe parking, reducing pollution around school gates and encouraging healthy lifestyles by walking, scooting or cycling to school.
"I am sure this project will support our hard work and lead to a further change in the behaviour of drivers and by doing so, make the journey to school even safer and healthier each morning."
Find out more about school streets in Warwickshire: https://www.warwickshire.gov.uk/schoolstreets
More details about the national school streets initiative can be found here: http://schoolstreets.org.uk/
Find out more about Road Safety in Warwickshire: https://warksroadsafety.org/
Find out more about Eastlands Primary School: https://www.eastlandsprimaryschool.co.uk/