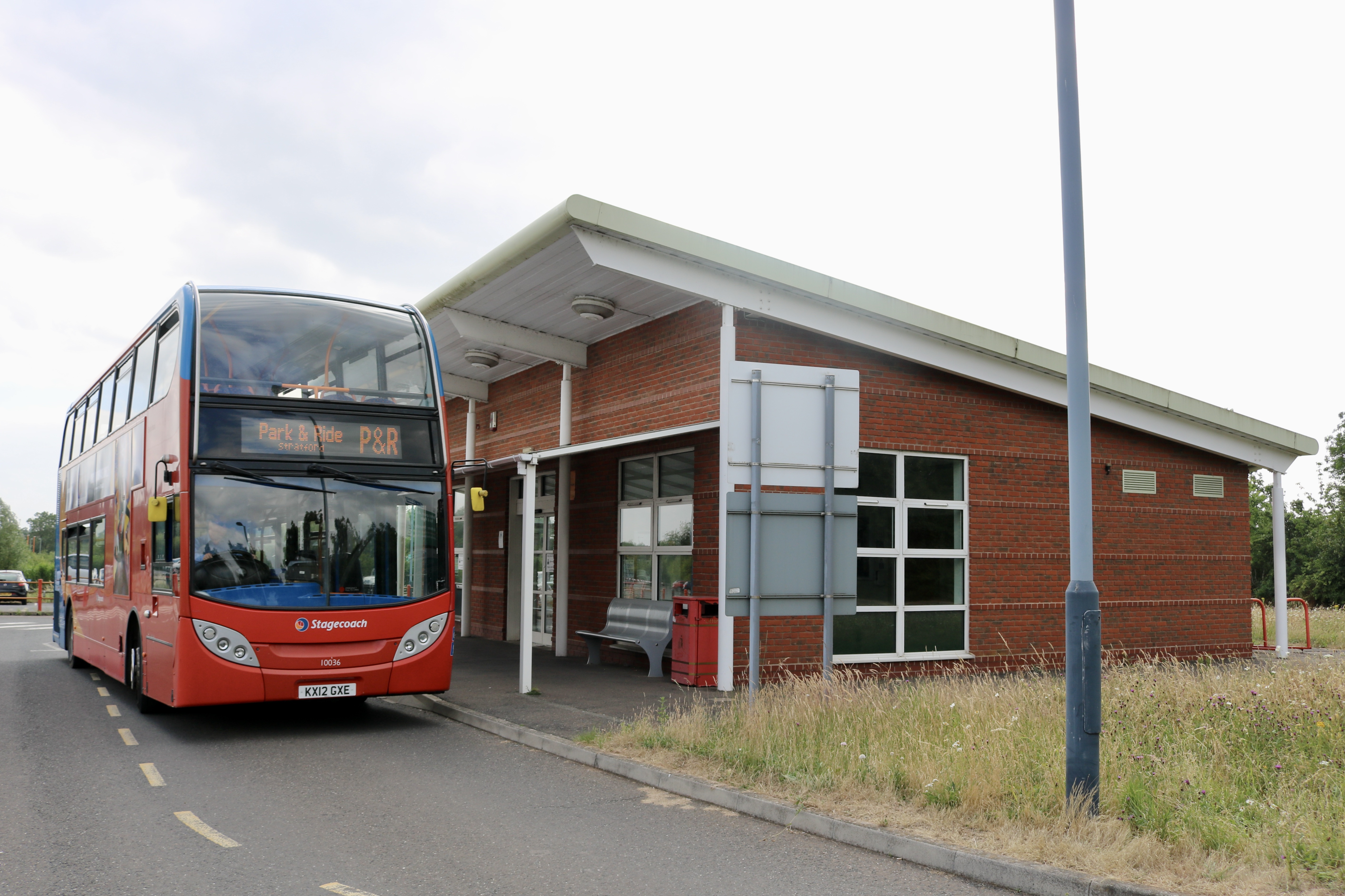 Warwickshire County Council is reminding the public that Stratford-upon-Avon's Park and Ride has returned to a business-as-usual service as of Monday 18 September 2023.
The reminder follows an eight-week promotional campaign that took place from 22 July to 17 September, and featured additional benefits to visitors such as free parking, extended bus times and great value tickets.
The promotional campaign saw more than a 70% increase in users of the Park and Ride bus service and car park compared to the same eight-week period in 2022. Warwickshire County Council will be reviewing the final results of the campaign later this month to determine how the service can be even further improved for visitors going forward.
From Monday 18 September, Stratford Park and Ride returns to providing a 6-day a week bus service from Mondays to Saturdays, between 7.30am and 6.28pm. Buses will continue to run every 15 minutes for most of each day, with the journey from the car park into the town centre taking approximately 10-12 minutes.
The car park will continue to be open daily with more than 700 parking spaces available, including several EV charging points, but from Monday 18 September usual car parking charges apply. Full details of the car parking fees are available on the County Council website.
From Monday 18 September, visitors can also still park at Stratford Park and Ride to enjoy a leisurely walk or cycle route into Stratford town centre via the local canal towpath. The route is approximately 2800m (1.75 miles) and takes around 40 minutes to reach the town centre on foot, or less than ten minutes by bike as the canal towpath features on the National Cycle Network Route 5. Please note the path can be narrow or uneven in places so may not be suitable for those with a wheelchair, mobility scooter, or pushchair. The car park is also next to Stratford Parkway train station, with regular trains running to Stratford-upon-Avon train station which is only a 10-minute walk from the town centre.
The adult return bus fare will remain at £2 until Tuesday 31 October in line with the Government's bus fare cap scheme. From Wednesday 1 November the adult fare returns to £2.20, but will still include up to two children being able to travel for free alongside the paying adult.
The child return fare will remain the same at £1.10, and the group return fare will continue to cost only £3.30 for up to five people. Dogs are always welcome on the buses provided they are well-behaved.
Cllr Jan Matecki, Warwickshire County Council Portfolio Holder for Transport and Planning, said:
"It is encouraging to see that more people have used Stratford Park and Ride this summer compared to the same time last year. Public transport and active travel both play important roles in our communities to help mitigate the impacts of climate change, and I hope those who have discovered the Park and Ride service this summer will continue to use it for future visits to enjoy what Stratford-upon-Avon has to offer all year round".
Cllr Tim Sinclair, Warwickshire County Council Member for Stratford North, said:
"The summer campaign for Stratford Park and Ride has demonstrated that visitors are willing to use this easy and convenient service to enjoy a day out in Stratford town centre, which in turn helps to reduce town centre traffic congestion.

"I look forward to reviewing the campaign results in more detail to understand how we can maximise on this summer success and encourage a longer-term increase in use of the Park and Ride service".
Stratford Park and Ride can be found along Bishopton Lane (CV37 0RJ) with easy access from the roundabout with the A46 and the A3400 Birmingham Road. Once onsite, there is a passenger terminal with seating and toilets available Monday to Saturday 7.30am to 12.30pm.
For more information about Stratford Park and Ride, visit www.warwickshire.gov.uk/stratfordparkandride