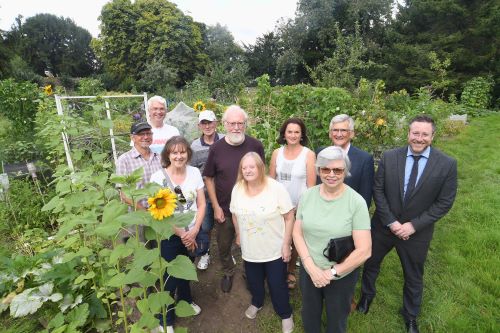 Popular allotments in the heart of Warwick have been given a new lease of life after green-fingered allotment holders have agreed a new deal to stay at the site.
Plot holders have sealed a new deal with Warwickshire County Council, through its managing agent Warwickshire Property Management Ltd (WPM), to stay at St John's House Allotments.
A total of 11 allotment licences have been completed, comprising of 18 plots. Following negotiations with licensees, a fair price per square metre has been agreed and annual agreements have been signed.
The deal has also opened up opportunities for new people in Warwick to take plots to enjoy the physical, mental and social benefits of having an allotment.
Allotments in Warwickshire, and particularly in Warwick District, are hugely popular with many having hundreds of prospective allotment licence holders on waiting lists.
Gardeners regularly share their produce and since the pandemic the community at the allotments has grown.
Peter Lamb has held an allotment at the site for 25 years and represented the plot holders at St John's House Allotments during the negotiation process.
He moved to Warwick from London in 1991 and took up space at the allotments to grow his passion for gardening. He has had a plot since 1997 at St John's House and currently looks after a space of around 150 square metres.
Peter said: "It's great that we now have the new leases in place and have been able to conclude this deal.
"The whole process has actually brought us closer together as a community and we have such a varied range of people using the allotments.
"On my allotment, I grow produce including onions, potatoes, garlic, asparagus, raspberries, strawberries and broad beans. Then others at the allotments grow more exotic, experimental plants.
"We have a culture of cooperation and sharing any surplus produce. The importance of the allotments was really brought home during the pandemic, where they provided an invaluable place to get outside, socialise safely and exercise too.
"It is good for us to now have certainty about the future of the allotments and we can now set about work to improve our plots and get them to a place that we want them to be."
WPM is part of Warwickshire Property & Development Group (WPDG), which manages the lettings on hundreds of Warwickshire County Council-owned properties.
Dale Partridge, Head of Assets at WPM, said: "We're pleased to have been able to complete this deal which will enable people in Warwick to continue using the allotment site and experience the widespread benefits which come with horticulture.
"There is a huge demand across the county, and certainly in and around Warwick, for allotments and it's great that this deal has enabled new people to access the allotments and fully utilise the space."
Councillor Peter Butlin, Deputy Leader of Warwickshire County Council and Portfolio Holder for Finance and Property, said: "It is great to see this deal has been agreed securing the future of these much-loved allotments in Warwick.
"It is another brilliant example of how the work of Warwickshire Property and Development Group is key to the county council's ambition to unlock the potential in local sites and make the most of the county's assets for the benefit of our people and communities.
"This isn't just about delivering bricks and mortar, but about all the elements that make Warwickshire a thriving place to live, work and visit."