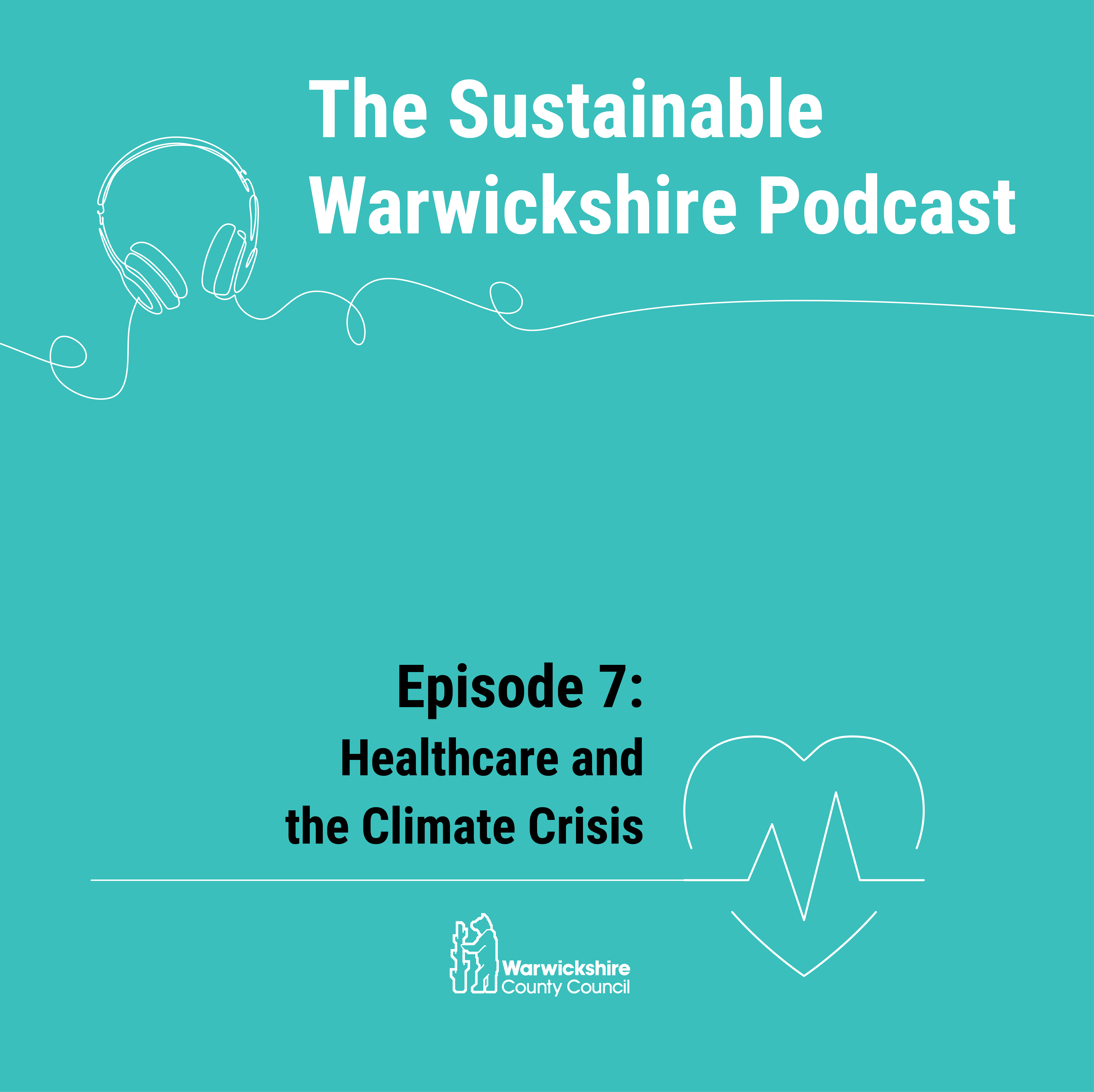 The close relationship between our health and the environment is explored in depth as part of the latest Sustainable Warwickshire podcast episode.
The impacts of climate change, such as extreme heatwaves or air pollution, can directly affect our health and yet, the operations of the NHS are responsible for a significant proportion of the UK's carbon emissions.
Listen to the latest episode here: Sustainable Warwickshire Podcast Episode 7: Healthcare and the Climate Crisis
This challenge is discussed on the podcast by GP Dr Kirsty Beckett from Hastings House Medical Centre, Wellesbourne and Cris Calleja, South Warwickshire NHS Foundation Trust Sustainability Manager. They talk about the impact of climate change on the health of Warwickshire residents and the things that they do which are the biggest causes of emissions in their healthcare operations. They also share the actions being taken across Warwickshire's primary and secondary healthcare to reduce emissions from buildings, from travel and transport, from the items that they purchase and from the medicines that are prescribed to patients.
The podcast is a highly recommended listen for any Warwickshire resident who wants to understand more about the link between healthcare and the environment and learn what they can do to play their part to help the NHS to reduce its carbon emissions.
Cllr Heather Timms, Warwickshire County Council Portfolio Holder for Environment, Climate and Culture said: "It's clear that the climate crisis is also a public health crisis. Sustainability must now be part of everyday life for individuals and organisations, including big ones like the NHS. It is so interesting to hear about how they are embedding sustainability into all their decisions, from how GPs meet with their patients to the specialist machines being bought for our hospitals. It's another great Sustainable Warwickshire episode which gives us a fascinating insight into the steps being taken in Warwickshire to fight climate change."
The Sustainable Warwickshire podcast series is for those people living and working in Warwickshire who care about climate change. It features conversations with people from across the County who are taking action to reduce carbon emissions and support biodiversity. It covers subjects such as energy, waste and recycling, transport, infrastructure and the green economy, whilst also giving Warwickshire residents ideas on how to get involved and play their part.
You can find the Sustainable Warwickshire podcast on Spotify or Apple by searching for "Sustainable Warwickshire". All episodes are also available at: https://sustainablewarwickshire.podbean.com/
For more information on climate change, visit https://www.warwickshireclimateemergency.org.uk/