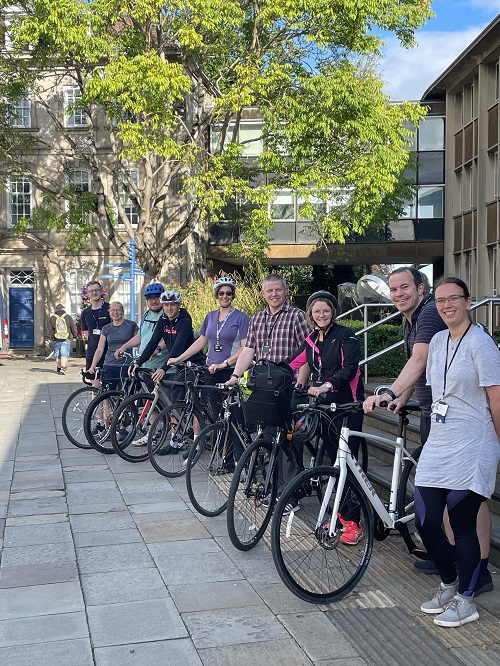 Today, dedicated staff at Warwickshire County Council have supported National Cycle to Work Day 2023 by ditching their cars for bikes instead.
Organised by Cyclescheme, National Cycle to Work Day is the UK's biggest cycling commuting event. The campaign has been running for 11 years and aims to encourage people all around the country to get on their bikes and get into work one of the best ways possible – on two wheels.
National Cycle to Work Day is an event for everyone, from people who have not been on a bike since their school days to committed cycle commuters. At Warwickshire County Council, an enthusiastic group of staff led the way by cycling to their various places of work.
Staff from across Warwickshire County Council cycled a collective total of around 196 miles, saving the equivalent of approximately 10 kg of carbon. The longest journey was made by Anthony in the Council's pension team who cycled a round trip of 24 miles.
This cycling event comes at a timely point, with increased funding from the government's Active Travel Fund enabling the County Council to commit resources to developing some of the key cycling routes across Warwickshire, including the very popular Lias Line between Rugby and Leamington where an extra £2.5 million was recently committed for further improvements.
The benefits of regular active travel commutes for individuals and the environment include improvements to both physical and mental health, better air quality, a reduction in carbon emissions and for those leaving their cars behind, a saving on fuel costs.
Cllr Heather Timms, Warwickshire County Council Portfolio Holder for Environment, Climate and Culture, said: "I would like to take this opportunity to offer thanks and congratulations to our dedicated staff who got on their bikes today and cycled to work.
"At Warwickshire County Council, we support the #JustOneJourney campaign, which encourages residents to ditch the car for one journey and pursue an active travel alternative and this fits in perfectly with National Cycle to Work Day.
"We know that large numbers of residents are using their bikes to commute and we hope, more still, will take the opportunity posed by Cycle to Work Day and improvements to the weather over the coming days to get on their bikes as we all strive, together, for a Warwickshire that is sustainable now and for future generations."
Find out more about Active Travel in Warwickshire: http://safeactivetravelwcc.co.uk/
To support residents to choose active travel, Warwickshire County Council has produced this short video detailing how to put together the perfect active travel bag: https://youtu.be/nFuc9TixY60
For more information about how Warwickshire is facing the challenges of the climate change emergency, visit: https://www.warwickshireclimateemergency.org.uk/
Get the latest news about how Warwickshire County Council and partners are facing the challenge of the climate emergency and how you can get involved: http://eepurl.com/hrk-zf