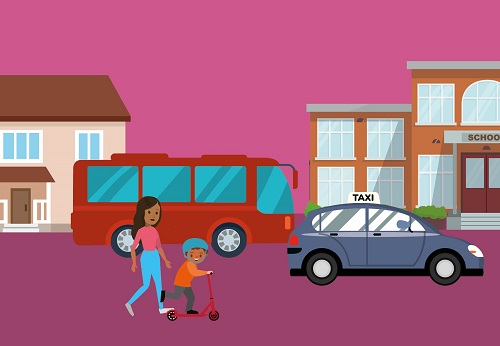 At its meeting on Tuesday 25 July, WCC gave its approval for the adoption of a new version of its Local Transport Plan (LTP4).
The LTP4 comprises the strategies that will be used to improve and manage transport in Warwickshire.
The LTP4, which has been produced following an extensive period of public consultation, will supersede its predecessor, LTP3, with new strategies to improve transport in Warwickshire, while reflecting the changing priorities and travel habits of residents and businesses. LTP4 forms the county's overall transport strategy, comprising a core strategy and six key strategies, which will guide the development of transport and related policies in the county.
The consultation with residents, businesses and other key stakeholders which shaped the plan saw the following themes emerge as priorities for the county: Environment, Wellbeing, Economy and Place.
Travel priorities which consistently emerged from the consultation included:
Improving active travel facilities for walking and cycling to support active lifestyles
General improvements in/encouragement to use sustainable (public) transport
Planning to reduce the reliance on private cars and to enable electrification where possible
Concerns around the pressures of housing developments and/or increasing populations on the existing transportation network(s)
The introduction of LTP4 has come ahead of schedule. It was initially anticipated that the LTP3 would run from 2011 to 2026. However, an update was needed, as recent years have brought significant changes to the way people work, live and travel, including increased home-working, more virtual meetings, and a greater proportion of shopping being carried out online.
In addition to these changes, there is a heightened awareness of the need to tackle climate change. In July 2019, Warwickshire County Council declared a climate emergency and pledged to put environmental considerations at the heart of its policies, transport being key to that.
Cllr Jan Matecki, Portfolio Holder for Transport & Planning at Warwickshire County Council, said: "Transport is about so much more than getting from one place to another. It is integral to how a place is defined, by its residents and visitors.
"We carried out extensive consultation and have taken the varying views on board to produce a plan that reacted very quickly to the new challenges it needed to address. I am confident that LTP4 will help to shape Warwickshire in a positive and forward-thinking way and help us to address those challenges."
Read the Council paper here: https://democracy.warwickshire.gov.uk/documents/s32001/LTP4%20-%20Warwickshire%20County%20Councils%20new%20Local%20Transport%20Plan.pdf
For more information about roads and transport in Warwickshire, visit: https://www.warwickshire.gov.uk/roadsandtransport.