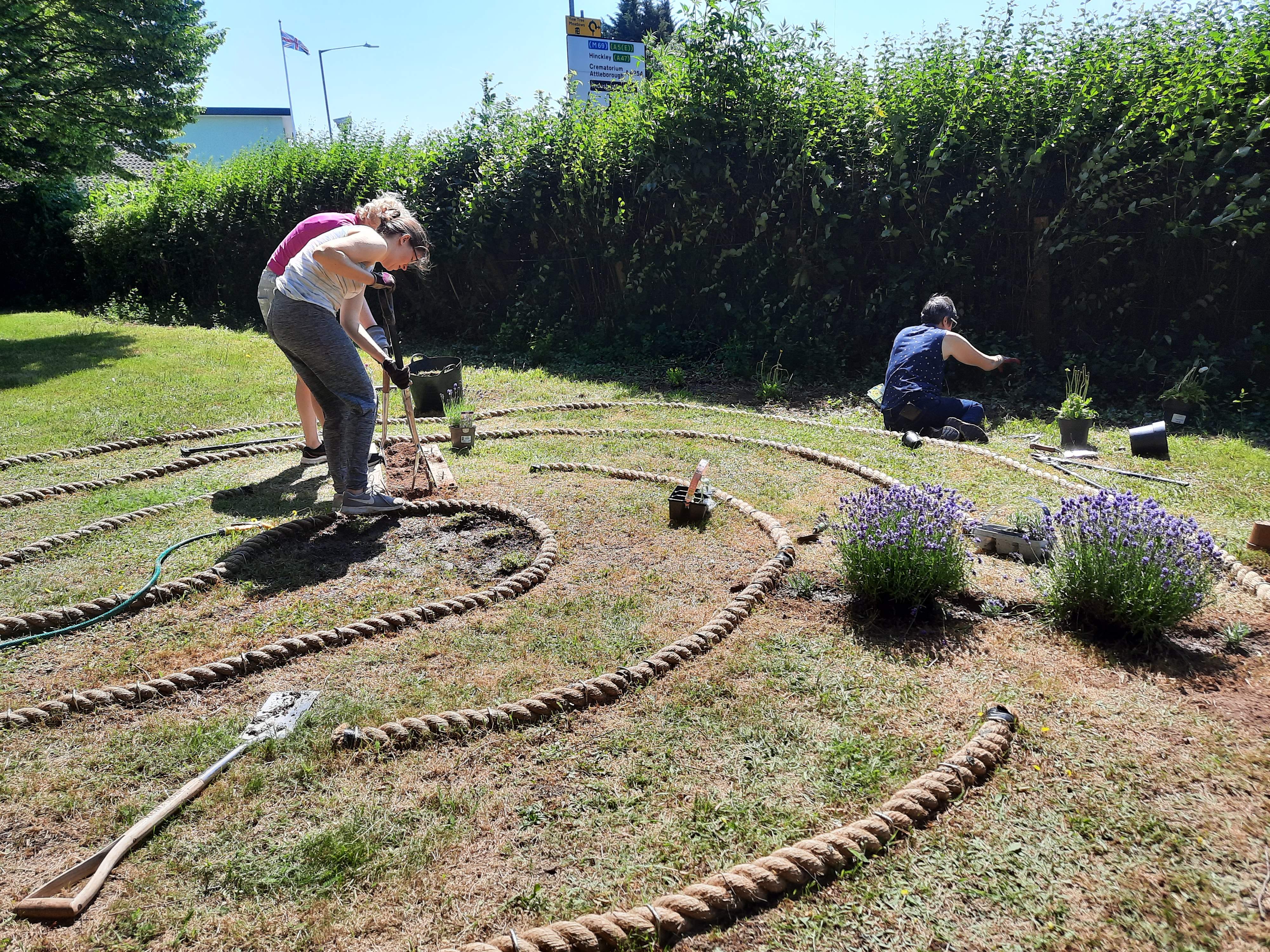 Nuneaton residents will benefit from a beautiful new outdoor space at Attleborough's Holy Trinity Church thanks to funding from Warwickshire County Council's Green Shoots Fund.
The £1m Green Shoots Community Climate Change Fund is allocated by Warwickshire County Council and supports a wide range of small, community-powered initiatives across Warwickshire in addressing the climate change emergency.
Holy Trinity Church Attleborough has been awarded £2,500 in funding to create a three-circuit labyrinth in the churchyard, to be enjoyed by the local community for years to come.
The new space will feature a range of native & drought-tolerant plants and existing hedgerows. The project aims to increase biodiversity in the area by attracting more pollinating insects and providing new habitats for wildlife.
Pollinating insects & bees have an essential part to play in maintaining our planet's vital systems. The movement of pollen between plants is important for plants to fertilise and grow. Holy Trinity already has EcoChurch bronze status, with a range of bug hotels, hedgehog house and bird nesting boxes, plus a re-wilding area, and the new labyrinth area will provide further ways of increasing biodiversity within the churchyard.
In addition to biodiversity gains, the labyrinth will provide a beautiful space for the local community to enjoy throughout the year.
Cllr Heather Timms, Portfolio Holder for Environment, Climate and Culture, said: "The plans for the new outdoor space at Holy Trinity Church in Attleborough, which we were happy to provide Green Shoots Funding for, is a wonderful example of making a difference to the climate change emergency whilst also creating something that is beautiful and that will be enjoyed by generations of the local community.
"It's great that this natural space can be used as a means of having important conversations about climate change with the congregation and local community and I am thoroughly looking forward to visiting the labyrinth when it is completed."
Vivien Proctor-Parr, member of parochial church council and member of Eco Church team for Holy Trinity said: "We already have a lovely churchyard which is used by the church and the wider community, and we are delighted to be awarded this grant.
"A labyrinth is a space for slowing down, stilling our mind and body for a while. We hope that many will visit this space, and will benefit from spending time in nature, walking the labyrinth, and enjoying a time of peace and quiet."
More information about Holy Trinity Church in Attleborough can be found online: https://www.achurchnearyou.com/church/12971/
A full list of projects that will receive Green Shoots Community Climate Change funding can be found here: https://www.warwickshire.gov.uk/regeneration-projects/green-shoots-community-climate-change-fund-2022/5
For more information about the Fund, visit: www.warwickshire.gov.uk/greenshootsfund
For more information about how Warwickshire is facing the challenges of the climate change emergency, visit: https://www.warwickshireclimateemergency.org.uk/
Get the latest news about how Warwickshire County Council and partners are facing the challenge of the climate emergency and how you can get involved: http://eepurl.com/hrk-zf