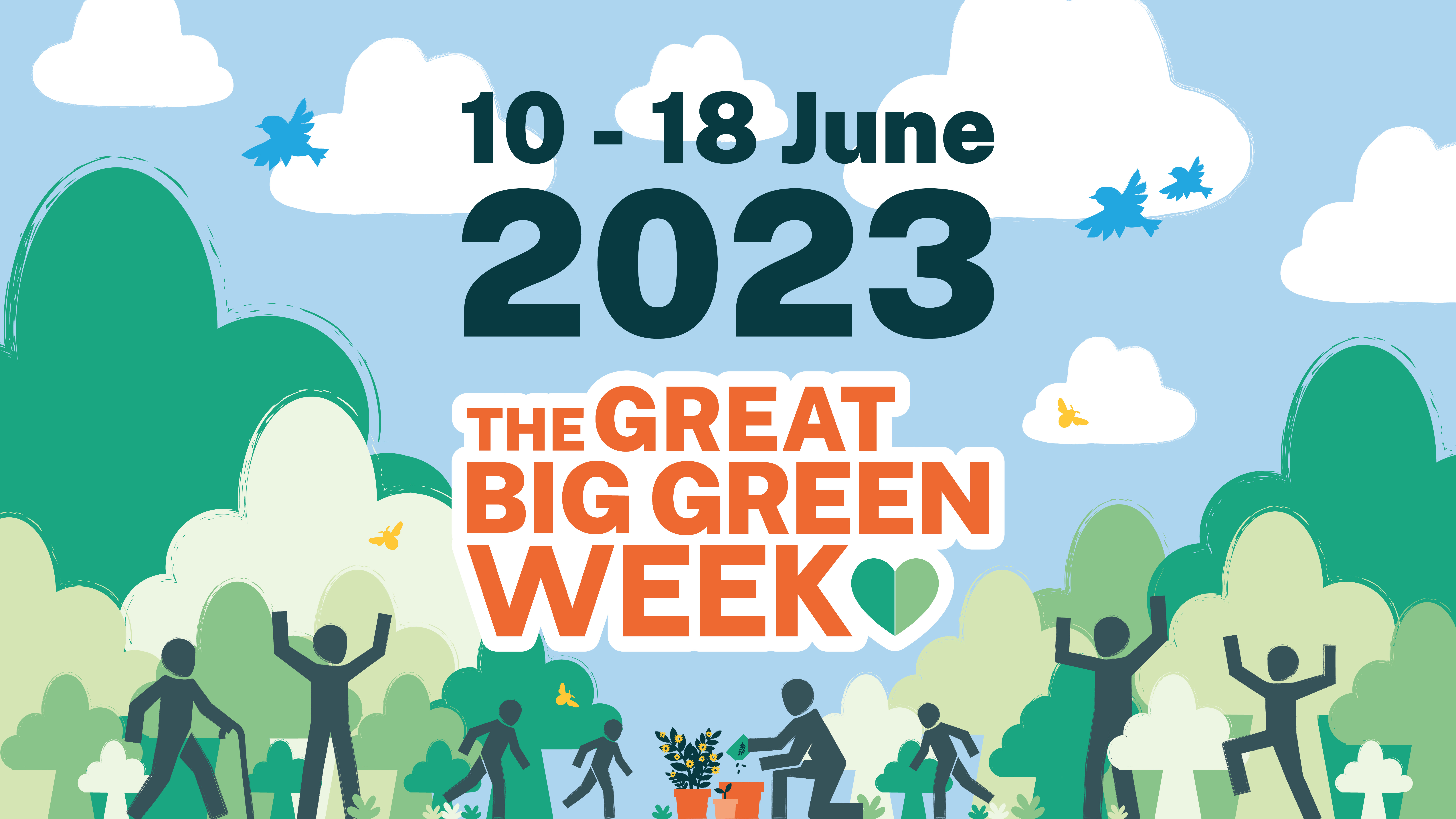 To mark Great Big Green Week 2023, Warwickshire County Council is showcasing some of the amazing community projects addressing the climate change emergency.
Great Big Green Week runs from Saturday 10 to Sunday 18 June 2023 and is the UK's biggest celebration of community action to tackle climate change and protect the natural world.
Great Big Green Week aims to unleash a wave of support for action to protect the planet. Residents across Warwickshire will celebrate the heartfelt, brave, everyday actions being taken to stand up for nature and fight climate change.
To mark this year's Great Big Green Week, Warwickshire County Council are sharing some of the community and voluntary sector projects that are playing their part in addressing the climate change emergency. There's also plenty of events taking place across the County where residents can get involved in the biggest event in the UK's climate change and sustainability calendar.
Partly thanks to funding from Warwickshire County Council's £1 million Green Shoots Community Climate Change Fund, the County has a wide range of projects delivered by the community and voluntary sector, that are making a significant difference to biodiversity, fostering a circular economy, promoting and delivering active travel and reducing Warwickshire's carbon footprint.
Projects funded through the Green Shoots Fund include:
Large scale tree planting, such as the Children's Forest at Leasowe's Farm that capture carbon, produce oxygen and provide important habitats for wildlife;
A bespoke labyrinth at Holy Trinity Church in Attleborough that aims to increase biodiversity by offering a new range of habitats;
Building improvements, such as those at Nuneaton's Sikh Mission Resource Centre that will reduce energy consumption and the resulting carbon footprint;
A recycling shop at St Paul's School in Warwick which aims to create a legacy of sustainable shopping habits for the school community and beyond; and
The Countywide Warwickshire Cycle Buddies Scheme which pairs nervous and new cyclists with a more experienced buddy and aims to increase active travel rates in the county.
Find out about some of the other amazing projects funded by the Green Shoots Fund here: https://www.warwickshireclimateemergency.org.uk/warwickshireclimateemergency/green-shoots-community-climate-change-fund
There will also be a new edition of the Sustainable Warwickshire podcast launched during Big Green Week, which will see Warwickshire Fire & Rescue Chief Fire Officer Ben Brook talk with Alan Carr from Sustainability West Midlands about how we must adapt to the impacts of climate change. Listen to this and previous episodes here: https://sustainablewarwickshire.podbean.com/
Kristie Naimo, Spokesperson for the Children's Forest and Leasowe Farm Project and Director of Achieving Results in Communities (ARC) said: ""If you have been thinking about finding out more about a local climate change project or getting involved in some positive climate action, then this is a great week to do so with a wide range of activities and events taking place across Warwickshire."
"Anyone who would like to come and see how over 2600 trees are growing in the Children's Forest, can join us in the afternoon on Sat 17th June between 2 and 4pm."
Cllr Heather Timms, Warwickshire County Council Portfolio Holder for Environment, Climate and Culture, said: "There is so much incredible work going on across Warwickshire to mitigate and adapt to the effects of our planet's changing climate. This Great Big Green Week, we are very happy to take the opportunity to share some of these with everybody."
"As a Council, we will continue – through a range of initiatives from tree planting, reducing reliance on fossil fuels and modernising our fleet of vehicles – to play our part and we would call on our residents, businesses, community and voluntary groups to do the same as, together, we forge a Warwickshire that is sustainable now and for future generations."
Great Big Green Week Events in Warwickshire
The following events will be taking place in Warwickshire during and around Great Big Green Week 2023:
Find out more about Big Green Week here: https://greatbiggreenweek.com/
Find a Big Green Week event here: https://greatbiggreenweek.com/find-an-event/
For more information about how Warwickshire County Council is facing the challenges of the climate change emergency, visit: https://www.warwickshireclimateemergency.org.uk/
Get the latest news about how Warwickshire County Council and partners are facing the challenge of the climate emergency and how you can get involved: http://eepurl.com/hrk-zf