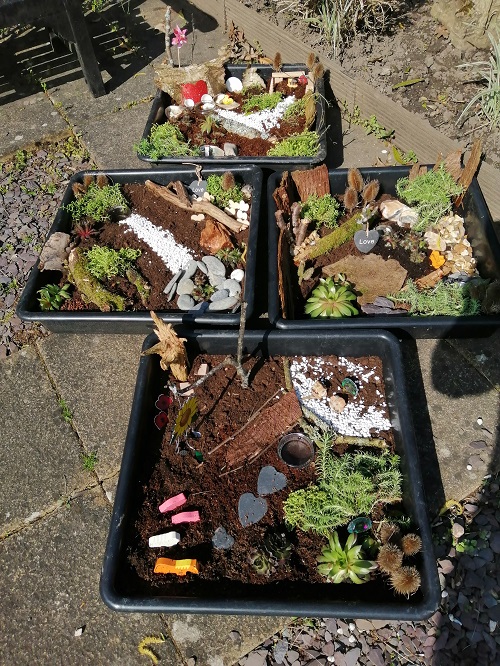 Mary Evans Hospice in Nuneaton will provide a greener environment for the community thanks to Forest of Hearts and funding from Warwickshire County Council's Green Shoots Community Climate Change Fund
The £1m Green Shoots Community Climate Change Fund is allocated by Warwickshire County Council and supports a wide range of small, community-powered initiatives across Warwickshire in addressing the climate change emergency.
Forest of Hearts has been awarded £21,500 in funding to create a resilience garden at the Mary Evans Hospice in Nuneaton. This project will:
Create three new fruit tree guild gardens that are resilient to climate change;
Plant 100 trees as a hedge to sequester carbon and provide habitat for wildlife;
Plant 1000 spring and autumn flowering bulbs to attract pollinators;
Seed a 100 square metres of wildflower lawn area with at least 10 native wildflowers;
Create 10 miniature sustainable succulent planters to boost biodiversity;
Grow 10 types of vegetables in 30 square metres of raised beds;
Install five birdboxes, five bat boxes and one hedgehog house to attract wildlife;
To create one new compost bay and one wormery to reduce waste and create own growing material;
Install two new water butts to reduce water use; and
Install 12 square metres of living wall to sequester Nitrogen Dioxide and increase biodiversity.
The core aims of the resilience garden are:
To create new garden areas at Mary Evans Hospice that are resilient to climate change using native sustainable plants and practices;
To create new habitats to boost biodiversity and support more wildlife in the area; and
To create, in the long term, a sustainable small scale source of community fruit.
As part of this project, the team at Forest of Hearts will engage with the local community to recruit and train a team of 12 volunteers to plant and maintain the garden and grow food. Through this work local people and residents of the hospice will be empowered to build skills and knowledge to enable them to grow personal resilience through the application of therapeutic gardening.
In addition, Forest of Hearts will distribute 300 mini vegetable garden kits to the local community through eight Mary Evans Hospice charity shops around the area and work with two large local companies to deliver 100 hours of volunteering for the project.
Cllr Heather Timms, Portfolio Holder for Environment, Climate and Culture, said: "I am delighted to see our Green Shoots Community Climate Change Fund in action, supporting initiatives such as Forest of Hearts' resilience garden at Mary Evans Hospice in Nuneaton.
"This project not only addresses the climate change emergency but also supports the local community by providing a sustainable source of fruit and engaging residents and volunteers in therapeutic gardening. It is always fantastic and a credit to our community powered Warwickshire to see the community coming together to create a greener and more resilient environment for all, and I look forward to seeing the positive impact of this project in the years to come."
Carole Longden CEO and Founder of Forest of Hearts said "The project meets lots of our aims to build resilience for the planet and people, and we are delighted to be making such a positive difference in the community"
More information about Forest of Hearts can be found online: https://forestofhearts.com/
More information about the Mary Evans Hospice in Nuneaton can be found online: https://www.maryannevans.org.uk/
A full list of projects that will receive Green Shoots Community Climate Change funding can be found here: https://www.warwickshire.gov.uk/regeneration-projects/green-shoots-community-climate-change-fund-2022/5
For more information about the Fund, visit: www.warwickshire.gov.uk/greenshootsfund
For more information about how Warwickshire is facing the challenges of the climate change emergency, visit: https://www.warwickshireclimateemergency.org.uk/
Get the latest news about how Warwickshire County Council and partners are facing the challenge of the climate emergency and how you can get involved: http://eepurl.com/hrk-zf