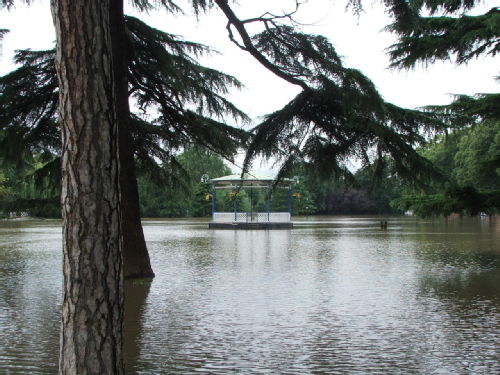 It's great news for Warwickshire residents as Warwickshire County Council announces its new climate change adaptation action plan.
Flooding, extreme heat, wildfires, drought and famine. The impacts of human-driven climate change are now impossible to ignore, with incidences of extreme natural phenomena increasing each year along with how widely these events are reported across the media.
Over the last five years, residents will have seen reports of huge floods in India and Bangladesh which displaced millions of people in 2020 and 2022 respectively, raging fires in Spain that destroyed a record 758,613 acres of land in 2022, against a backdrop of 1.9 million acres destroyed across the Europe in the same year.
Warwickshire is also vulnerable to the effects of our planet's changing climate, in two particular areas: flooding and extreme heat.
In the summer of 2007, after four times the July average of rainfall, Warwickshire's roads, bridges and properties were flooded, causing widespread disruption and damage to some of Warwickshire's iconic market towns including Shipston, Wellesbourne, Henley-in-Arden, Alcester, Bidford and Leamington Spa.
Extreme heat is also becoming more common. In July 2022, Warwickshire recorded high temperatures of 39.0°C, exceeding the previous record by 0.3°C. As well as damage to crops and agricultural assets, the impact of such a heatwave includes health issues and mortality, higher than average water demand, disruptions to rail transport, deterioration of road surfaces, and subsidence.
Despite these threats, Warwickshire is now better prepared to respond. In 2022, the County Council commissioned work to fully understand the risks to various sectors in Warwickshire and to understand the vulnerability of its own delivery of essential services. A series of action plans have been developed that will be taken forward with key strategic partners both within and bordering Warwickshire.
Cllr Heather Timms, Warwickshire County Council Portfolio Holder for Environment, Climate & Culture, said: "At Warwickshire County Council, we are committed to doing everything that we can to face the challenges of climate change and forge a Warwickshire that is sustainable now and for future generations.
"We are undertaking extensive work to ensure that we reduce our own CO2 emissions, while creating plans and policies to ensure we can deliver responsible stewardship of Warwickshire's build and natural world. In many aspects of our climate change mitigation work – such as our £1 Million Green Shoots Community Climate Change Fund – we are going far further than many local authorities in the UK.
"With so much great mitigation work under our belt, it is only pragmatic to now turn our attentions to the issue of adaptation, finding solutions to the question: how does Warwickshire adapt to the damage that has already been done as a result of climate change and how does it respond to the challenges of the future?
"We are now taking forward priority actions and mainstreaming them into corporate processes. Much of this revolves around partnership working, and we will be putting these in place across our own Council and linking into existing partnerships within Warwickshire and surrounding areas.
"The Climate Change Adaptation Action Plan is a vital step in protecting Warwickshire's communities from the impacts of climate change, and we are committed to working with its partners to ensure that the county is resilient and prepared for the future."
The full studies and action plans can be found on our Climate Emergency website: https://www.warwickshireclimateemergency.org.uk/climate-change-adaptation-2
Practical advice on what to do where you spot a dangerous flood, prepare for a flood, and during flooding is available on our website: https://www.warwickshire.gov.uk/flooding
For more information about how Warwickshire County Council is facing the challenges of the climate change emergency, visit: https://www.warwickshireclimateemergency.org.uk/
Get the latest news about how Warwickshire County Council and partners are facing the challenge of the climate emergency and how you can get involved: http://eepurl.com/hrk-zf