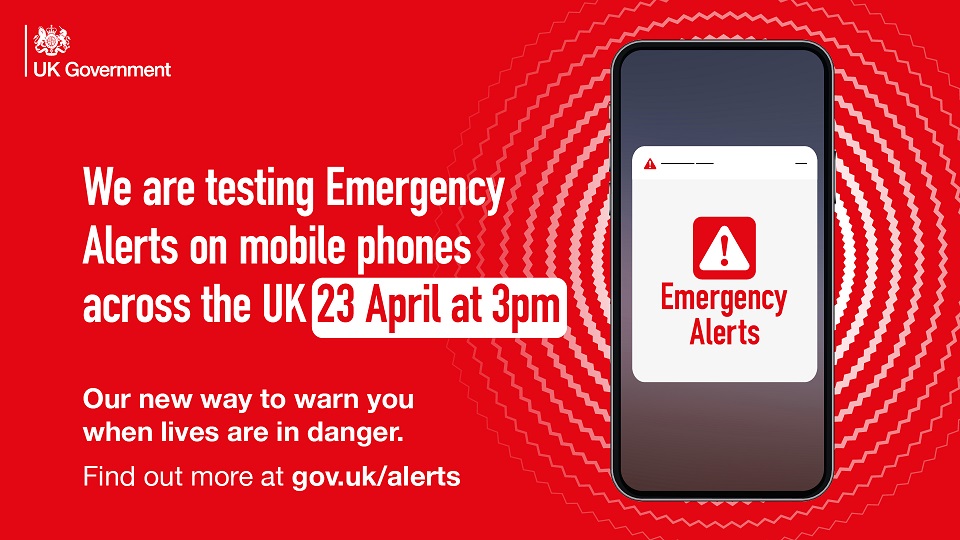 Advice for victims of domestic abuse and families of children and young people with special educational needs and disabilities. 
Warwickshire residents are being reminded that at 3pm on Sunday 23 April, all 4G and 5G compatible phones will receive a test message for the new Emergency Alerts System which will include a 10 second alarm and vibration.

The alert system will be used in the event of emergencies, such as severe flooding, fires or extreme weather. The 10 second alert will sound even if devices are on silent.
The emergency alert will appear on the device's home screen and people will need to acknowledge it before they can use other features on the phone. It will however just be a test, so other than to acknowledge it, no further action will be needed.
However, the anticipated test has highlighted concern for vulnerable people, particularly victims/survivors of domestic abuse whose perpetrator may hear the test alarm and become aware of a secret or second phone.
The noise may also impact children and young people who experience auditory sensitivity. So residents may want to ensure that the phone is turned off or out of the room at the time the alarm is set to activate. For those with a vision or hearing impairment, audio and vibration attention signals will let you know you have an emergency alert.
The alert will say:
This is a test of Emergency Alerts, a new UK government service that will warn you if there's a life-threatening emergency nearby.
In an actual emergency, follow the instructions in the alert to keep yourself and others safe.
Visit https://www.gov.uk/alerts for more information.
This is a test. You do not need to take any action.

If you have any concerns, you can opt out of the emergency alerts system in your phone's settings. Alternatively, you can turn your phone off at that time or put it in airplane mode.
Opt Out iPhone:
To opt out, search your settings for 'emergency alerts' and turn off Severe alerts and Emergency alerts.

If this does not work, contact your device manufacturer. 

For further advice go to https://www.gov.uk/alerts/how-alerts-work
Opt Out Android phones and tablets:
To opt out, search your settings for 'emergency alerts' and turn off Severe alerts and Emergency alerts.

On Huawei devices running EMUI 11 or older, search your settings for 'emergency alerts' and please turn off "Extreme threats", "Severe threats" and "Show amber alerts"

If this does not work, contact your device manufacture
For more information on the importance of the Emergency Alerts System visit: https://www.gov.uk/government/news/one-week-to-go-until-uk-emergency-alerts-test
For information and support on how to stay safe online for victims of domestic abuse visit www.refugetechsafety.org/ Refuge has put together guidance on how to turn alerts off, please go to https://youtu.be/tPohaHtms00
For general help and support please go to https://www.talk2someone.org.uk/ In an emergency please dial 999. #YouAreNotAlone