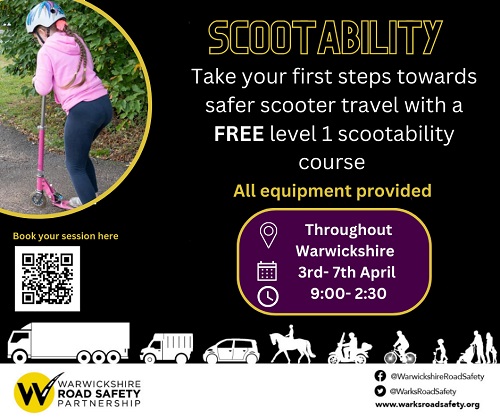 Warwickshire County Council and Warwickshire Road Safety Partners are supporting Sustrans Big Walk and Wheel by offering free Scootability training throughout the county in early April.
To find out more and book a place on the training, please visit: https://warksroadsafety.org/scooter-training/
Warwickshire Road Safety Partnership is committed to providing young people with the training needed to make journeys safely on their scooters. Team Rubicon, leaders in scooter training and education, will deliver Scootability level 1 training throughout Warwickshire focusing on key skills and knowledge, including learning:
About the parts of the scooter and the safety gear;
The basics of pushing, balancing and turning;
How to do slow and fast stops;
How to navigate stationary and moving obstacles;
How to do one handed signalling;
About road safety rules.
All equipment, including scooters, helmets and pads, is provided and the sessions are suitable for children aged 5 to 10 years. Booking in advance is required.
All training is completely free and will be held at the following locations throughout the county:
Monday 3rd April: Kingsbury Water Park
Tuesday 4th April: Pingles Leisure Centre, Nuneaton
Wednesday 5th April: Ryton Pools, Bubbenhall
Thursday 6th April: Stratford Recreational Ground, Stratford upon Avon
Friday 7th April: The Kenilworth Centre, Kenilworth
David Ayton-Hill, Assistant Director at Warwickshire County Council, said: "Active travel, particularly for the journey to school, has never been so important and has many benefits, including physical health and mental wellbeing and helping to reduce congestion and air pollution outside the school gate. By offering this training we aim to develop the knowledge and skills of the next generations scoot safely in the hope that they will continue to choose active travel into their adult lives."
To find out more and book a place on the training, please visit: https://warksroadsafety.org/scooter-training/
For the latest Warwickshire road safety news and events please follow Warwickshire Road Safety Partnership and Warwickshire County Council on social media. Facebook: @WarwickshireRoadSafety @WCCSafeActiveTravel and Twitter @WarksRoadSafety @WCCSafe_Active.