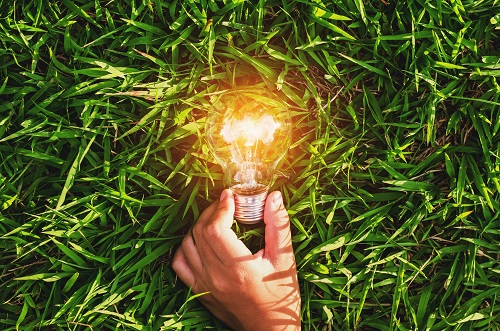 It's great news for the environment and Warwickshire's net-zero ambitions as Warwickshire County Council commits to continue buying 100% green electricity.
At their Cabinet meeting on Thursday 16 March, the Council voted unanimously to extend the current electricity buying contract with the East Shires Purchasing Organisation (ESPO) for the period October 2024 until September 2028.
The electricity purchased through this arrangement is currently used in over 100 properties (139 meter points) within the Council's property portfolio and covers a range of different building types from fire stations and libraries to highways depots and offices. The current electricity framework agreement in place with ESPO ends on 30 September 2024.
The ESPO electric agreement includes the option of a 'Pure Green' electricity tariff that the Council has purchased since 2020. This electricity is from 100% renewable sources such as solar, wind and hydro/wave. This electricity can be matched to the Ofgem administered Renewable Energy Guarantees of Origin (REGO's), supporting the Council's Sustainable Futures Strategy and net zero ambitions.
The County Council's Energy Strategy, which will focus primarily on the energy efficiency of Council owned buildings, will be considered for approval by Cabinet in June 2023, further supporting the delivery of the Sustainable Futures Strategy. Procurement of energy and improving energy efficiency will be major strands of this work as the Council identifies ways to move towards more cost-effective green energy (tariffs and funding options) and reduce its reliance on electricity and gas to heat and power its buildings.
Rob Powell, Strategic Director for Resources at Warwickshire County Council, said: "The continued purchasing of Pure Green Electricity under our ESPO contract is a key part of our commitment to meet our net zero targets.
"As part of the work towards a new Energy Strategy for the Council, we will review and learn lessons from good practice across local government and other sectors. The Strategy will be supported by a comprehensive delivery plan, which will set out how we will reduce our electricity and gas consumption and subsequent carbon emissions".
A copy of the Cabinet report is available here: https://democracy.warwickshire.gov.uk/documents/s29783/Electricity%20Contract%20Renewal.pdf
For more information about how Warwickshire is facing the challenges of the climate change emergency, visit: https://www.warwickshireclimateemergency.org.uk/
Get the latest news about how Warwickshire County Council and partners are facing the challenge of the climate emergency and how you can get involved: http://eepurl.com/hrk-zf