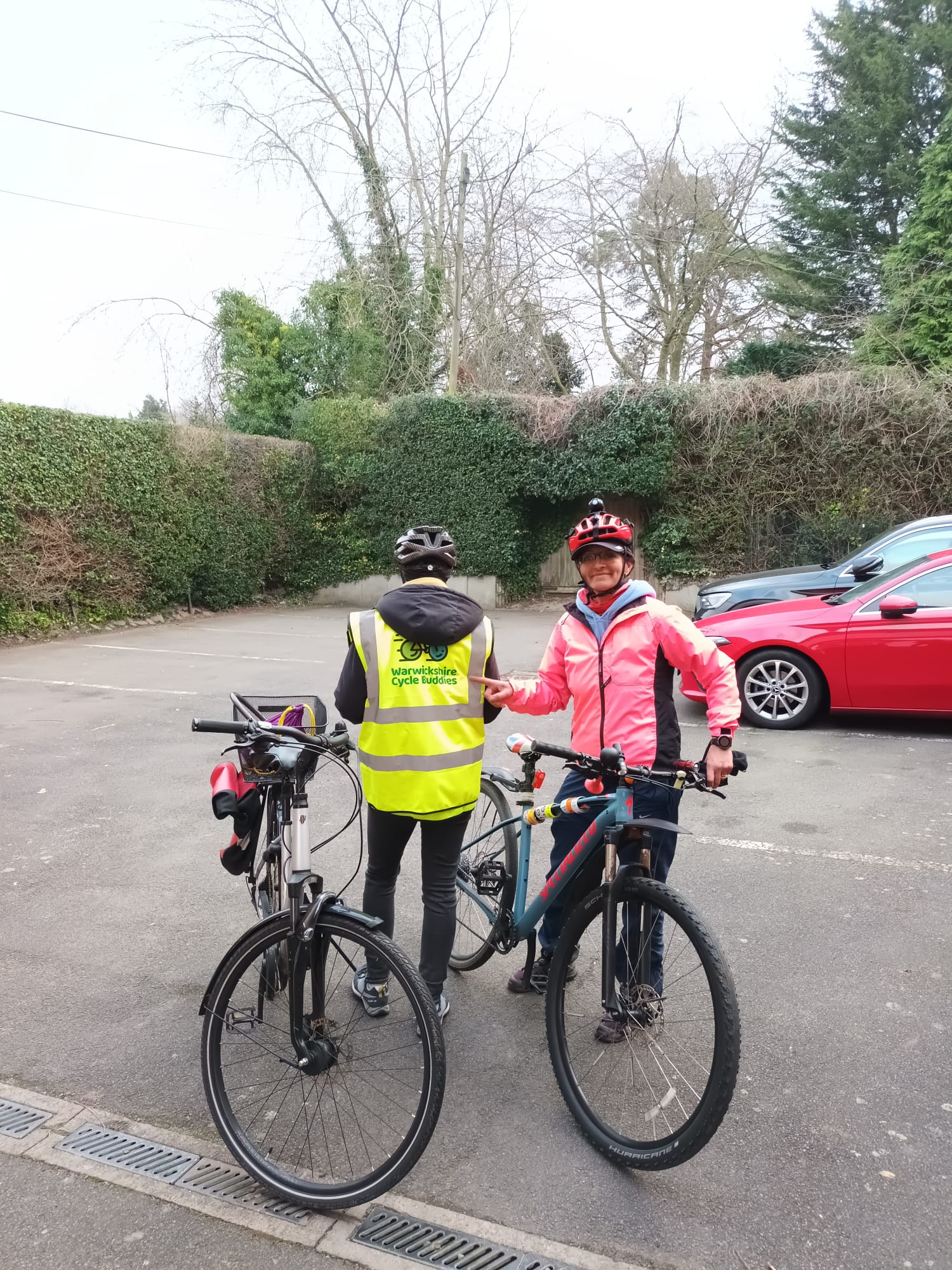 Novice cyclists in North Warwickshire and Nuneaton and Bedworth will be able to increase their bike-confidence, thanks to funding from Warwickshire County Council's Green Shoots Community Climate Change Fund.
The £1m Green Shoots Community Climate Change Fund is allocated by Warwickshire County Council and supports a wide range of small, community-powered initiatives across Warwickshire in addressing the climate change emergency.
The £2,275 in funding will allow Clean Air Warwickshire to expand its successful Warwickshire Cycle Buddies initiative into North Warwickshire and Nuneaton and Bedworth Boroughs to encourage more residents to choose cycling for travel and leisure.
The Warwickshire Cycle Buddies scheme aims to encourage more people to cycle their local journeys that are less than 5 miles. They buddy up new cyclists with more experienced volunteers, giving them the confidence to get back on their bike regularly.
Warwickshire Cycle Buddies also received money from Warwickshire County Council in the first round of Green Shoots Funding, which allowed it to become established in the south of the County. The results have been really positive, matching 25 new cyclists with an experienced buddy, leaving them feeling able and confident to switch some of their short car journeys for a cycling alternative.
The environmental benefits of active travel such as cycling are significant, reducing both air pollution and carbon emissions. Cycling has a carbon footprint of about 21g of CO2 per kilometer, compared to 271g CO2 per km by car.
Hazel Underwood, Deputy Chair from Clean Air Warwickshire, said: "We are celebrating our 1 year anniversary on 12 March and so far we have successfully matched 30 buddies with our fantastic volunteers. But we know that there are many more people out there who would benefit from this service, so we're keen to extend our reach."
Vanessa who has been buddied with Cycle Buddy volunteer, Alison, in Kenilworth, recently said: "This morning I had the chance to go biking around Kenilworth with Alison, I think you will get pictures from her very soon.
"I couldn't be more lucky to get her as a buddy! This program is such a good idea :-) I hope it gets promoted more and more!"
Cllr Heather Timms, Portfolio Holder for Environment, Climate and Culture, said: "The benefits of active travel are huge, both for the individual and for the wider environment.
"For many of us, it might seem difficult, and perhaps daunting, to know where to start as traveling by car, even for short journeys, has become so ingrained in our daily lives. At Warwickshire County Council, we are committed to supporting residents to realise that they can start their active travel adventure by switching just one car journey every week to an active alternative such as cycling.
"Cycling in itself may seem intimidating, as some residents might not have used a bike for a long time. Hopefully, through Warwickshire Cycle Buddies from Clean Air Warwickshire, they will be able to increase their confidence on a bike, find the best routes to use and get the most out of this fantastic and environmentally beneficial mode of transport."
Find out more about Warwickshire Cycle Buddies: www.warwickshirecyclebuddies.co.uk
More information about Clean Air Warwickshire: : https://etiennedevaux.github.io/CleanAirWarwickshire/index.html#home-link
More information about the Dr Bike Sessions that are scheduled to take place across Warwickshire over the Spring is available here: https://www.warwickshire.gov.uk/news/article/3797/free-dr-bike-sessions-are-coming-to-a-town-near-you-this-spring
A full list of projects that will receive Green Shoots Community Climate Change funding can be found here: https://www.warwickshire.gov.uk/regeneration-projects/green-shoots-community-climate-change-fund-2022/5
For more information about the Fund, visit: www.warwickshire.gov.uk/greenshootsfund
For more information about how Warwickshire is facing the challenges of the climate change emergency, visit: https://www.warwickshireclimateemergency.org.uk/
Get the latest news about how Warwickshire County Council and partners are facing the challenge of the climate emergency and how you can get involved: http://eepurl.com/hrk-zf