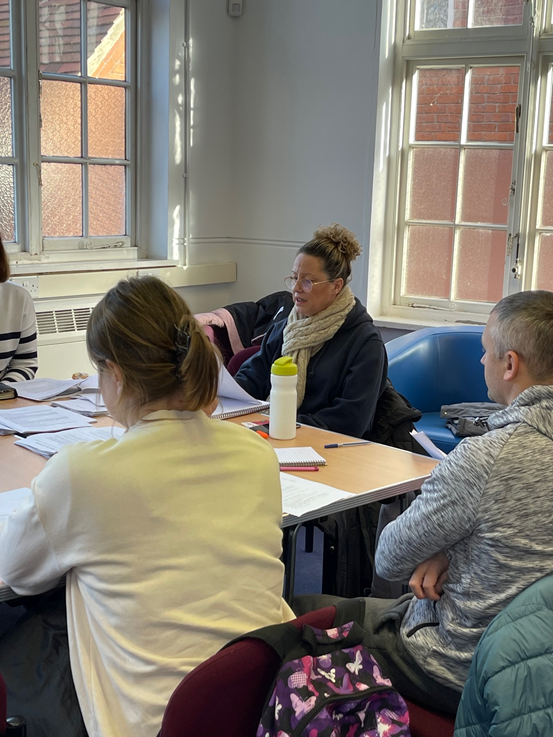 Local businesses, faced with a skills shortage, are finding these gaps being filled through an innovative scheme that offers Ukrainian refugees the opportunity for employment
Warwickshire Skills Hub offers those from Ukraine now settling here the warmest of welcomes and, through the Warwickshire Ukrainian Employability Programme, access to opportunities to build a career and livelihood in the county.
The objective of the scheme is to provide direct access to jobs that local employers have shaped, in conjunction with the Skills Hub's Fair Chance Employment Programme. This has proven to be an effective way to build inclusive jobs locally and boost engagement between Ukrainian jobseekers and employers who are tackling significant skills shortages.
Working in delivery partnership with Coventry & Warwickshire CDA and the Warwickshire Community Skills Hubs (based in Warwickshire Libraries), the collaboration offers Ukrainian refugees the opportunity to access employment workshops such as:
- A Guide to Employment in the UK
- CVs and Applications
-Interview Techniques
- English speaking classes.
Over 100 Ukrainian refugees have signed up for the programme. Over 50 of these have now built their CVs and are working with the team to search and apply for jobs with many of these having improved English skills from ESOL lessons.
The Ukrainian Working in Warwickshire Programme employment sessions have been running at Warwickshire Community Skills Hubs in Rugby, Atherstone and Leamington.
CASE STUDY: Nataliia
Many supported by the programme have offered such positive feedback, including Nataliia, who has secured employment in a school.
Nataliia came to the UK with her six-year-old child under the Homes for Ukraine Scheme last June and lives with her sponsor. In Ukraine, she used to work as a beautician before moving to the UK, where she started working as a seasonal fruit picker.
Nataliia was interested in working in the retail sector but her biggest barrier has been language. She attends weekly ESOL classes at her local community centre and all the programme's workshops.
The workshops gave Nataliia the tools to search and apply for jobs and a better understanding of UK employers' expectations, interview techniques and information about starting a job and paying contributions. A CV and a cover letter were created and uploaded to job sites to enable her to start job searching.
Nataliia applied to become cleaner in her local school and after an interview (using google translate) was offered the job. She is enjoying her new job which fits around her family life.
"I am very grateful to Leah and the programme. I came from Ukraine, and, for a long time, I could not find a job, and then my sponsors advised me about the programme. I came and did not regret it.
"I was met by a wonderful lady and listened to the entire course of lectures and things became a lot clearer. Leah helped me put together the right resume and helped me fill out the documents. Now I have a job and I am very happy that I went on the scheme."
Cllr Martin Watson, Warwickshire County Council's Portfolio Holder for Economy, said: "That community spirit is one reason to be proud of Warwickshire. I am delighted that Nataliia has benefited from the scheme and found a job in which she is happy.
"The challenges that Nataliia, and everyone who has had to leave their homeland are facing, are hard for us to comprehend so I am proud that Warwickshire, as a county, has reacted in such a warm and welcoming way. The Ukrainian Working in Warwickshire Programme has proved to be an effective way to build inclusive jobs locally and boost engagement. And with it meeting a skills shortage that businesses are facing, it is a win-win for all involved"
For more information about the scheme please visit: https://www.warwickshire.gov.uk/ukraine-2/information-ukrainians/6

The war in Ukraine is ongoing, and Ukrainian families are still in need. If you are considering of becoming a sponsor, please contact our Homes for Ukraine support team by phone: 0800 408 1447 or by email: ukraine@warwickshire.gov.uk
For media enquiries relating to this, please contact the Warwickshire County Council Marketing & Communications Team by email newsteam@warwickshire.gov.uk