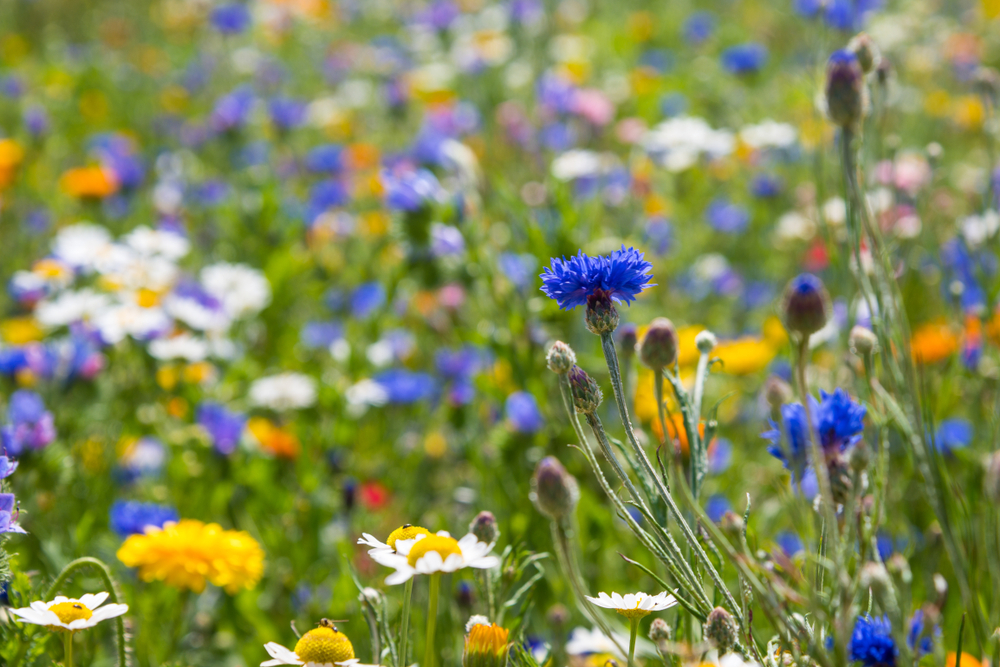 Warwick Hospital is to get a colourful boost to its biodiversity thanks to funding from Warwickshire County Council's Green Shoots Community Climate Change Fund.
The £1m Green Shoots Community Climate Change Fund is allocated by Warwickshire County Council and supports a wide range of small, community-powered initiatives across Warwickshire in addressing the climate change emergency.
The £22,980 in funding will allow the South Warwickshire University NHS Foundation Trust to create a wildflower corridor at the rear of Warwick Hospital. The new corridor will be accessible to staff, patients and visitors. This area will be the first wildflower habitat at the hospital, providing much-needed urban greenspace and increasing biodiversity at the site.
The benefits of the wildflower meadow to the hospital, its patients and the wider community are:
Increased plant diversity will, in turn, attract insects and other invertebrates (including butterflies, bees, spiders and millipedes), and birds.
Flowering species of wildflowers will add a changing palate of colour to the urban environment of the hospital throughout the seasons.
Increased carbon and harmful particulate capture in an area of the town of Warwick that is heavily developed, with limited access to green spaces
Active involvement of the local community in managing the corridor – activities will range from recruiting local volunteers, creating a greenspaces map of the hospital and seating areas for staff, patients and visitors. The distribution of native wildflower seeds will encourage their spread amongst the community.
Local businesses will be engaged in the project through corporate days.
Improved staff and patients' health and wellbeing as a result of having access to this greenspace.
Cristina Calleja, Sustainability Manager from the South Warwickshire University NHS Foundation Trust who operates Warwick Hospital, said: 'South Warwickshire University NHS Foundation Trust is committed to achieving net zero emissions by 2040 and we've set out an ambitious plan to achieve this. As part of this work, we aim to enhance the quality of our existing greenspaces, whilst promoting their use to staff, patients and visitors. We have seen how access to greenspaces has positive mental and physical health impacts, including improving the patient hospital experience, promoting active recovery and reducing staff stress. This is without the benefits that protecting our biodiversity brings. This project will only further prioritise the importance of retaining green spaces in an urban environment.
Cllr Heather Timms, Portfolio Holder for Environment, Climate and Culture, said: "The Wildflower Corridor at Warwick Hospital is a superb example of an organisation using the space it has in order to make a difference to its carbon footprint and impact on the environment.
"Located in a heavily developed part of the town, the South Warwickshire University NHS Foundation Trust has a 10-year plan for future development of Warwick Hospital but has had the foresight to retain this sizeable pocket of land at the rear of the site to develop this wildflower corridor.
"I look forward to this site being turned into a beautiful wildflower corridor and realising its benefits for the hospital, its staff, patients, visitors and the wider community."
more information about Warwick Hospital can be found online: https://www.swft.nhs.uk/our-hospitals/warwick-hospital
A full list of projects that will receive Green Shoots Community Climate Change funding can be found here: https://www.warwickshire.gov.uk/regeneration-projects/green-shoots-community-climate-change-fund-2022/5
For more information about the Fund, visit: www.warwickshire.gov.uk/greenshootsfund
For more information about how Warwickshire is facing the challenges of the climate change emergency, visit: https://www.warwickshireclimateemergency.org.uk/
Get the latest news about how Warwickshire County Council and partners are facing the challenge of the climate emergency and how you can get involved: http://eepurl.com/hrk-zf