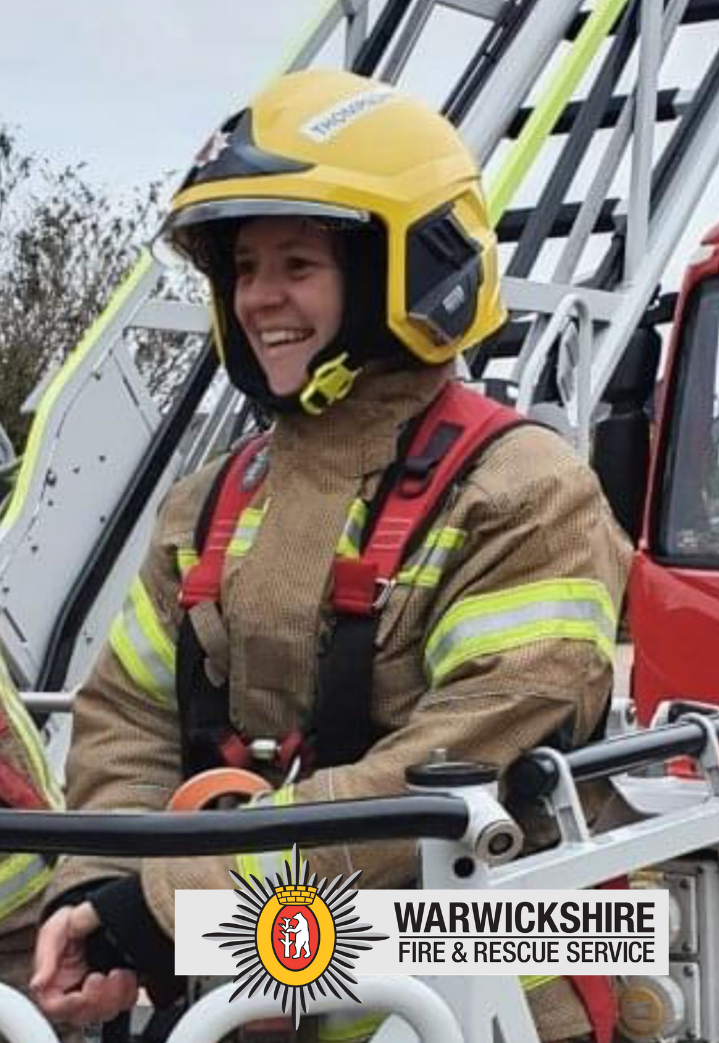 Rebecca Thompson joined Warwickshire Fire and Rescue Service as an On-Call Firefighter in June 2022.
She explains what inspired her to take on this role:
"As a mum of two boys, aged 5 and 2, I wanted them to grow up knowing that if you put your mind to something, anything is possible. I also wanted to instil in them the importance of looking after others. My children love the fact that their mummy is a firefighter!"
When asked how she splits her time between her day job and being an on-call firefighter, Rebecca says:
"I am an accounts manager for a nursing agency in Stratford for my main job. I work 5 days a week but do two days from home. My employer is fantastic and allows me to be on call when I'm working from home. I also give time to the fire service during the night and on some weekends."
Rebecca went into more detail about the kind of call-outs she attends:
"It's such a varied role, from school visits, barn fires, rescues from height. No shout is ever the same which means the job is always interesting and every shout teaches me something new."
When asked about what she enjoys most about the role, Rebecca said:
"The best part about being on call is that I still have my main office job but that I can also use my practical skills whilst being on call. Warwickshire Fire and Rescue is like one big family so coming to the station feels like coming home."
Rebecca described her experience about joining as the only female at her station:
"I think my biggest perceived challenge was being the only female at my station. This, in fact, has not been a challenge at all. Everyone has made me so welcome and I truly feel part of the team."
Finally, Rebecca says the following:
"I would say that if someone is thinking of becoming an on call firefighter to go for it! It's one of the best things I've ever done!"
On-call firefighters are needed right now across Warwickshire. You have what it takes, just like Rebecca! Learn more about becoming an on-call firefighter and start an application today.