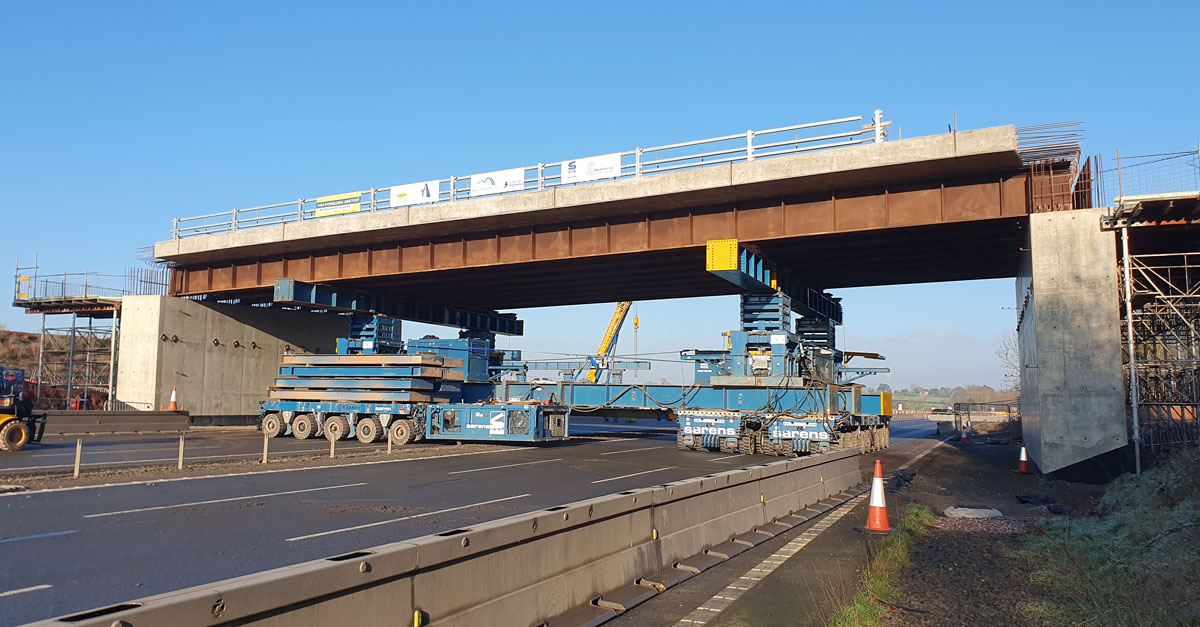 Improvements to the Stoneleigh Junction took an important step forward this month with the successful move into position of the scheme's new bridge deck.
The £38m A46 Stoneleigh Junction improvement scheme aims to:
Reduce the regular delays and queueing traffic;
Improve road safety for all users; and
Ensure the junction has the capacity that will be required to meet future growth in the sub-region.
The Stoneleigh Junction Scheme is being funded by Warwickshire County Council, The Department for Transport, the West Midlands Combined Authority with developer contributions from the University of Warwick and Whitley South Works through the Coventry & Warwickshire Development Partnership.
The new bridge deck was constructed by specialist contractor Colas Ltd away from its supports in order to minimise disruption to one of the busiest parts of Warwickshire's strategic road network. The deck was then installed into its permanent position using a deck lift and transportation method over the weekend of 21/22 January.
Once the construction was complete, the 740 tonnes bridge deck was jacked to full height in the off-line area during the week prior to the move, by the experienced team from Sarens. It was then lifted using a self-propelled modular transporter (SPMT), carried into position across the A46 and lowered onto the new abutment walls.
Cllr Wallace Redford, Warwickshire County Council Portfolio Holder for Transport and Highways, said: "This was an incredibly impressive piece of engineering and construction by our contractors at Colas and Sarens and marks a really exciting milestone for the Stoneleigh Junction Improvements, which we expect to be complete by the summer. The benefits of this scheme to local residents, businesses and the wider network are significant and it's great news that we are now a step closer to them being realised.
"We would like to sincerely thank local residents for their continued patience with these essential developments to the junction, which forms part of this Council's commitment to ensuring that residents are supported through excellent transport infrastructure."
Colas Executive Director for Construction Solutions, Sean Jeffery was on site for this major achievement and said "We are delighted with the smooth running of this significant milestone for the A46 project. The entire project team, including our partners and stakeholders, have worked tirelessly to plan this manoeuvre and their efforts were rewarded with the success of this highly complex phase of the project."
Watch a video of the move here:
Find out more and follow the progress of the scheme, including the diversion routes for this closure, by visiting: https://www.warwickshire.gov.uk/a46stoneleighjunction