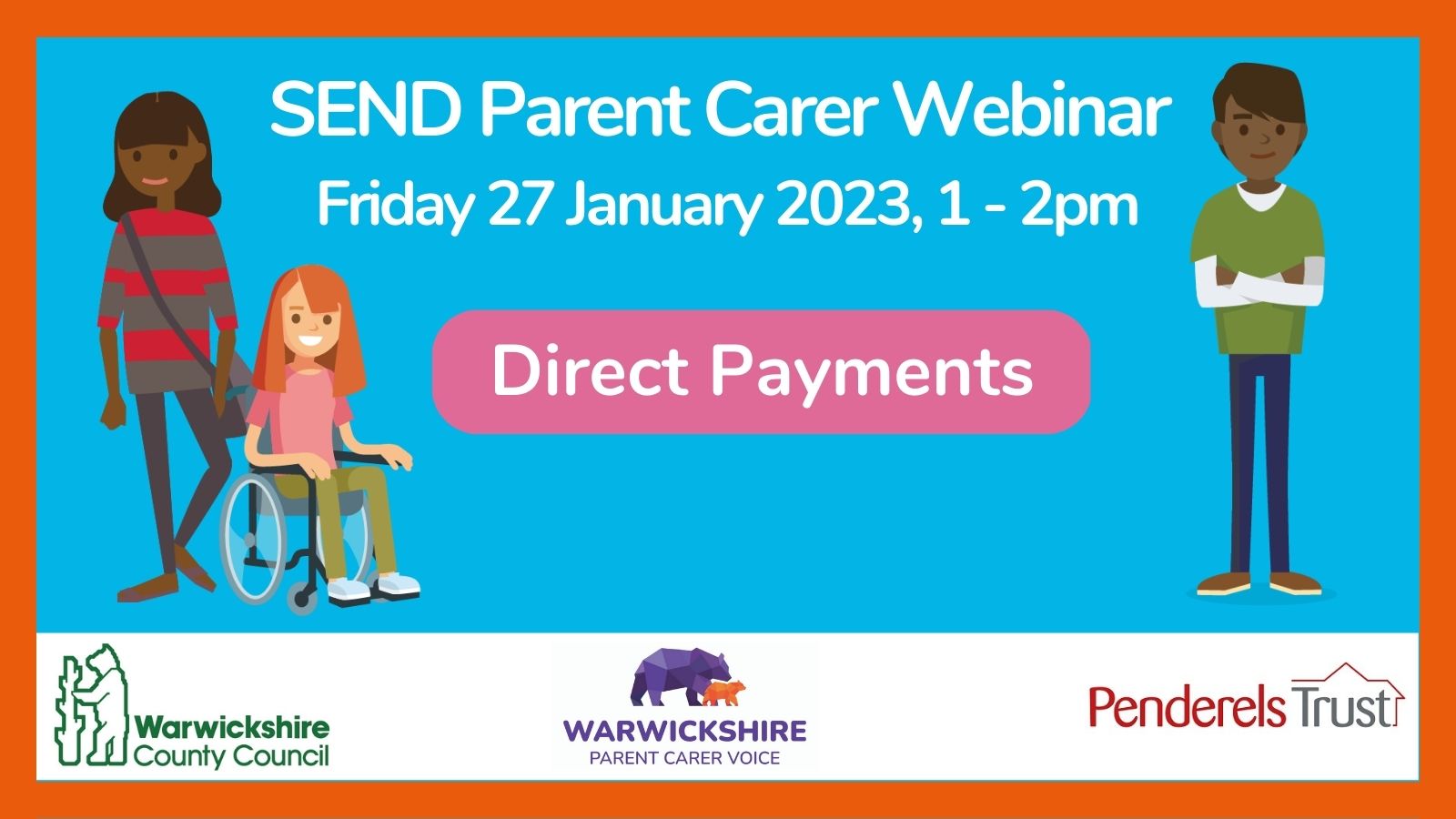 Warwickshire County Council is hosting a free webinar to provide information and guidance to parents and carers on direct payments.
Are you a parent or carer of a child or young person with special educational needs and or disabilities (SEND)? Would you like to know more about direct payments and how they work? If so, why not attend our latest SEND webinar on direct payments to find out more.
The free webinar which is being run by Warwickshire County Council (WCC) in partnership with Penderels Trust and WCC's Independent Living Team will take place on Friday 27 January from 1pm to 2pm.
The Children and Families Act gives parents and carers of children with Education, Health and Care Plans (EHCP), and young people over the age of 16, greater choice and control over their support arrangements. If a child or young person receives an EHCP you will be able to request a personal budget, part of which might be available through a direct payment.
To help support families with the direct payments process, the webinar will cover:
Direct payments and personal budgets - what they are, how they are used and how they are paid

What can (and what can't) be funded through them

The roles and responsibilities of Warwickshire County Council

Employers' responsibilities for those using direct payments to employ staff

Support provided by Penderels Trust to set up a direct payment

The difference between a managed and a non-managed direct payment

How the payroll service works at Penderels Trust
Councillor Kam Kaur, Warwickshire County Council's portfolio holder for education said: 
"It's really important that families have the support they need when it comes to applying for or using direct payments, which is why this webinar is a real must for anyone who wants to know more about what direct payments are, what they can be used for and the things they need to consider.
"I know that filling in paperwork can be daunting, so I hope the webinar will help to reassure parents and carers that they are not alone, and that help and support is available to them when they need it."
Talking about the webinar, Natalie Garratt, Service Manager for Penderels Trust said:
"As a charity, we know how important it is for disabled people to be able to live independently. Part of that independence is around how they access financial support. It's therefore really important that families know what financial support is available, how to apply for it and what they can use it for.
I'm hoping that by working with Warwickshire County Council to deliver the webinar to parents and carers of children and young people with SEND, that we will be able to help them to navigate the direct payments process so that they can get the support they need."
To book a place on the free webinar go to: bit.ly/DirectPaymentsWebinar.
To find out more about direct payments visit https://www.warwickshire.gov.uk/social-care-health/direct-payments
The event is the latest in a series of webinars hosted by Warwickshire County Council in partnership with Warwickshire Parent Carer Voice aiming to offer informative sessions for families on a range of topics in relation to SEND. You can watch previous webinars online here.
For more information on SEND support in Warwickshire visit the Local Offer webpages or the Local Offer Facebook page.
Sign up to receive the monthly SEND Warwickshire newsletter here.