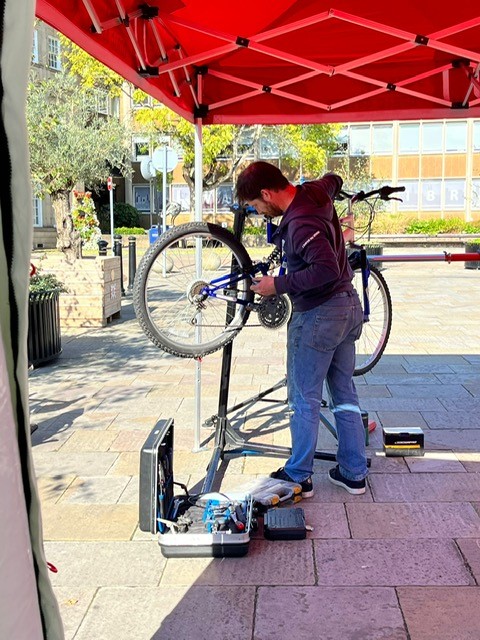 Residents looking for a safe and healthy way of travelling can find out more about safe and active travel at a series of free Dr Bike sessions this month.
Warwickshire County Council's Road Safety and Active Travel team is encouraging residents to bring bikes along to a series of Dr Bike events taking place in town around the County at the end of the month.
These sessions will include the opportunity for residents:
To have their bikes looked at by an experienced Dr Bike mechanic, who will make on-the-spot minor adjustments and advise on any maintenance issues;
To get their bikes security marked and uploaded on to the national Bike Registry database; and
To talk to Warwickshire County Council's Active Travel Officers about making the switch to more active travel for work and leisure.
These totally free sessions will be taking place at the following times and locations:
27th October 9:30 – 12:00 Newbold Comyn Leisure Centre, Newbold Terrace East, Leamington Spa, CV32 4EW
27th October 13:30 – 16:00 St Nicholas Park Leisure Centre, Banbury Road, Warwick, CV34 4QY
28th October 9:30 – 12:00 Pingles Leisure Centre, Avenue Road, Nuneaton, CV11 4LX
28th October 13:30 – 16:00 Bedworth Leisure Centre, Coventry Road, Bedworth CV12 8NN
Cllr Wallace Redford, Warwickshire County Council's Portfolio Holder for Transport and Planning, said: "The benefits of active travel, particularly travelling by bike, are huge, both for the individual and for our wider environment.
"We are committed to supporting residents to realise that they can start their active travel adventures by switching just one car journey every week to an active alternative such as cycling and we hope that these free Dr Bike sessions will encourage residents to get their bikes out of storage, bring them along to get checked over and start to enjoy the many benefits of cycling for themselves."
Watch a time-lapse video of a bike being checked over at a Dr Bike session: https://youtube.com/shorts/ZbV77kqXYI4
Warwickshire County Council recently joined the Love to Ride family of partner organisations, giving residents, businesses and community groups access to the best rewards and resources that encourage cycling for travel, not just leisure.
Residents can sign-up with the Love to Ride cycling platform here: https://www.lovetoride.net/warwickshire
Warwickshire County Council recently launched the #JustOneJourney campaign to encourage residents to ditch their cars and make the switch to active travel. Find out more about that here: https://www.warwickshire.gov.uk/news/article/3068/helping-residents-to-switch-justonejourney-and-ditch-the-car-for-an-active-travel-alternative
Find out more about Active Travel in Warwickshire: https://www.warwickshire.gov.uk/news/article/3283/great-big-green-week-2022-getting-active-for-health-wealth-and-the-environment