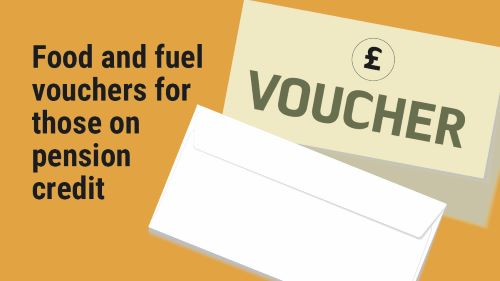 Older people in receipt of Pension Credit will receive a contribution toward food and fuel this summer from Warwickshire County Council.
To help with the rising costs of living the council is once again distributing government funds to those most in need.
On the back of fuel payments to families in June, the council's Local Welfare Scheme is reaching out to benefits eligible pensioners to provide one-off supermarket and fuel payments to assist them with household costs.
Over the next few weeks residents entitled to this support will be contacted by the council and given two vouchers - £60 per eligible individual to be spent in a local supermarket and a £75 PayPoint voucher per eligible household to go toward energy costs.
The support from the council is being funded by the Department for Work and Pensions' Household Support Fund, which supplements ongoing emergency support from the Local Welfare Scheme for residents in financial crisis.
Sudden unexpected costs can create real challenges for Warwickshire residents who are experiencing financial hardship. The Household Support Fund is available to provide short-term financial support to meet immediate needs and help those who are struggling to afford to pay for energy.
Warwickshire County Councillor, Heather Timms Portfolio Holder for Environment, Climate and Culture, said: "We are really pleased to offer these vouchers which will provide extra support to around 10,000 individuals around the county. The support is time limited so we want to make sure everyone we contact can claim the credit in time. Anyone eligible is encouraged to redeem the vouchers as soon as possible after receiving a letter from Warwickshire County Council with details of how to do so. We are also reaching out to friends and families of eligible residents to help them to do this.
"Many people have been affected by recent and steep increases in living costs and we are doing all we can to help those who are worried or in crisis to find help to manage their finances. I'd like to remind people about the Local Welfare Scheme which offers support to those with no other means of help either directly, or through extensive links with a range of support services in the county. I hope people will look online and get in touch, either for themselves or on behalf of someone else, to find out what help there is."
You can find your local PayPoint retailer at https://consumer.paypoint.com/ or call PayPoint on 0330 400 0002. By redeeming the PayPoint voucher, you are agreeing to use the money you receive towards your energy bills only.
Information about redeeming PayPoint vouchers is online at www.warwickshire.gov.uk/localwelfarescheme where there is a link to the Local Welfare Scheme - PayPoint FAQs.
For help with the vouchers, or further information on how the Local Welfare Scheme can help you if you are struggling financially, please visit https://www.warwickshire.gov.uk/localwelfarescheme or call 0800 4081448 or 01926 359182 to speak to a customer service advisor.
For more information about financial support go www.warwickshire.gov.uk/facinghardship