Proposed works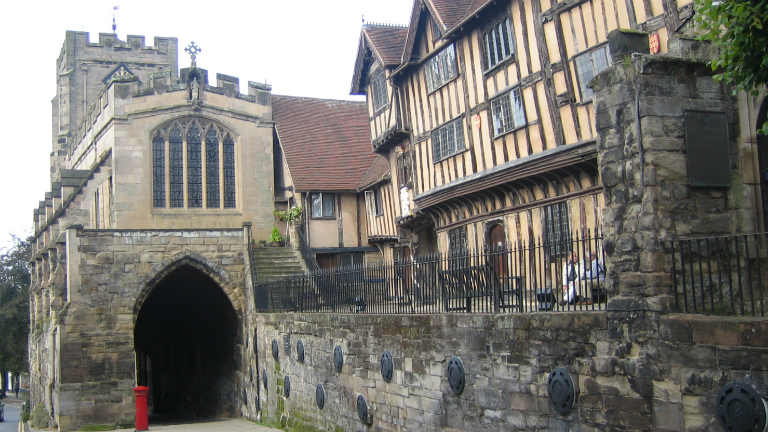 West Gate is a grade I listed stone archway that dates back to the 12th Century. Located at the junction of the High Street and Bowling Green Street in Warwick town centre, the structure was one of three gates through Warwick's medieval town wall and supports St James Chapel which forms part of the Lord Leycester Hospital. The A429 High Street passes to the south of the structure but the pedestrian footway passes through the archway.
The archway is constructed from a type of sandstone that is susceptible to a form of erosion called contour scaling. This results in a hardened crust breaking away from the face of the stone revealing a softer granular layer beneath. Much of West Gate's masonry is heavily eroded, particularly on the outside elevation that faces the High Street and the vaulted section of the archway, beneath the chapel's bell tower. Recently, sections of this loose masonry have fallen onto the footway so the structure is being repaired to ensure public safety and to restore an important part of the town's heritage.
The general principle of stonework repairs to historic buildings is one of minimum disruption. Only the most severely eroded stonework will be replaced or refaced but due to the condition of the structure, this will include a large number of blocks and most of the tierceron vault beneath the bell tower. Repairs to the roadside elevation will be limited due to the time constraints on the traffic management but many of the eroded masonry blocks will be replaced and loose sections of masonry and any vegetation removed to make the structure safe. Due to the widespread weathering to the masonry, the entire vaulted section of the archway is to be re-built in new stone; only the original keystone with the coat of arms is expected to remain.
All new masonry will be sandstone that matches the existing. Repointing between the masonry blocks will be undertaken using traditional lime mortar and any loose sections of stone will be removed from the blocks that are to remain. The scope of these works has been devised by an architect who specialises in heritage projects with advice from Warwick District Council's Conservation Officer and Historic England. The repairs are being undertaken by a firm of stonemasons who specialise in the restoration of historic buildings to ensure a sympathetic yet high-quality finish.
When works are undertaken within the arch, a temporary structure will be erected to provide a safe pedestrian route while the work takes place above. Pedestrians will be diverted into a lane closure in the High Street while the work platform is erected and removed from inside the arch and during construction activities that may pose a danger to the public passing below.