A detailed understanding of the characteristics of the local population is vital to robust needs assessments. This forms the basis against which other data can be analysed, helps to identify inequalities and is a key building block in modelling service requirements. JSNA data should paint a picture of the local area, its characteristics and the diversity within it.
For an overview of the issues and challenges Warwickshire faces, please use the following report:
Geographic context
Warwickshire lies to the south and east of the West Midlands conurbation, and has established links with Coventry, Birmingham and Solihull in the West Midlands region, but also with the South East. Despite the focus of population within the main towns of the county, a significant part of Warwickshire is rural in nature. Warwickshire lies at the heart of Britain's transport network and several key strategic routes pass through the county.
Warwickshire is a two-tier local authority and comprises five district/borough areas:
North Warwickshire Borough
Nuneaton and Bedworth Borough
Rugby Borough
Stratford-on-Avon District
Warwick District
Socio-determinants of health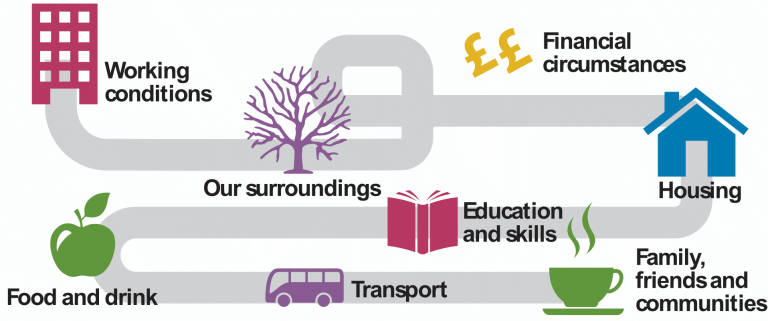 Our health is influenced by a wide range of social, economic and environmental factors. We as individuals cannot always control them and they influence and often constrain the 'choices' we make and the lifestyle we lead.
The social determinants of health have been described as 'the causes of the causes'. They are the social, economic and environmental conditions that influence the health of individuals and populations. They include the conditions of daily life and the structural influences upon them, themselves shaped by the distribution of money, power and resources at global, national and local levels.
Warwickshire as a place – past, present and future
The following report provides a brief overview of past, present and future key macro-level issues affecting Warwickshire. New emerging issues and future challenges have been identified and it was last updated in March 2019.