Work with passion and purpose
Diversity is essential to our success and everyone has a role to play to make Warwickshire the best it can be. It's a big responsibility that can be challenging at times, but this is what drives us to succeed and achieve. At Warwickshire County Council, you'll improve the county and see just how much of a meaningful difference you make to its people.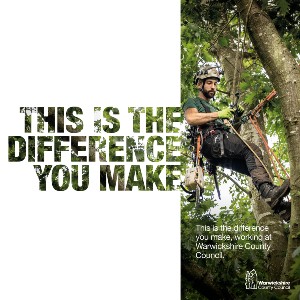 If you're someone who is prepared to get stuck in, who wants to do the best job possible, who approaches everything with passion and purpose, then we want you to work for us.
You'll be able to apply your knowledge and abilities in a place that matters to people and communities. And simply put, you'll enjoy working here because of that.
Explore and further your career
Being responsible for the diverse needs of the county means there are a variety of opportunities for you.
The breadth of roles here means you can shape your own career, whether that's becoming the best at what you do, progressing with your strengths and ambition, or exploring interests in other areas within the Council, you'll grow into who you want to be.
Develop the career you want. Learn different skills. There is nothing stopping you from going a long way here and personally contributing to the county's success.
We trust and empower you to build relationships, take responsibility and make decisions, whilst leading by example at all times. We're not rigid in how or where we work. We're flexible and know there are many ways to do a job well.
We understand that people work differently so we ensure that you can work and grow in a way that suits you.
Improve at every opportunity
We're proud of the care and service we deliver but know that to progress, we too have to adapt. We're determined to bring new ideas to the table, alongside what we already do well.
Our direction is clear – we're making Warwickshire the best it can be for everyone. We know we have to continuously improve to make our direction a reality and it's our teams of dedicated people who will make this happen.
It's an exciting time to be a part of the council and we'll give you the support and encouragement you need to succeed and help others around you – because we know a job done well, is a job done together.
If you like the sound of working for Warwickshire, view our current vacancies.